Post-Black Friday sales 2022: The best deals still live on air fryers, Apple products and Nintendo Switch
The latest updates on the biggest Cyber Monday deals across Le Creuset, Olaplex, Dyson hair dryers and more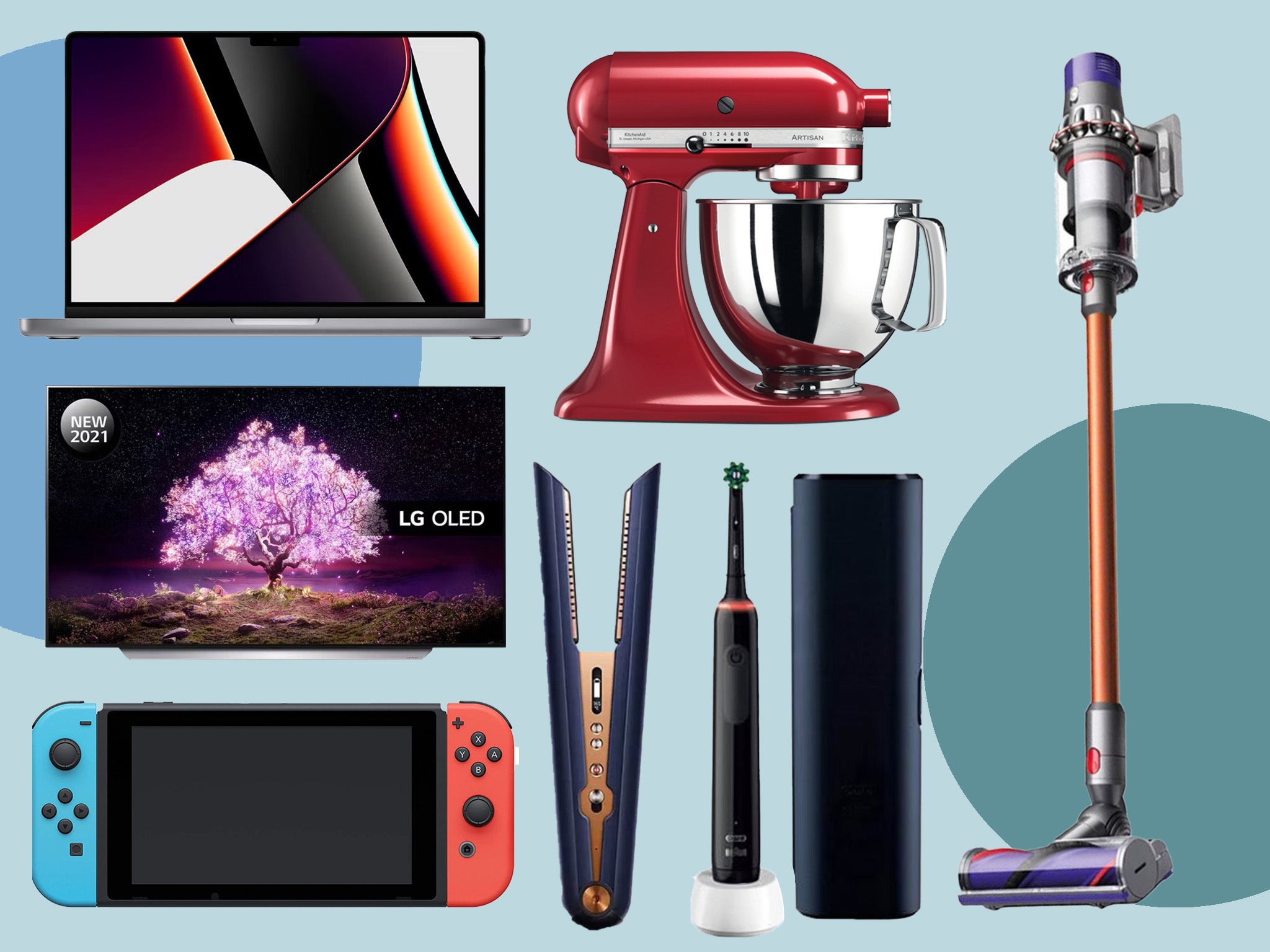 Black Friday has officially come to an end – but if you missed out on the big sales event and are wondering if there are still some deals left to hoover up, you'll be happy to hear the likes of Currys, Amazon, Argos and John Lewis & Partners still have some stock discounted.
Read more: The best Cyber Monday deals to shop now
Though the best offers on the likes of TVs, Apple products, laptops, gaming consoles, tech, fashion, beauty, home appliances and mattresses may have come to an end, it's still worth taking a look to see if some of the product listings are still active.
To save you from endlessly scrolling to see what's left, our team of IndyBest deal-hunters is on hand to guide you through the discounts we've still managed to spot. We won't be sharing deals that we don't think are genuinely good. So, whether you're in the market for a dehumidifier, Dyson vacuum cleaner or Ninja air fryer, we're here to help.
Compare Virgin broadband deals with Independent compare
1669750245
Still on the hunt for post-Black Friday deals?
If you're concerned that you missed out on the Black Friday sales, fear not because Cyber Week means that certain brands and retailers still have a huge number of deals running. To make things easy, we've done the hard work for you, scouring the internet to curate an edit of the best post-Black Friday deals that are still available today – thank us later:
Some of the best Black Friday deals 2022 in UK are still available – get Christmas shopping done with discounts from Amazon, Sky, Boots, Argos, Very and more
Eva Waite-Taylor
29 November 2022 19:30
1669748445
Buying for a gamer this Christmas? You need to see this Nintendo Switch OLED deal
Nintendo Switch OLED and 'Mario + Rabbids Sparks Of Hope': Was £359.98, now £339.98, Argos.co.uk
If you're looking to pick up Nintendo's latest hybrid console with a brand-new game, look no further. The retailer is offering the OLED console with Mario + Rabbids Sparks Of Hope with a £20 discount. The game only launched a month ago, so this is a pretty good deal.
In our review of the OLED model, we praised it for its bright 7in screen and durable kickstand, compared with the original model, making handheld and tabletop gaming "an absolute joy".
Mario + Rabbids Sparks of Hope follows on from Kingdom Mario + Rabbids Battle (£25.20, Amazon.co.uk) and sees the famous plumber and his friends jet off away from the Mushroom Kingdom to a new galactic setting to save their Spark companions.
Eva Waite-Taylor
29 November 2022 19:00
1669746645
"Alexa, what's the best deal on the Echo dot?"
OK, we'll take Alexa's place here and share the best deal we've spotted on Amazon's Echo dot.
Amazon Echo dot speaker, 5th generation: Was £54.99, now £26.99, Amazon.co.uk
The brand's latest Echo dot speaker has 51 per cent slashed off its price – a great deal for those looking to connect their home. For this model, the audio architecture has been redesigned, and Amazon claims it delivers up to double the base of the gen 4. It also features new sensors, including a room-temperature sensor, so Alexa can take action when the room gets too hot or too cold.
Eva Waite-Taylor
29 November 2022 18:30
1669743045
Searching for a dehumidifier? We've got a deal for you
In recent weeks, dehumidifiers have become somewhat of a hot commodity. A dehumidifier can offer a more affordable way to dry your washing. Yes, you read that right – these nifty home appliances draw all moisture and allergens away from clothing. Better still, they're cost-efficient to run, with the running cost of an average model being less than 40p an hour, compared with a tumble dryer, which can cost up to £1.55 an hour to operate.
If you're searching for one on offer, read our guide to the best dehumidifier deals:
The best post-Black Friday discounts on dehumidifiers. Shop the best savings on Meaco, Unibond, Pro Breeze and more
Eva Waite-Taylor
29 November 2022 17:30
1669741245
This beauty advent calendar is still reduced
It's your last chance to snap up an advent calendar before 1 December – and luckily we've found one that is still reduced post-Black Friday.
Offering thousands of top-rated products, beauty retailer Cult Beauty is a one-stop shop for all things skincare, make-up, haircare, and fragrance. Thanks to the fact it stocks a huge range of beauty items, Cult Beauty's advent calendar is considered one of the best you can buy. And our writer praised the "mix of affordable and luxury brands – which is especially good if you fall in love with a particular product and want to buy a replacement once it runs out".
For more options, read our guide to the best beauty advent calendars – but order soon:
The makeup and skincare advent calendars to know in 2022, from Sephora, Mac, Cult Beauty, M&S and Harrods – now is your last chance to shop before December 1
Eva Waite-Taylor
29 November 2022 17:00
1669739201
Apple's all-new AirPods Pro at lowest ever price, still!
Yes, you read that right. Amazon has the price of Apple's wildly popular AirPods pro 2 by £20, making the all-new earbuds cheaper than ever. The online giant started the deal as part of its Black Friday sale, and it has decided to keep it going for a little longer.
If you want to get your hands on a pair, we've got all of the details here:
Looking for some new AirPods pro this Cyber Monday? They've just received a further price cut in this 2022 UK deal, making them cheaper than ever before
Eva Waite-Taylor
29 November 2022 16:26
1669730500
Save £100 on a Tefal air fryer
Tefal actiFry genius XL AH960840: Was £249, now £149, Currys.co.uk
With a similar two-in-one model securing a spot in our review of the best air fryers, you can trust that this energy-saving appliance will help you rustle up delicious food with little effort and less oil. Our tester noted that the model tested made "some of the best chips", so it's a brand that is sure to deliver. Owing to the impressive £100 discount, we predict this deal won't be around for long.
Jasper Pickering
29 November 2022 14:01
1669728700
How to get a Nespresso vertuo coffee machine for £50
Nespresso vertuo next deluxe coffee machine: Was £199, now £50, Nespresso.com
Fancy scoring one of Nespresso's bestselling vertuo coffee machines for just £50? The brand is still offering its range of Vertuo machines, which you can get for half price when also purchasing a monthly subscription of either 50 capsules for £25, 70 capsules for £35 or 100 capules for £50. Better still, you'll get a free Nespresso advent calendar as well. In our review of another vertuo next model, our writer said: "Each of the vertuoline pods is recognised by the machine, so it adjusts the brew time and water:coffee ratio to make the perfect beverage, and all you need to do is press one button."
Jasper Pickering
29 November 2022 13:31
1669726900
Save £50 on Samsung's budget handset at Currys
Samsung makes some of the best high-end and premium Android phones in the world, so it's a brand you can trust when it comes to shopping for a budget handset. The Samsung Galaxy A13 doesn't have fancy-pants features like an OLED display and 5G connectivity, and it's not as fast as more expensive phones, but it's secure, looks great, has a decent camera, and is startlingly good value at £129.
Jasper Pickering
29 November 2022 13:01
1669725100
Save £30 on Sony's noise-cancelling headphones
Sony WH-1000XM4 noise-cancelling wireless headphones: Was £249, now £219, Very.co.uk
There is £30 to be saved on these noise-cancelling headphones from Sony this sale season. When we reviewed them in June 2021, our writer described them as the best wireless headphones they'd ever tested – high praise indeed. They added that they offer "unbelievably full sound" and are also "impressively comfortable". Designed with speak-to-chat functionality, 30-hour battery life and the ability to connect to two devices simultaneously, take our word for it that these headphones are worth the investment while on sale.
Jasper Pickering
29 November 2022 12:31