As it happened
ended
1652702117
The Independent's journalism is supported by our readers. When you purchase through links on our site, we may earn commission.
Dyson airwrap stock – live: The new multi styler is finally available, plus where to buy the original
Follow along for the latest intel on availability, plus expert advice on how to use the tool and stellar deals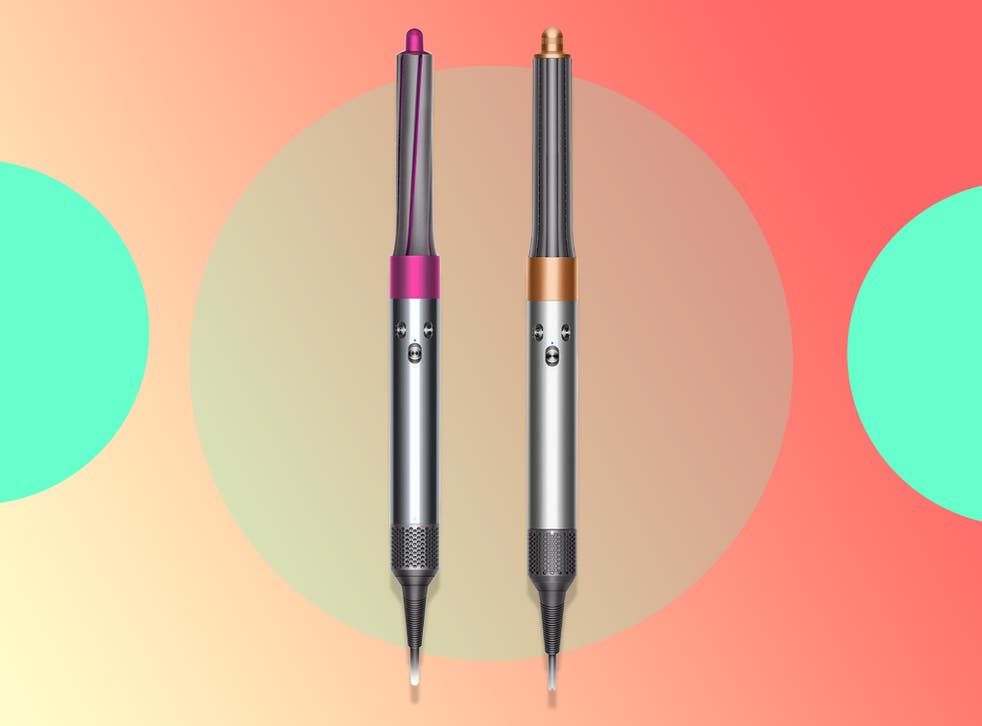 Few products have caused such a furore in the beauty world like the Dyson airwrap. First launched in 2018, the multi-functional hair tool rapidly reached cult status owing to its ability to blow-dry and smooth, curl or wave all in one go, producing a salon-quality look at home.
Last month, an all-new revamped styler was released. Of course, we got our hands on one with our tester stating that it's "definitely better than the original. They also praised the "improved attachments" and faster air flow that left their "hair softer and smoother than usual."
In terms of the OG, Dyson's first styler earned a spot in our round-up of the best hot brushes with our writer lauding the "plethora of attachments to pick from." Best of all, they said: "We found that achieving a bouncy blow-dry look took just 15 minutes."
But owing to popular demand, it's near-impossible to get your hands on either one of Dyson's tools. Stock of the original styler has been fleeting since late last year, while the new styler has suffered similar problems. The company cites global supply chain issues, which are impacting other tech products, like the coveted PS5 console.
If you're looking to get your hands on one, whether that is Dyson's OG tool or the new and improved multi-styler, our liveblog is here to keep you updated on stock, as well as answering all your questions on the hair tools. Ready to banish bad hair days? Let's go.
Read more:
Check stock from UK Dyson retailers below:
Dyson (original)
Dyson multi styler
1652431509
Go go go, the new Dyson airwrap is back in stock now
Hello and welcome back to our Dyson airwrap stock checker blog. Bringing the Friday good vibes, the company has restocked its brand new airwrap multi styler (£479.99, Dyson). But you'll want to be quick, as it sold out rapidly at most retailers after launching last month.
In our review of the new multi styler, they said it was "definitely better than the original." Praising the variety of barrel sizes, they added: "It feels like Dyson really has thought about every hair type, texture and length and manufactured a product that's as versatile and as inclusive as possible."
Daisy Lester
13 May 2022 09:45
1652432409
The OG Dyson airwrap is still in stock at Amazon
Those after the OG styler, Amazon is the only place can only buy the original airwrap – but it's at the marked up price of £639.99 (Amazon.co.uk).
The airwrap usually retails at £449.99, so make sure to check back here for the latest updates on when the older hair tool drops at any more retailers for a cheaper price.
Daisy Lester
13 May 2022 10:00
1652436009
Save £70 on refurbished Dyson airwraps right now
The original Dyson airwrap is currently only available at the marked-up price of £745 at Amazon, if you're wanting to save some pennies on the hair tool – we'd recommend picking up a refurbished model.
Back in stock and better still, reduced by £70, you can pick up a refurbished model at eBay for £379.99 (Ebay.co.uk) and at Dyson's own refurbished hub (Dyson.co.uk) for the same price – that's a huge £365 less than Amazon. A no brainer really.
Find out more about the Ebay deal below:
This is not a drill, the Dyson airwrap is in stock right now and has £70 off – here's where to buy it from eBay certified refurbished
Daisy Lester
13 May 2022 11:00
1652439609
The best Dyson airwrap dupes under £200
With the Dyson airwrap not only being costly but also out of stock at most retailers right now, you may be looking to seek out an alternative.
One of our favourite substitutes that's under £100 is Dyson's sell-out hair tool is Revlon's one step dryer (£62.99, Boots.com). It went viral on TikTok last year and in our review of the model, we explained why. "Dubbed as a Dyson dupe, its appeal lies in its affordability and the oodles of volume it delivers."
For an under £200 alternative, ghd's rise hot brush (£169, ghdhair.com) is one another one of our favourite hair tools. In our head-to-head review of the two devices, our reviewer said the ghd rise helped their hair stay "wavy and bouncy late into the evening – something we thought only existed in our wildest beauty dreams."
When it came to comparing the two devices, they said said that "if all you're looking for is reliable volume and glamorous waves, the ghd rise is just as worthy an investment."
Daisy Lester
13 May 2022 12:00
1652443209
How much is the Dyson airwrap?
With Amazon being the only retailer to currently have stock of the Dyson airwrap in the UK, it's useful to know the RRP of the much-loved hair tool – as the online giant is selling it at the marked-up price of a whopping £619.99
Dyson original styler sells at £449.99 while its new multi-styler retails at £479.99. John Lewis, Currys, Boots or and Selfridges all match Dyson's RRP, so it's best to pick up the hair tool at any one of these retailers, if it's available there.
And this isn't a drill: the new multi styler (£479.99, Dyson) is currently in stock at Dyson for its RRP.
Daisy Lester
13 May 2022 13:00
1652446809
How do you clean the Dyson airwrap filter?
With Dyson's airwrap being a premium product with a premium price to match, it's no surprise that the hair tool and its filter require maintenance every so often. You do this by first removing the filter cage. Hold the handle of your machine firmly and gently rotate the filter cage anti-clockwise. Then, pull down and away from the machine.
Wash the filter cage under a warm, running tap and leave it in soapy water for 30 minutes before shaking the filter cage to remove the majority of excess water, then leaving it to dry naturally. Slide the filter cleaning brush onto the filter mesh and rotate the filter cage back into position, while ensuring the correct alignment.
Get more advice from Dyson here
Daisy Lester
13 May 2022 14:00
1652450409
Why is Dyson airwrap out of stock everywhere?
With the Dyson airwrap having risen to cult status with plenty of rave reviews, it's no shock that the hair tool has been plagued by stock issues.
The company has cited the ongoing global supply chain issues exacerbated by the coronavirus pandemic for stock issues, with its supersonic hair dryer (£329.99, Dyson.co.uk) also in short supply. We've also seen the same fate for popular gaming tech products like the new PS5 and Xbox series X.
After being sold out for what felt like forever, this week we've seing both the original and the new multi styler airwraps slowly trickling back into retailers.
Make sure to check back here to stay in the know about the latest stock drops.
Daisy Lester
13 May 2022 15:00
1652454009
What attachments does the Dyson airwrap come with?
You get a lot of bang for your buck with Dyson's airwrap models, explaining the hair tool's price. The original comes with a whopping nine accessories, including a 30mm airwrap, soft smoothing brush, 40mm long barrel, round volumising brush, pre-styling dyer and firm smoothing brush.
The new revamped multi styler has one less accessory, coming complete with a soft smoothing brush, 40mm airwrap barrel, coanda smoothing dryer, 30mm airwrap barrel, round volumising brush, filter cleaning brush and firm smoothing brush.
Daisy Lester
13 May 2022 16:00
Register for free to continue reading
Registration is a free and easy way to support our truly independent journalism
By registering, you will also enjoy limited access to Premium articles, exclusive newsletters, commenting, and virtual events with our leading journalists
Already have an account? sign in
Register for free to continue reading
Registration is a free and easy way to support our truly independent journalism
By registering, you will also enjoy limited access to Premium articles, exclusive newsletters, commenting, and virtual events with our leading journalists
Already have an account? sign in