Anastasia Beverly Hills vs West Barn Co: Which eyebrow wax is best for a long-lasting feathery effect?
Recreate the brow lamination look from the comfort of your own home during lockdown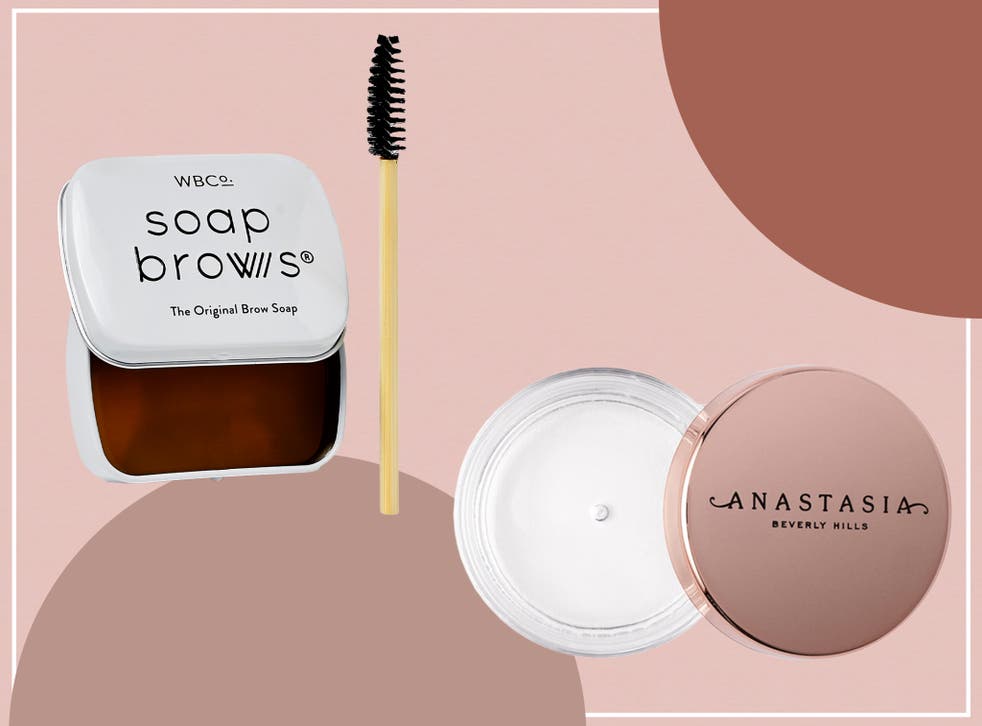 Nothing induces an outpouring of envy and adulation among beauty fans quite as much as a set of full eyebrows. From Brooke Shields's bushy furrows to Cara Delevingne's fluffed-up set, we are, and have been for some time, positively lusting over thicker, feral ridges.
Due to unfortunate over-pruning incidents as foolhardy teens, many of us have been left inadequately furnished in the brow department – but in recent years the beauty industry has heeded our cries for help with a host of innovative product launches and treatments designed to achieve a set of souped-up brows.
Read more: We tried Urban Decay's new Naked Wild West eyeshadow palette
From pomades to pens and microblading, creating big, feathered brows is now a breeze – but finding products strong enough to hold them in place? Now that can be tough.
In 2019, a new treatment called lamination – which involves "perming" your eyebrow hairs to provide a fuller, more even look – seemingly answered our prayers, taking the beauty world by storm and delivering a gravity-defying look that lasted weeks on end. But, just as we began feeling smug about our perfectly preened brows, the pandemic hit, forcing beauty salons to close and dashing our dreams of looking like Emma Watson.
Consequently, the "soap brow" trend took effect, which is exactly how it sounds: you use a bar of clear soap mixed with water or setting spray to shape and set your brows in place. But, while it has proved to be an efficient method of creating fluffy furrows, it can leave a residue behind and some experts state that the high pH of soap can cause skin irritation if used too often. So, where does that leave us?
In response to the trend for bushy brows, a number of brands have launched eyebrow waxes, which are kind to your skin and much stronger than your average gel, to help you achieve the laminated look at home. The first of these came from mother-and-daughter-owned beauty brand West Barn Co, way back in 2016.
Its first product, the aptly named soap brows, was inspired by the trick of using soap to keep brows in place and practically broke the internet upon its launch thanks to its ability to perfect and hold the brushed-up style. It's celeb-approved too, with Dua Lipa, Rosie Huntington-Whiteley and Queen B herself all said to be fans.
Soap Brows has been the go-to product for brow buffs ever since, facing little competition from rival brands – until now.
Enter: brow freeze. The brainchild of US beauty brand Anastasia Beverly Hills, which launched a standout range of brow-enhancing pencils, tools and treatments in the UK back in 2012, the new product has set the beauty world alight with editors, influencers and TikTokers raving about its ability to effortlessly lift and hold arches. So much so that is has sold out numerous times since its launch last month.
Described as being able to tame and sculpt brow hairs without ever feeling stiff or leaving behind any residue, brow freeze has some bold claims – and a cult competitor – to live up to. So, does it really live up to the hype? Or is Soap Brows still the best way to achieve full-bodied furrows?
We put the two products through their paces to see which one came out on top, evaluating everything from price and application to staying power.
You can trust our independent reviews. We may earn commission from some of the retailers, but we never allow this to influence selections, which are formed from real-world testing and expert advice. This revenue helps us to fund journalism across The Independent.
With a brand like ABH, it's hard not to have high hopes. This is, after all, the creator of the dip brow pomade (£19, Cult Beauty), which changed our brow game forever.
Housed in a slim, twist-off pot, brow freeze doesn't look like much at first glance – it's transparent – but we soon learned that it's much more powerful than you'd expect.
Unlike other brow waxes, this one doesn't require water. Instead, you simply pick up a small amount of product using a spoolie brush and work it into your brows from root to tip, gently pressing as you go.
Instantly, we were surprised at how strong it was, which is why we recommend approaching brow freeze with a "less is more" mentality. With just a thin layer, we were able to lift our brow hairs at the front straight upward, fan out those along the top and strategically place any on the bottom line to create the illusion of fullness. Application was super-speedy, with the whole process taking a matter of seconds, and it left our brows looking the fluffiest they had in, well, forever. Despite its potency, the wax ensures that your brow hairs remain manageable, so you needn't worry about them being cemented in the wrong place if you happen to take a little longer to perfect your arches.
On first impressions we could see why this product was so acclaimed, but would it have staying power? Of course, it did. We found that this wax made our brows stick for hours, enduring wet and windy walks by the sea with barely a hair shifting out of place. We were also delighted to find that, contrary to our experience with using a soap like Pears, our brows did not turn crispy or have any white residue.
At £24 for just 8g, this is quite an investment, but if it's full, feathered brows you're after, this wax will help you achieve them. Since first testing brow freeze, we've used it almost every day and can guarantee it will become a staple in our make-up bags.
The OG eyebrow wax, soap brows was created in 2016 and, unlike actual soap, it does not contain any dehydrating or harsh ingredients.
At first glance, the packaging feels a little less luxurious than ABH's, with the wax housed in a small, white metal tin, but it gets plus points for practicality and also coming with a complimentary bamboo spoolie brush, which is flexible enough that you can bend the tip to scrape product from inside the tin, even when you're nearing the bottom.
The main difference between the two products, though, is the application. While brow freeze can be used straight from the pot, soap brows requires activating using a mist. You could use water or a setting spray that you already own, but for optimal results the brand recommends investing in one of its prep mists (£10, West Barn Co), which are designed to help your brows stay in place and come in three scents: coconut, watermelon and peppermint.
To apply the wax, we sprayed the formula with one spritz of our chosen mist and then used the spoolie brush to mix them together. We found that this didn't quite enable us to lift enough product, so we added an extra spritz, which helped form a generous lather. It's worth noting that this was only an issue when using the product for the first time, as on subsequent applications the wax loosened up far more easily.
Next, we began to brush the paste through our brows using the spoolie, lifting the front hairs straight up and the others angled slightly outwards. The results were instantly visible, with our arches left looking suitably fluffed-up and well groomed, but it did take a while to manipulate the hairs into the right place. Our brows also stayed wet for several minutes and we noticed this caused some slight separation of our base make-up in the surrounding area. The trick here, it seems, is to make sure to get the ratio of mist to product just right as, if you use too much, it can cause your foundation to budge, but if the wax is too dry you can end up with a white residue.
Once dry, our eyebrows were locked into place and stayed that way for several hours. We put the wax through the same rigorous testing process as brow freeze, during a less than pleasant winter walk, and found that it delivered with just the very front hairs beginning to drop by the end of the day. Soap brows's staying power is impressive and we loved how full and feathery the wax made our arches look. However, it is slightly more fiddly than the ABH product.
The verdict: Anastasia Beverly Hills brow freeze vs West Barn Co soap brows
If you want to recreate the laminated brow look that's been infiltrating your Instagram feed, then we can't recommend brow freeze (£24, Cult Beauty) enough. The transparent styling wax fixes even the most wayward of hairs without leaving any residue or a stiff finish in its stead – and it's so easy to use. Application is uncomplicated, mess-free and can be used to create any brow shape you desire. It's become a permanent fixture in our kit, even on make-up free days – our only regret is that we didn't try it sooner.
That being said, soap brows (£15, Beauty Bay) is still a worthy contender but, because we found it more time-consuming and fiddly to use, brow freeze pipped it to the top spot.
For more beauty inspiration, read our guide to the best anti-ageing night creams
IndyBest product reviews are unbiased, independent advice you can trust. On some occasions, we earn revenue if you click the links and buy the products, but we never allow this to bias our coverage. The reviews are compiled through a mix of expert opinion and real-world testing.