The Independent's journalism is supported by our readers. When you purchase through links on our site, we may earn commission.
Everything you need to keep warm and stay entertained when it's raining outside, from loungewear to crafts
Don't let the drab and dreary weather get in the way of having a good time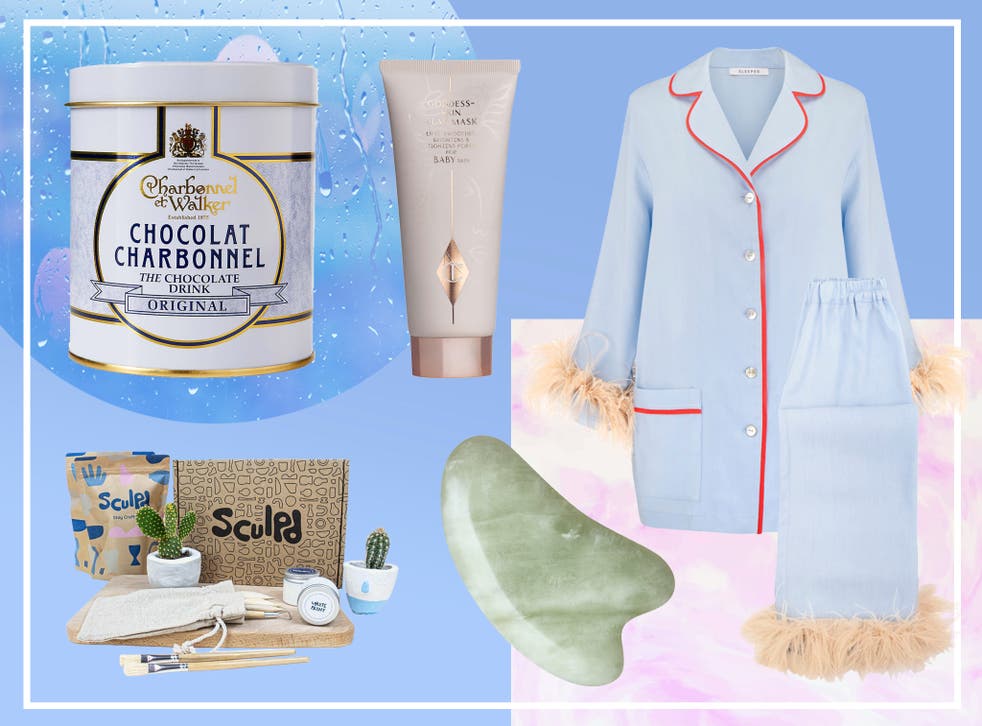 It's raining, it's pouring, the day feels really boring. When the forecast is grim, cabin fever can set in fast, especially during the third national lockdown, when brisk winter walks were fast becoming the highlight of our day.
Staring at the same four walls all day can get rather tiresome but you don't have to let a little inclement weather get in the way of having a good time.
While hikes and alfresco hot chocolates might be off the cards, there are still plenty of cosy activities to do from the comfort of your own home. You just need to get a little more creative with ways in which we keep yourself entertained.
You could curl up with a great book, binge-watch the entire season of Bridgerton or finally get round to taking up that hobby you swore you'd devote yourself too during the first lockdown.
Days cooped up inside are also a great opportunity to recharge, whether that means treating yourself to a pamper session or getting out of bed only to change into a seriously comfy set of loungewear.
If you're stuck indoors and feeling fun-starved, you're in the right place because we've rounded up a host of boredom-busting ideas for you to try. And, don't worry, the sun will come out tomorrow…maybe.
You can trust our independent round-ups. We may earn commission from some of the retailers, but we never allow this to influence selections. This revenue helps us to fund journalism across The Independent.
Have a spa day at home
Treating yourself to a pamper session is one way to fill the day and promises to perk up your mood at the same time.
We suggest starting with a relaxing bath filled with some seriously indulgent products, like this REN rose scented bath oil (£32, Space NK), which helps to nourish the skin. In our review of the best bath oils, our reviewer praised its stress-relieving and anti-inflammatory properties. "We love it for the fresh, authentic rose fragrance which makes it feel like a very natural experience," they said. "Our skin post-bath was perfectly nourished and perfumed."
Alternatively, opt for this deep sleep bath bomb (£5.95, Lush), which featured in our guide to the best bath essentials and is made with lavender and chamomile flowers. To avoid feeling dozy all day, save this one for before you hit the hay.
Next up, slap on a face mask and close your eyes while enjoying the pitter patter of rain outside. Our top pick is the Charlotte Tilbury goddess skin clay mask (John Lewis & Partners, £38), which was the winner of our IndyBest review of face masks for delivering instant radiant results.
Finish up with a soothing facial message, which according to celebrity aesthetician Nichola Joss – who counts Meghan Markle, Gisele Bundchen and Kate Moss as fans – will remove tension and stress from muscle tissue, plump and hydrate the skin, and stimulates blood circulation.
For best results, we suggest using the Elemis superfood facial oil (£45, Elemis), which came top in our IndyBest review of the best face oils. It is rich in antioxidants, flaxseed, carrot, rosemary and nut oils that will leave you with plump and glowy skin come morning and is perfect for your evening skincare routine.
Keep cosy and carry on
While dreary mornings and shorter days have certainly got us dreaming of warmer climes, the best bit about winter is getting to wear your comfies. But, we're not talking about that tatty pair of sweatpants you can't part ways with.
Instead, invest in a chic loungewear set that is equal parts cosy and stylish. For a pair that looks so good you could just as easily wear it outside once the weather improves, we suggest picking up this culotte knit co-ord (£25, NastyGal), which featured in our round-up of the best loungewear pieces. The reviewer said it has an oversized in fit, making it a great choice for lounging around the house.
If you want something a little fancier, look to the winner of our round-up, which was this feather-trimmed set from Sleeper (£225, Selfridges). While the reviewer chose an all-black option, there are plenty of colours to choose from, including pink, lilac and beige.
To complete your stay-at-home get-up, add all-important pair of slippers. In our review of the best ones, these fluffy Uggs (£80, Ugg) were praised for instantly putting a smile on our reviewers face every time they wore, which is just what you need on grey days.
Get crafty
When the weather is dreary, there is a lot to be said for taking up a new hobby but with gardening and outdoor sports off the cards while it's cold, what should you do?
The good news is that you can now get your hands on kits for just about any activity, be it candle or soap making. In our round-up of the best ones, this pottery kit (£39, Sculpd), won the top spot. "If you need to lower your stress levels – and frankly, who doesn't at the moment? – then have a go at making your own clay pots," our reviewer said. "We were surprised at how therapeutic moulding wet clay into something new could be and can now see pottery making becoming a full time, screen free hobby."
If that sounds a bit too messy for your liking, try out modern calligraphy instead with this set from stationery studio Quill London. (£65, Quill London) The includes everything you need, like a black pen holder, a Nikko G nib pen, a jar of black ink, a thick practice pad with guidelines, an alphabet guide, a drawstring storage bag and a hardback step-by-step book by founder Lucy Edmonds.
Snack attack
When it's miserable outside, there's nothing better than taking comfort in the warm embrace of an indulgent hot chocolate, especially when it's topped with marshmallows and lashings of squirty cream.
If you want to treat yourself to a top-notch hot choccie, we suggest picking up Charbonnel et Walker's offering (£8, Charbonnel et Walker). In our review of the best hot chocolates, our reviewer praised the heritage chocolate makers for delivering a "rich, velvet-smooth milk hot chocolate which tastes sensational".
Of course, there are other ways to warm your cockles. Whether you're alone, with your housemates or significant other, a cocktail making session is sure to brighten up your day. For the ultimate experience, we recommend this mini box of beverages by NIO Cocktails (£19.50, NIO), which featured in our round-up of the best ready-made cocktails. Arriving in clever little square sachets, you can choose from a range of 15 carefully crafted drinks which arrive in letterbox-friendly packaging ready for you to tear and pour into a glass of ice.
When it comes to dinnertime, put your culinary skills to the test by cooking up an Italian feast. Topping our guide to the best recipe boxes was the Pasta Evangelists pasta subscription (from £6.50, Pasta Evangelists) which delivers either a one-off or weekly drop of fresh pasta meal kits, which you pick from 15 recipe options.
To make a real meal of it, add the cobble lane charcuterie platter for two (£8.50) or the aperitivo snack box (£6.50) to enjoy with a drink before dinner?
Movie Marathon
Extra time indoors provides the perfect opportunity to spend some quality time in front of the TV. Whether you've never seen Singin' in the Rain or want to finally see what all the Bridgerton hype is about, there's no shortage of streaming services which offer thousands of titles to keep you entertained on rainy days.
In our round-up of the best streaming services, Netflix (membership starts from £5.99) was highlighted for its impressive catalogue of more than 6,000 films and TV shows to choose from. "Along with hosting classics like Gilmore Girls and Friends, it's also created its own films and series, many of which make for brilliant viewing with titles like The Queen's Gambit, Stranger Things, The Crown and Ozark," our reviewer said.
Or, if you fancy a trip down memory lane, opt for Disney + instead (5.99 or £59.99 for an annual subscription), where you will find more than 500 films, 350 series and 26 Disney Originals which will keep kids and adults happy
For the ultimate at-home cinema experience, why not invest in a popcorn maker too? In our round-up of the best ones, this retro-inspired style (£99.99, Harrods) was called "glorious" with the reviewer praising its inbuilt stirring mechanism that ensures your batches of popcorn are cooked evenly.
For more inspiration, read our guide to the best self-care books to help you look after your mental health through 2021
Register for free to continue reading
Registration is a free and easy way to support our truly independent journalism
By registering, you will also enjoy limited access to Premium articles, exclusive newsletters, commenting, and virtual events with our leading journalists
Already have an account? sign in
Register for free to continue reading
Registration is a free and easy way to support our truly independent journalism
By registering, you will also enjoy limited access to Premium articles, exclusive newsletters, commenting, and virtual events with our leading journalists
Already have an account? sign in