The Independent's journalism is supported by our readers. When you purchase through links on our site, we may earn commission.
Recycle Week: The environmentally-friendly swaps to make, from clothing to homewares
Reduce your single-use plastic consumption in your wardrobe and home with these feel-good buys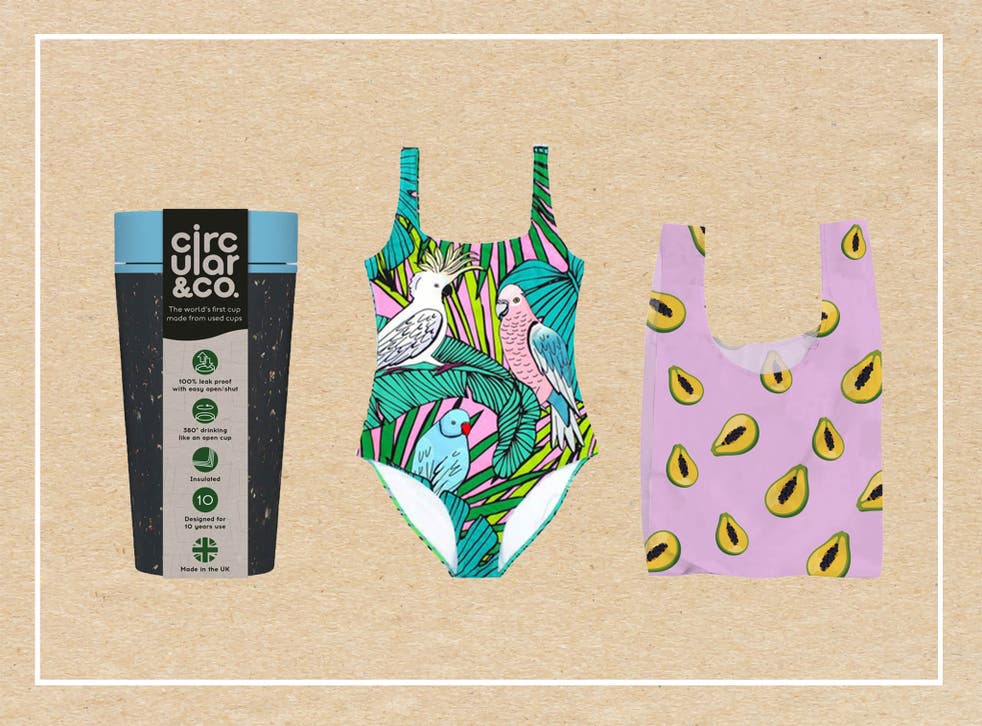 From 21 to 27 Septemeber, it's Recycle Week, an annual campaign that celebrates and encourages all things recycling, organised by the Waste and Resources Action Programme (Wrap).
This year's theme, "Thanking The Nation: Together – We Recycle", focuses on recognising the efforts of recycling and waste key workers who continued to work throughout the pandemic, and thanking the public for continuing to recycle during Covid-19.
While it has partnered up with major donors including Sainsbury's, Unilever, Ocado, Co-op, Waitrose and Aldi to fund activities throughout the week to inspire customers to recycle more, you can also play your part by using the hashtag #RecycleWeek on social media and posting about your own efforts to be more eco-friendly.
Every little helps, and finding ways to recycle, repurpose and re-use everyday items are small ways to make big changes on an individual level and help reduce your virgin plastic consumption.
Thankfully, there's plenty of brands that are catering to a growing consciousness for the environment in our shopping habits, and we've handpicked some of the best clothing, accessories and homewares to invest in for a feel-good purchase
You can trust our independent round-ups. We may earn commission from some of the retailers, but we never allow this to influence selections. This revenue helps us to fund journalism across The Independent.
Homewares
The humble reusable coffee cup has been at the forefront of change when it comes to adopting more environmentally-friendly practices in our everyday lives.
They are a simple and inexpensive way to still get your caffeine fix while reducing your virgin plastic consumption.
Get your hands on this Circular & Co. reusable coffee cup (Circular & Co, £11- £12) that's made from repurposed single-use paper cups. The brand claims that the 100 per cent recyclable, leak-free cup will last you a decade.
It also has a push lid which minimises spills and can be opened with one hand, all while keeping your Americano hot for 60-90 minutes.
It's completely dishwasher safe too, and can hold 8oz of coffee.
Leading the way in eco-friendly beauty is Lush, a brand that has been dedicated to creating cosmetics since it was founded in 1995.
But aside from its impressive line-up of beauty products, it also makes these knot wraps (Lush, £5).
Bold, bright and beautiful, they're designed by the Japanese Lush team and pay homage to furoshiki, a type of cloth used for wrapping gifts.
Made from recycled plastic bottles, they're available in beautifully ornate patterns and you can use them as you would traditional wrapping paper.
If you receive one, you can then gift it on to completely eliminate waste, with no need for Sellotape or a paper tag either.
Setting the table can be eco-friendly too, and affordable. These Cork wave placemats and coasters (Graham and Green, from £2.95) are made from natural sustainable cork that's harvested every seven years without harming the cork tree.
Heat resistant and wipe clean, they're easy to care for, will last ages and brighten up dinnertime in an instant.
They're perfect for your next dinner party or date night.
Clothing
Comfortable sports leggings that are squat-proof don't need to add to the planet's plastic pollution problem.
In our guide to the best brands creating clothes from plastic bottles, the Horizon athletic Rome 1960 compression leggings (Horizon, £105) impressed our reviewer, as they didn't budge or slip down during high impact exercise.
Made from Econyl, a recycled fibre made from abandoned fishing nets, they're high-waisted and so comfy that we were soon wearing them around the house too.
Batoko is a British brand that uses collected ocean waste to make fun, colourful swimsuits.
There are 10 styles to choose from – a deliberate decision to combat fast fashion – and all of them are designed digitally and made with non-toxic inks, thus saving water and energy and producing little waste in the manufacturing process.
Everything is packaged and delivered in compostable bags too, giving them extra brownie points.
Our favourite is the cockatoo swimsuit (Batoko, £50) that's just made for holidays on tropical beaches. Each suit is lined, with a low scoop back and a medium-cut leg.
An easy piece to add to your wardrobe is a T-shirt, that you can wear with pretty much everything.
In our guide to the best sustainable clothing brands for women, we loved this Blond Gone Rogue f*** nudes women's organic tee (Blonde Gone Rogue, £38) that uses end-of-roll material left over from larger productions for its pieces.
The brand was created in 2017 by two sisters in their hometown of Ruse, Bulgaria, after they saw a gap in the market for an ethical brand that matched their urban-chic style.
All of its workers receive paid holidays, maternity leave and are part of the social security and healthcare programme in Bulgaria too.
Accessories
Plastic shopping bags have seen a huge overhaul as consumers have become more environmentally conscious, with brands such as Kind Bag offering quirky, planet-friendly alternatives.
We loved its reusable shopping bag (Kind Bag, £10) that's made from six plastic bottles that would otherwise have ended up in the ocean.
Colourful, bold and spacious, it offers a roomy 20kg of space to store all your groceries and it can easily be slung over your shoulder for a more comfortable journey home. It's fully recyclable, too.
Not only that, the brand also donates 10 per cent of its profits the Just One Ocean charity which tackles plastic pollution, overfishing and habitat destruction.
Summer may be over but a good pair of shades are a year-round staple, and we love these Chpo Mcfly recycled sunglasses (Wearth London, £30).
Available in black or turtle brown, the unisex style is sure to be loved by all wearers, especially as they're made from 100 per cent recycled plastic.
Designed in Sweden, they're minimal in design and also vegan-friendly. Keep them safe in the accompanying protective bag that's also made from recycled plastic.
Lingerie
Even your underwear can help cut down waste as the lingerie market turns its attention to making a better commitment to sustainability.
In our guide to the best sustainable lingerie brands, we were impressed with Lara Intimates, a company that uses material from factories that have overstocked or overproduced fabric, ensuring this material doesn't go to landfill.
Each piece is handmade out of its Hackney studio by a team who are paid a living wage. The brand also hosts private bra fittings and make bras bespoke to fit.
Its Ava bra (Lara Intimates, £48) was our favourite, a low-cut triangle that's been designed for all boobs, as the sizes are cut differently to maximise functionality.
The DD+ sizes, for example, feature a "powermesh sling" to lift boobs up and to the centre.
Our reviewer said: "Wearing this bra flatters your shape and makes you feel like you're standing just a little bit taller."
For more on recycling, read our guide to the 9 best brands turning recycled plastic bottles into clothes
Register for free to continue reading
Registration is a free and easy way to support our truly independent journalism
By registering, you will also enjoy limited access to Premium articles, exclusive newsletters, commenting, and virtual events with our leading journalists
Already have an account? sign in
Register for free to continue reading
Registration is a free and easy way to support our truly independent journalism
By registering, you will also enjoy limited access to Premium articles, exclusive newsletters, commenting, and virtual events with our leading journalists
Already have an account? sign in