The Independent's journalism is supported by our readers. When you purchase through links on our site, we may earn commission.
iPhone SE: How does it compare to the best smartphones on the market?
From phones that shoot 4K-video to those with super storage, we round up 2016's top picks so far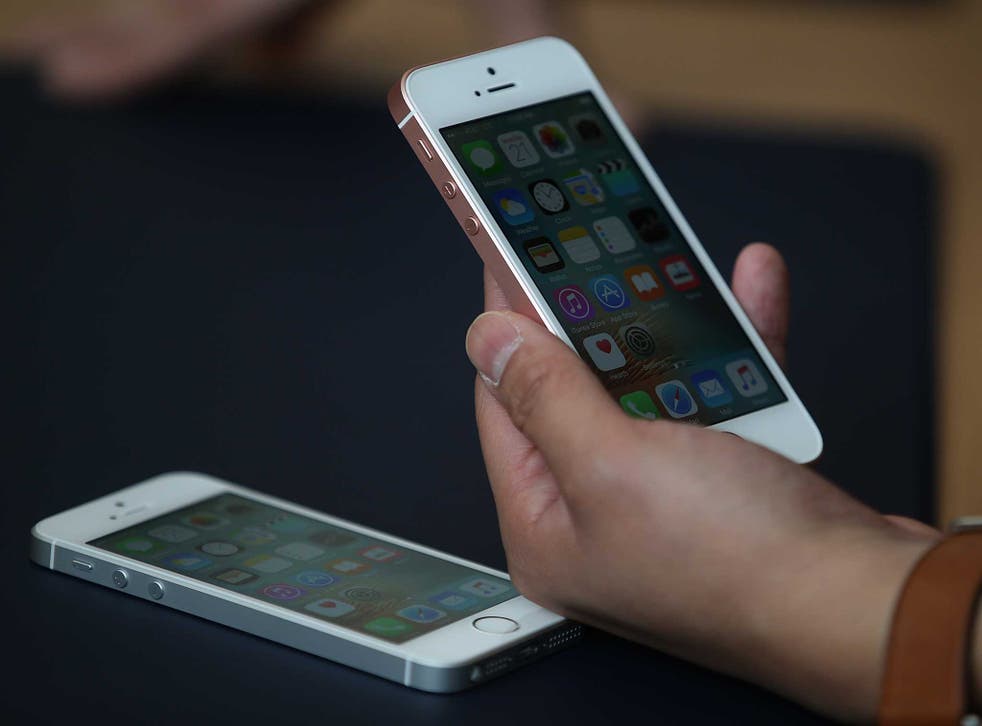 How long have you had your phone? If your contract is due for an upgrade, then you'll probably be eligible for something faster, smarter and more capable than before.
What are your priorities? Longer battery life? Better camera? Bigger screen? Smaller screen (not everyone has massive hands, you know)? Or a phone with a low initial price? Prices quoted are upfront cost on contract and how much to buy it without a contract at all.
1. Apple iPhone SE: from free on contract with EE, from £359 without contract from Apple
The newest iPhone, announced on Monday, looks like an improved iPhone 5s. Its four-inch screen means it feels much more suited to smaller hands – and pockets. This is the lowest priced iPhone ever, but it includes much of the tech of the latest models, including a blazing-fast processor and 12-megapixel camera capable of shooting video at 4K resolution, impressive panoramic shots and more.
2. Samsung Galaxy S7 edge: from £9 on contract with Vodafone, £639.99 without contract from Selfridges
Easily the best Android smartphone on the market. It has a dazzling design (the sloping-edged screen looks great), fast processor, super-fast 12-megapixel camera and strong battery life. The 5.5-inch screen is as big as the iPhone 6s Plus but this feels more manageable in the hand. And it's waterproof, surviving for 30 minutes in 1.5 metres of water. Not cheap, but the advantages are considerable – highly recommended.
3. Sony Xperia Z5 Premium: from free on contract with Vodafone, £599.99 without contract from Carphone Warehouse
If you want the highest-quality screen around, this phone's for you. Many phones now shoot video in the super-high 4K resolution, but only this one can play it back in full resolution, too. There's a powerful 23-megapixel camera and the fingerprint sensor is discreetly mounted in the edge, in the power button.
4. LG G5: from £9.99 on contract from EE, £529 without contract from Amazon
Just announced and available now on pre-order, the G5 is a beast that's different to anything else around: the base slides off so you can insert a new battery or attach an optional camera grip for the 16-megapixel camera. It has an always-on screen that shows the time even when the phone is sleeping (and uses barely any battery). On EE, the first 2,000 pre-orders get B&O headphones and speaker, too.
5. Apple iPhone 6s Plus: from £39.99 on contract from Carphone Warehouse, from £619 without contract from Apple
This is the biggest-screened iPhone with a gorgeous, high-resolution, 5.5-inch display and impeccable 12-megapixel camera. The fingerprint sensor that unlocks the screen is very speedy – it also activates Apple Pay so you can pay for thing as you would with a contactless credit card. Other Apple benefits include a massive range of quality apps, excellent voice recognition system Siri and 3D Touch, where you press harder on the screen to activate extra functions.
6. Samsung Galaxy S7: from £9 on contract from Three, £606.55 without contract from Amazon
If you'd like the latest Galaxy but prefer a smaller screen, the S7 with its 5.1-inch display is a great alternative. It packs the same camera, performance and battery life as the S7 edge in a more conventional, but still spiffy, styling. Both phones will have access to Samsung Pay later in the year – like Apple Pay but designed to work with pretty much any card reader, not just contactless.
7. Microsoft Lumia 950: from free on contract from Tesco Mobile. £399.99 without contract from John Lewis
This is like having your full Windows computer on your phone. It uses a version of the new Windows 10 software so will be familiar to users (though very different from Android or Apple). You can even connect it to a display, keyboard and mouse via an optional Display Dock so it works like a full computer. There's a 20-megapixel camera and a decent 5.2-inch screen.
8. Nextbit Robin: £277.20 without contract from Nextbit
This is a great phone if you want a large amount of storage at an affordable price, but don't need everything on your phone all the time. The Robin has 32GB built in, plus 100GB of storage in the cloud. When the phone gets full, it automatically transfers stuff to the cloud to free up space. The design is a refreshing change from black slabs with curvy corners. There's a good 5.2-inch display and decent 13-megapixel camera. Only available direct from Nextbit.
9. HTC One A9: from free on contract from EE, £357.45 without contract from Amazon
If you like the chic design of an iPhone but prefer Google's Android operating system, the A9 is a wise choice. It has a pristine five-inch display and a tremendous 13-megapixel camera that's fast and satisfying to use. HTC's customisation of Android has always been excellent, especially when it comes to the well-designed app icons and wallpapers, for instance.
10. Honor 5X: free on contract from Three, £189.99 without contract from Three
This is a great-value phone. Slick aluminium build, excellent 5.5-inch display, 13-megapixel camera and even a second sim card slot so you can run two numbers on it (one work, one personal, perhaps). It has a good battery life, nippy processor and a fingerprint sensor on the back. But it's the price that makes it stand out against the competition.
Verdict
Smartphones are complicated, intricate machines which we use all day long. So battery life is important. All the phones here will last a full day, though the Honor, Samsung and Sony handsets stand out. The Samsung Galaxy S7 edge, Apple iPhone 6s Plus and new iPhone SE have the best design. If photography is crucial to you, the Apple, Samsung and Sony snappers are exceptional. But, all things considered, we have to give it to the iPhone SE, which stands out as the best value option.
IndyBest product reviews are unbiased, independent advice you can trust. On some occasions, we earn revenue if you click the links and buy the products, but we never allow this to bias our coverage. The reviews are compiled through a mix of expert opinion and real-world testing.
Register for free to continue reading
Registration is a free and easy way to support our truly independent journalism
By registering, you will also enjoy limited access to Premium articles, exclusive newsletters, commenting, and virtual events with our leading journalists
Already have an account? sign in