The Independent's journalism is supported by our readers. When you purchase through links on our site, we may earn commission.
10 best men's face washes
Soap and water just won't cut it. Samuel Muston scrubs up to find cleansers and exfoliators to keep in your bathroom cabinet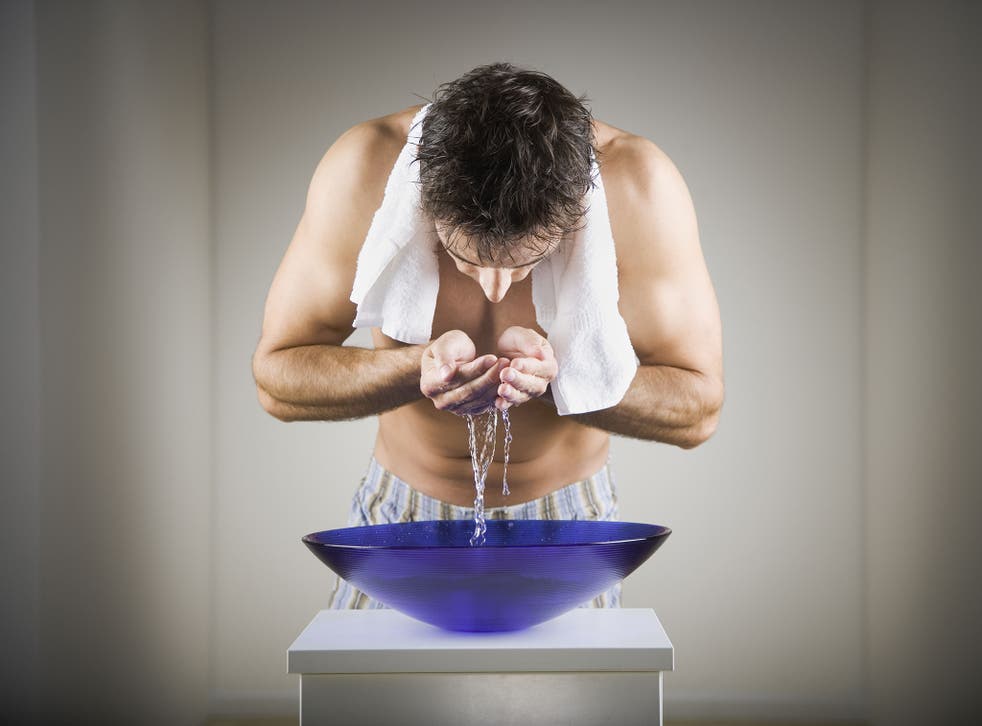 Looking good doesn't just mean dressing well, it is also about taking care of your skin. So put away the face-drying soap and give your skin a break with this selection of superlative face washes.
Yes to Cucumbers Daily Gel: £7, boots
"Be clean, be green and be that cool cucumber," runs the Ronseal-like online tagline for this. But, unusually, it does exactly what it says on the tin. It's a gentle moisturiser which combines soothing cucumber with green tea, to create a daily wash gel that is kind to even the most sensitive skin.
Go 24:7 Face Scrub: £11, johnlewis
This face scrub from GO 24:7 is full of natural grains which exfoliate the skin in a kind way, unlike most others exfoliants in this price bracket, which tend to function rather like a power sander. The brand is a favourite with Mr David Beckham, who has been known to use it on shoots. If it is good enough for Golden Balls….
Aesop Skin Fabulous Face Cleanser: £21, aesop
From the modish Australian brand comes this mild-as-Spring foaming gel. Meant for skin that is a little sensitive, it gives a deep-feeling clean without stripping your skin. It has a nice herby smell, though apparently is made from a natural olive formulation.
Anthony Glycolic Facial Cleanser: £15, amazon
This contains a mild glycolic acid – which sounds scary, though, is in fact, derived from sugar cane – which removes dead skin cells with all the facility of a hot knife through butter. The upshot of that is that it is very good at preventing in-growing hairs and razor burn.
MALIN + GOETZ Grapefruit Face Cleanser: £27, spacenk
This is pricey, but you get a top-notch product for the money. It is one of the most gentle face washes we tried, and is marketed as being ideal for those with sensitive rosacea-prone skin – which you can well believe. That said, the grape fruit component seems to staunch breakouts too.
Kiehl's Sky Flyin' Foaming Multi-Gel for Shaving & Cleansing: £14, kiehls
This is just the thing for holidays, as it is both a cleanser – enriched with bamboo, lemon and orange extracts – and also a shaving gel in one. Forms a nice lather when used for either purpose and seems to reduce razor burn when used just for shaving.
VERSO Foaming Cleanser: £32, johnlewis
Look, this is pricey. Very pricey for most of us but it is like having your face buffed by a chinchilla. It seems at once to soothe as well as clean, a feat that eludes most other face washes.
LAB series oil-control face wash: £16, amazon
For those with pesky t-zones or a tendency to get an oily face, there is this oil-control wash from LAB series. It uses salicylic acid to clean the layers of dirt and pollution that build up with city-living. Though does so without drying you up like a prune.
Clarins Men Exfoliating Cleanser 2-in-1 Deep Cleansing: £19, amazon
This is soap-free, which is important, as you can often substitute the words 'soap' with the word 'drying'. The gel cleanser manages to minimise pores without giving that unpleasant feeling of tightness that you sometimes get in the doing.
Dove Men+Care Face Wash Sensitive+: £5, boots
Dove's offering works hard for the money. It gives a respectable cleanse plus it's moisturising so leaves the skin feeling springy and fresh.
Verdict
For those with deep-pockets the Verso wash is unbeatable. For a reasonably-priced all-rounder, opt for Go 24:7, a hard-working cleanser and exfoliator all in one.
Register for free to continue reading
Registration is a free and easy way to support our truly independent journalism
By registering, you will also enjoy limited access to Premium articles, exclusive newsletters, commenting, and virtual events with our leading journalists
Already have an account? sign in
Register for free to continue reading
Registration is a free and easy way to support our truly independent journalism
By registering, you will also enjoy limited access to Premium articles, exclusive newsletters, commenting, and virtual events with our leading journalists
Already have an account? sign in