The Independent's journalism is supported by our readers. When you purchase through links on our site, we may earn commission.
What the IndyBest team have been reading and loving in lockdown
From 'How To Fail' to 'Hamnet', these are the titles you need to add to your collection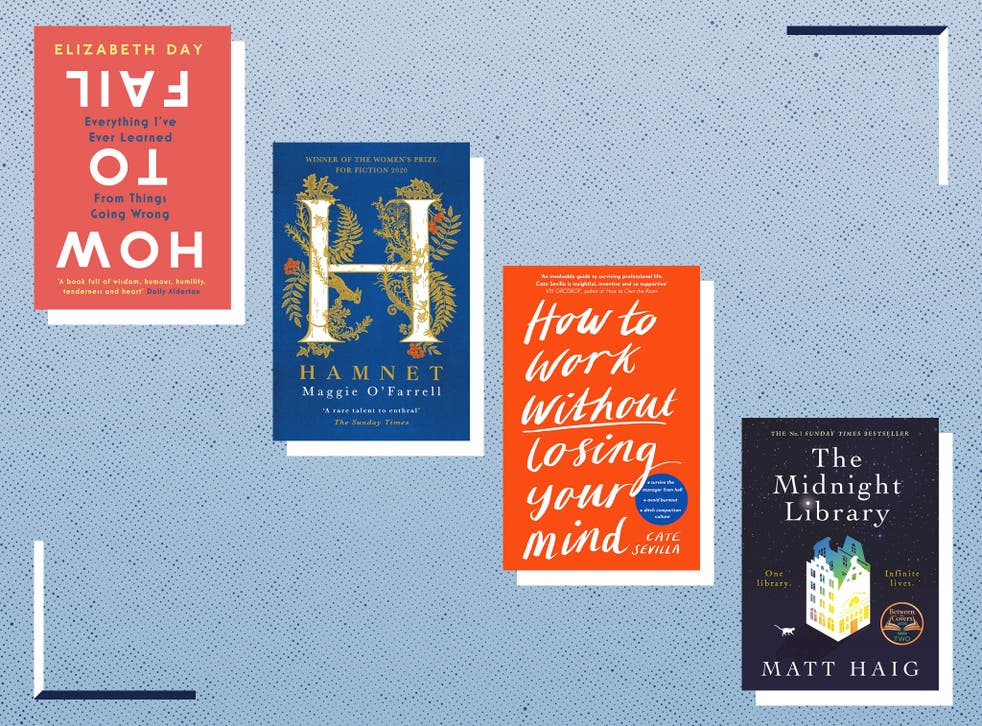 From yoga and running to art and DIY, over the course of the pandemic, some of us have taken up a range of different hobbies to pass the time.
But, lockdown fatigue and increased levels of anxiety might have meant you've struggled to do anything beyond small activities that spark joy and a little escapism.
Read more: The independent bookshops to buy from instead of Amazon
For us, we've achieved this by reading books. And we're not alone, since research suggests that there was a surge in book sales in 2020 – it has been estimated that 202 million books flew off the shelves, in the first time since 2012 that sales have surpassed 200 million.
Reading has long been heralded as a way to make sense of the world. In some cases, a novel or non-fiction title may allow you to travel far, learn about different cultures and grapple with life's mysteries. Often the very best fiction reads are the ones that evoke emotion and eloquently examine important social issues.
If you're looking for some inspiration for your next read, we've covered everything from the Booker Prize and Women's Prize for Fiction-winning titles to the best Jane Austen novels and Marian Keyes books.
But, that's not all. Below the IndyBest team have outlined the books that have kept them going throughout lockdown, from Maggie O'Farrell's Hamnet to How To Fail by Elizabeth Day.
You can trust our independent round-ups. We may earn commission from some of the retailers, but we never allow this to influence selections, which are formed from real-world testing and expert advice. This revenue helps to fund journalism across The Independent. 
Emma Henderson (Editor)
'Hamnet' by Maggie O'Farrell, published by Tinder Press: £7.37, Whsmith.co.uk
Based on the life of Shakespeare's son Hamnet, who died at 11 years old, little is known about him, including how he died. But what we do know is that four years after his death, his father wrote the play Hamlet.
The book's chapters alternate between the novel's present day, in 1596, and the years beforehand, detailing how Hamnet's parents met. Of course, most of the novel, apart from the bare bones, is fictional. It details the bond between twins, grief and the strains on a relationship that death causes, making it an incredibly moving and beautifully written read. O'Farrell's vivid imagining of the time (which she calls her "idle speculation"), meant I found myself desperate to turn the pages every lunchtime and evening until it was finished.
Although it's set more than 400 years ago, there were strong parallels with our current situation – namely that theatres were closed to stop the plague spreading, and mask-wearing was common. But despite these elements, the book was a real form of escapism for me and a fascinating and original take on what the playwright's life could have been like.
Eleanor Jones (Executive editor)
'How to Fail' by Elizabeth Day, published by Fourth Estate: £6.76, Amazon.co.uk
I actually approached Elizabeth Day's How To Fail series backwards – this "part memoir, part manifesto" is inspired by the discussions on her hugely successful podcast, but I read the book first and became a convert to the audio side later. I downloaded it during those early days when we were all feeling a little bewildered in the face of the unprecedented, with no clear picture of what life would look like on the other side. Turning the pages through Day's accounts of her own "failures" (and those of others) became a huge source of reassurance to my unflinching inner five-year planner; even when things spiral completely out of your control, you'll learn and grow in ways you never thought imaginable.
The personal accounts on the pages tackle important topics such as careers, relationships and fertility, but always with heart, humility and just when you least expect it, a surprising touch of humour. It's just the thing for anyone who feels like they've lost their way over the last year – when you finish it, you'll realise no one's journey ever unfolds quite as they expect it to anyway.
Tal Dekel Daks (Audience lead)
'The Midnight Library' by Matt Haig, published by Canongate Books: £5, Amazon.co.uk
This was one of those books that you stay up late to finish in one sitting. In The Midnight Library, Nora finds herself fulfilling a fantasy: what if life turned out another way? What would her life have looked like if she followed a different career path, or undid an old breakup? Each book she picks up from the Midnight Library lets her pop into another life she could have lived if she had made different choices. It's a feel-good fantasy that's clever and thought-inspiring. And if you haven't read Matt Haig's other books, like How To Stop Time, you absolutely should.
Suzie McCracken (Senior production journalist)
'A Promised Land' by Barack Obama, published by Viking: £17.50, Waterstones.com
I've read some fabulous fiction, old and new, during the pandemic (I loved Oreo by Fran Ross, Americanah by Chimamanda Ngozi Adichie and The Water Dancer by Ta-Nehisi Coates), but nothing has soothed me more than A Promised Land. Not only is it ridiculously easy to munch up due to the former president's almost superhuman clarity, but it also has the ultimate comforting quality: there are no surprises.
Sure, it's full of Obama's frustrations, and my right eyebrow remained a few centimetres above its usual position while reading about some of his less fluffy policy decisions, but, considering all that's happened since 2017, it's nice to be transported back to a simpler time. It's also very easy to set down and pick back up – making it perfect for the distracted, semi-nervous emotional state that I now call "normal".
Sarah Young (Writer)
'They Walk Among Us' by Benjamin and Rosanna Fitton, published by Ebury Publishing: £12.99, Waterstones.com
As if current events weren't scary enough, this book uncovers the stories of the UK's most chilling crimes. A welcome addition to a genre that's largely dominated by American anecdotes, the book is based on the writers' popular podcast of the same name and contains a series of 10 short but detailed explanations of cases that are scarily close to home and likely to be new to even the most avid true crime fan. It's certainly not an easy read and at times becomes so gripping that you almost forget these accounts actually happened. Fascinating and full of twists and turns, this is a bone-chilling must-read.
Eva Waite-Taylor (Writer)
'The Flip Side' by James Bailey, published by Penguin Books: £7.43, Bookshop.org
Debut novelist James Bailey provides the ultimate rom-com in this whimsical story that follows the life of a twentysomething, Josh, after his life comes crashing down. When he realises he can't trust his own judgement, he makes every decision thereafter based on the flip of a coin. Finding possibilities where he didn't expect them, I found this to be a much needed, feel-good read during a time of uncertainty. There's no doubt this would work well on screen, too.
Daisy Lester (Production journalist)
'The Hungover Games' by Sophie Heawood, published by Jonathan Cape: £7.91, Amazon.co.uk
The candour and humour of Sophie Heawood's journalism looms large in her memoir, The Hungover Games – chronicling her very funny, honest and shrewd journey from celebrity interviewer in Los Angeles to a single mum in east London. "So this is the story of how I staggered from partying in Hollywood to bringing up a baby in Piss Alley, Dalston," she says in the book's blurb.
Reading Haewood's often outrageous and occasionally undignified anecdotes was the perfect tonic during the second national lockdown. Though hilariously funny, her story of accidental pregnancy is also tender and poignant, with her accounts of motherhood feeling far less common through a single-parent lens. The cast of celebrity cameos that pop up as a result of her day job (Jodie Foster came out to her before it became public) also make for fun reading.
Louise Whitbread (Freelance)
'How to Work Without Losing Your Mind: A Realistic Guide to the Hell of Modern Work' by Cate Sevilla, published by Penguin Business: £9.84, Amazon.co.uk 
Being freelance, I've found working through the pandemic has dramatically changed my career goals and what I want from work. In the pages of this book, the author Cate Sevilla, who has worked in corporate roles at Google and as editor-in-chief of women's lifestyle website The Pool, shares thorough and well-informed ways of navigating the workplace and how to tackle burnout, and coaches you through difficult conversations and situations in the office. These include negotiating a pay rise, dealing with redundancy, when to push for a promotion and what to do when confronted by toxic working environments. Equal parts helpful and hilarious, it's an all-encompassing guide that I've found particularly useful while adjusting to working from home.
Eve Watling (Freelance)
'I Capture the Castle' by Dodie Smith, published by Vintage Publishing: £7.99, Waterstones.com
Longing for comfort and familiarity in early lockdown, I bought a copy of Dodie Smith's 1948 classic novel, a favourite of mine as a teenager. It turned out to be the perfect lockdown read – gentle and infused with a glowing warmth, featuring an emotional complexity that makes the simple story rewarding throughout.
The book begins with the two Mortmain sisters, who, along with their father, brother and stepmother, are sequestered in a neglected castle in the English countryside, stuck in genteel poverty without any means to escape. Two rich American brothers appear as if by chance – a fairy-tale apparition of two modern men of the new world. The spell of their childhood is shattered, and Rose and Cassandra have to navigate the possibilities the brothers have opened up for them, and assess the hidden costs. Told through Cassandras clear-eyed but consciously naïve diary entries, it's a wonderfully-observed account of growing up, set in a beguiling and richly detailed world.
For more top picks from our editors read our guide to our favourite sleep products we can't nod off without
Register for free to continue reading
Registration is a free and easy way to support our truly independent journalism
By registering, you will also enjoy limited access to Premium articles, exclusive newsletters, commenting, and virtual events with our leading journalists
Already have an account? sign in
Register for free to continue reading
Registration is a free and easy way to support our truly independent journalism
By registering, you will also enjoy limited access to Premium articles, exclusive newsletters, commenting, and virtual events with our leading journalists
Already have an account? sign in