10 best wall shelves
 Raise your shelf game and give your prized possessions a place to perch with our edit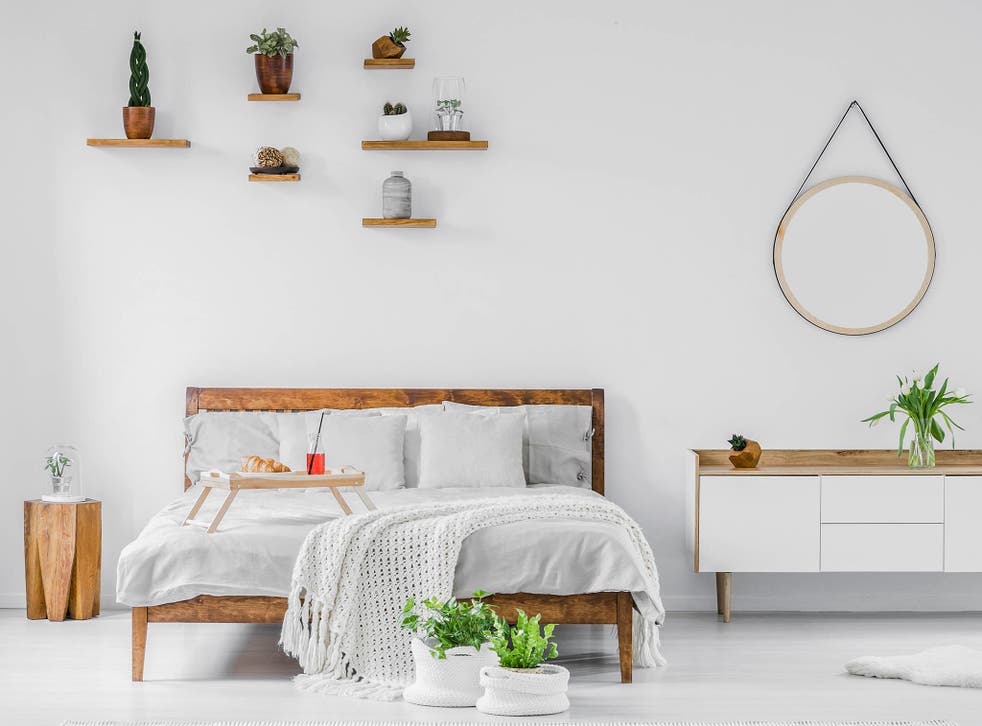 Wall shelves turn bare walls into functional storage areas, and, if the shelves themselves are attractive and their display areas are styled well, they can become pieces of wall art in their own right.
When choosing the perfect shelf or set of shelves you need to consider several criteria: your preferred style; the size of the shelf; the weight when filled; whether your wall is strong enough to support it; what you want the shelf to display; and whether you want the supports on display or if you want the shelf to appear to float on hidden brackets.
Once you know what you are looking for you are ready to go shelf shopping. And, don't worry about your shelf needs being too specific, there is a wall shelf out there for every space, interior style and function. Here we round up the best around.
Skandium string pocket: £122, Skandium
Dimensions: H50cm x W60cm x D15cm
Much-loved Scandinavian brand String was one of the early pioneers of flexible-shelving systems and this cute wall shelf is the smallest in its range. Available in a rainbow of colours and a selection of finishes, this unit works on its own or grouped together with other parts of the String system. It is equally at home alongside a bed, in an entrance hallway, children's bedroom, playroom or living space. A fantastic shelf that is likely to stay with you your whole life and to be used in several different incantations along the way.
A Place For Everything farringdon box shelf: £34, A Place For Everything
Dimensions: H32cm x W48cm x D18cm
You'll find a place for this neat hand-welded steel boxy wall shelf in every room in your home. Use it in the kitchen to frame cookbooks with some standing upright, some on their side; use it in the bathroom to show off pretty toiletries and, in the hallway or living room with a trailing plant in one corner and photo frames and guidebooks filling up the rest of the space. It is supported by just two screws, one in each corner and has a subtle lip to stop things from tumbling off. An on-trend industrial shelf that's waiting to be turned into your own unique piece of display art.
Umbra conceal bookshelf: £9.45, Redcandy
Dimensions: small H13cm x W13cm x D14cm, £9.45; large H14.5cm x D17.5cm x L17.5cm,
Suspend up to 10 books books magically on the wall with this clever powder-coated steel hidden shelf. The bottom book hugs the thin shelf and the subsequent books piled on top conceal the wall bracket. Fixed to the wall with two screws, these shelves are available in two sizes, use singularly or in groups to create a vertical library. The perfect little bookshelf for narrow spaces and cheap too.
Frama shelf library double shelf: £2,254, Nest
Dimensions: H185.2cm x W160cm x D29cm
Some book collections don't just call for a single shelf, they call for library-style multiple shelving and you can fill a whole wall with books with this striking double wall-shelf unit. Designed for Scandi-Brand Frama by Kim Richardt, crafted from natural oiled oak with stainless steel brackets and requiring a strong wall and expert fixing, this piece looks fantastic filled with reading material interspersed with photographs and ornaments. A beautiful lifetime investment piece for showing off all of your favourite things.
Kartell bookworm shelf with 17 bookends: £756, Heals
Dimensions: H19cm x W82cm x D20cm
Designed by acclaimed post-modern designer Ron Arad for Kartell, this swirling bookworm shelf has quickly become a design classic. Shown here with 17 bookends, it is also available in smaller sizes and comes in a selection of colours. It can be put together in dozen of different formations so that you can create something truly unique to your wall and then personalise it further with your books and knick knacks. A fantastic, flexible standout wall shelf that is destined to stay in the family for generations.
Ella's Kitchen Company the wall pantry: From £370, Ella's Kitchen Company
Dimensions: H72cm x W68cm x D26cm
Available in a selection of house colours, unpainted or painted in your own specified paint, this wall shelf features two shelves made for cookbooks and several windowed metal scoops designed for dried goods, these can hold up to 1kg of flour or sugar and 500g pasta. While the hooks beneath can take mugs and tea towels. Designed with the kitchen in mind, this unit could also work in a hallway, however, where the shelves can still hold books, but the scoops can hold keys and gloves and the hooks hats and scarves. A practical unit with a traditional timeless feel that is designed to last forever.
Lene Bjerre hilda mirror: £100, Sweetpea & Willow
Dimensions: H50cm x W90cm x D17cm
Doubling up as a mirror and a shelf, this piece is perfectly suited to a bedroom or entrance hallway or even as the focal point above a fireplace in your main living space. Use the mirror, not just to check your reflection, but to bounce more light around your room and make it feel larger. Fill the basket shelf with perfumes in the bedroom, houseplants and vases in the living room and keys and gloves in the hall. A lovely multipurpose shelf that works in a variety of settings.
Dowsing and Reynolds large OOLONG shelf: £20.99, Dowsing and Reynolds
Dimensions: small W30cm x D12.5cm £14.99, large W44.5cm x D12.5cm
Available in two widths, this neat white-painted steel wall shelf can be used as a tray shelf with the lip facing upwards, which will stop what it is holding from rolling off of it, or turned the other way up with the lip facing downwards for a cleaner line. It holds up to 3kg, which is a fair amount and looks particularly stylish when used in groups of two or three. A flexible, funky shelf at a great price point.
Uno mirrored square wall shelf: £44.99, My Furniture
Dimensions: H27cm x W27cm x D20cm
Available in this square and another rectangle configuration, you can stack these shelves up to create your own unique modular-shelving system. The bevelled-mirrored surface bounces light beautifully around the room and helps to make the room it sits in feel more spacious, plus mirrored furniture can not help but add a touch of glamour wherever it goes. Use it to stack towels in the bathroom and paperbacks, vases or photo frames in your living space or bedroom. A space-enhancing chic shelf that looks great alone or in a group.
Bobby Rabbit babou triple shelf: £72.95, Bobby Rabbit
Dimensions: H69cm x W66cm x D14cm
Available in yellow, petrol blue, white, pink and grey and suspended from the wall by a screw in each top corner, this metal frame holds three MDF shelves covered in a practical, wipeable water-based lacquer. Designed with children in mind, this shelf unit is ideal for a nursery, child or teen bedroom or playroom where it makes a lovely display area for books and toys, but styled differently it is equally at home in a modern kitchen, entrance hallway or living space. A simple, yet striking, contemporary set of wall shelves.
The verdict: Wall shelves
There is a place for all of these wall shelves in your home, but we have picked the string pocket wall shelf as our absolute favourite, because it can be used alone in a variety of interior settings and added to over the years to create a whole wall of stylish storage. It is already a design classic and it will never date.
IndyBest product reviews are unbiased, independent advice you can trust. On some occasions, we earn revenue if you click the links and buy the products, but we never allow this to bias our coverage. The reviews are compiled through a mix of expert opinion and real-world testing.