The Independent's journalism is supported by our readers. When you purchase through links on our site, we may earn commission.
The puppy checklist: The essentials you need when bringing your new doggo home
Kit out your new furry friend with the best gear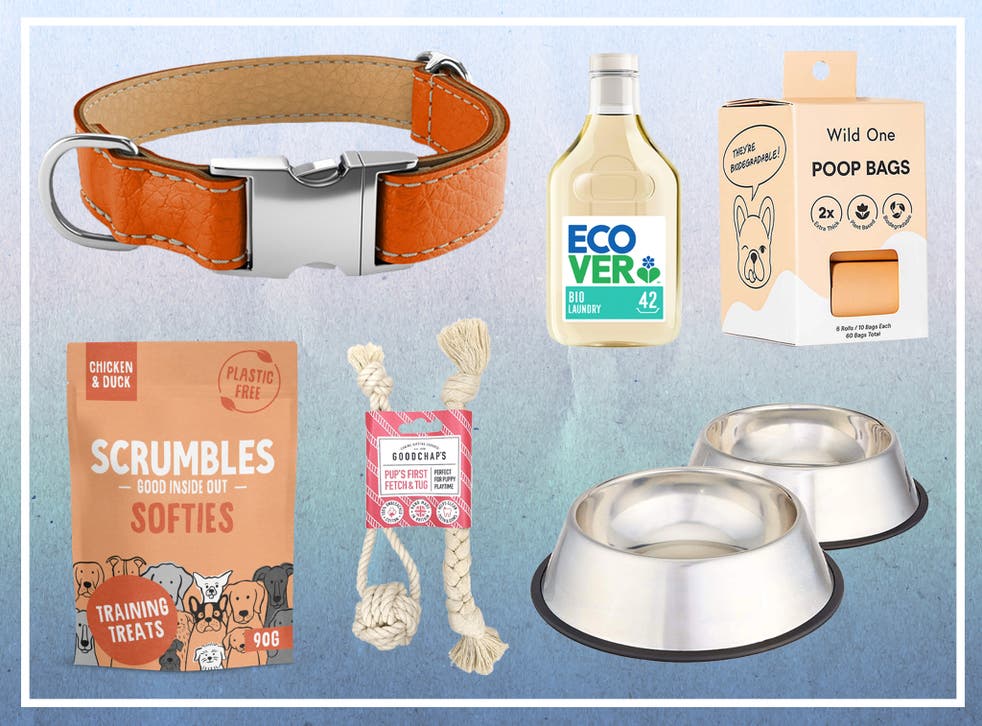 Nearly a year since we first went into lockdown, it has become clear that many of us will be able to work from home for the foreseeable. For those of us that have long dreamed of welcoming a four-legged friend into our home, it has felt like the perfect time to finally take the plunge and become a pup parent, leading to a boom in dog ownership.
Of course, a "pandemic puppy" as they have become known, is not just for Christmas, or in this case lockdown. Owning a pet is a lifelong commitment and one that should not be taken lightly. Before committing, it's very important you do extensive research on the correct breed for you and your lifestyle to ensure you're well equipped to give your pup everything it needs to thrive. Next up, you'll need to take the time to find a rescue shelter or reputable breeder that puts the breed over profit (this will often mean a considerable wait time, as the best breeders don't advertise and have long reserve lists).
Read more: Zara has launched a stylish pet collection, here's everything we want to buy our dogs
Louise Glazebrook (@louise.glazebrook), dog behaviourist and trainer on BBC2 series, 12 Puppies and Us, shares some of her expert tips.
"Getting a new dog can feel like the most exciting thing in the world, and it should be, but you also need to be prepared for some dark days and nights of doubt, where you question whether you are capable. The sleepless nights, the toileting, the teething and biting can feel like you are living with a feral land shark rather than a dog.
"Seek out help from a professional, rather than looking at the likes of YouTube – what works for one breed and one personality, will not work for another. Every dog, every household, and every person is different, so to believe there is one size fits all is absolutely bonkers. Lastly, do not be tempted to leave your puppy to cry it out, it is an outdated method that comprises the trust of the dog and makes them feel less secure."
While nothing will truly prepare you for bringing your new puppy home, we hope this guide will make those first few sleepless nights (and weeks!), more comfortable for both of you. Having bought our French bulldog home a couple of weeks ago, we'll be explaining what really works when it comes to puppy-proofing your home, what toys will keep them entertained, and advise what's worth spending your money on.
You can trust our independent reviews. We may earn commission from some of the retailers, but we never allow this to influence selections, which are formed from real-world testing and expert advice. This revenue helps to fund journalism across The Independent. 
Puppy-proofing your home
Let us make this crystal clear – you really can't take your eyes off your puppy for one second. The moment you do they'll be chewing something they shouldn't, or toileting somewhere you'd rather they didn't. It's important to remember that none of this is their fault. Instead, it's up to you to puppy proof your home.
This Scandinavian pet pen (£100, Argos.co.uk) will be a godsend in the early days. Initially, we set it up as an extension to our French bulldog's crate, giving him a safe space to go and get some downtime when he needed it. Filled with toys and blankets, he skipped into it the second we bought him home and takes himself off for naps as and when he feels like it.
After a couple of days, it became clear that rather than giving him free rein of our very open plan living area, it would be much safer to partition the space, which can also be achieved by reconfiguring this pen into a room divider. It might feel expensive but it's much cheaper than replacing a sofa or rug (not to mention worrying trips to the vets when they've found something you didn't want them to).
Some puppies aren't so keen on their crates and will keep you up all night to let you know about it. Glazebrook recommends not putting too much focus on the crate, favouring a pen instead. But it's important to remember, far from using it as a place to lock up your new pup, this is your dog's safe space, where he or she can take themselves off to find new treats and have some confidence-building alone-time.
It may take a while for your new pooch to warm to their new home. Try and make it as welcoming as possible by including soft fleecy blankets and a comfortable bed, like this one from Hindquarters (from £100, Hindquarters.com), which comes with removable, washable covers. Ensure it is set up in a comfortable position, away from drafty doors or windows, and let them discover it for themselves by leaving the door wide open.
What are the best toys for puppies?
Rather than a "nice to have", toys are an essential part of a dog's development. Try and get a varied selection – you'll need some that you can play with together, to help foster a good relationship with one another, lots that they can chew on, and others that they can cuddle up to. They'll need different toys at different times of day ­- switching these out can be beneficial to renew interest, as attention spans can be short.
As Glazebrook said, all dogs will be different, but our Frenchie's favourites have included the durable but soft, Barry the Banana (£7.95, Healthfulpets.co.uk) which has a variety of textures and is made from eco-friendly suede and jute.
Inexpensive squeaky Kong balls (£2.35, Fetch.co.uk) proved a hit and are great for pups, as is Goodchap's simple fetch and tug two-pack (£6.50, Paws & Planet). A Nylabone chew toy (from £5.49, Fetch.co.uk) will also come in useful – just make sure you select one in an appropriate size for your dog.
For us, the bewitching hour usually happens between 4-6pm, when Albert would turn into the feral land shark Glazebrook warned us about. While it's comforting to know all dogs go through this phase, it's also important to ensure they are channelling biting in the correct way. This Wild One bolt bite (£25, Selfridges) is made from BPA and phthalate free-rubber and feels indestructible. You can hide treats either end or smear a tiny bit of peanut butter inside. It's dishwasher safe too.
Be careful about supervising your puppy while they are playing, even if they are playing alone. Most toys are not 100 per cent puppy proof, and vigorous sessions might result in parts breaking off and causing choking hazards. It's true that in the early days, they need constant attention.
Puppy food and treats
The internet is already full of advice on the "best" food for your puppy, however as we've learnt, each pet will have different needs. Your breeder or an independent canine nutritionist should be able to advise what they'd recommend.
Whatever type you go for, you'll need two non-slip, easy cleaning bowls (£11.29, Amazon.co.uk) – one for food, one for water. If your dog chows down their grub fast, you might want to try a puzzle bowl to slow them down (£30, Fetch.co.uk).
In the early days when attempting to train your pup, a good portion of a dog's daily calories will be taken up with treats, so it's important these are tasty and healthy. Small pieces of cooked chicken or pre-made treats with uncomplicated ingredients will be your best bet, just ensure they're age-appropriate, such as Scrumbles chicken and duck softies (£2.60, Scrumbles), which are designed for pups three months and over.
Toilet training your puppy
One of the things you're probably attempting is toilet training. Even if your pup is doing it in the right place, you'll need poo bags. These Wild One plant-based poo bags (£5.76, Wild One) are extra-thick, leak-proof and biodegradable.
If they've not quite got the hang of it yet, enzymatic cleaning spray (£6.49, Your Dog's Club) is your friend. Alternatively, a bit of Ecover's biological washing liquid (£9, Sainsbury's) diluted down will do the same job with fewer chemicals.
Walkies!
You'll need to wait until your pup has had the required vaccinations but after a couple of weeks or so you should be able to take them out on their first short walk. But before you start planning epic adventures, the general advice is that puppies should only exercise for five minutes per month of age until they are fully grown. So if your pup is three-months-old, that's just 15 minutes total, although you can split this across two walks if you prefer.
However, Glazebrook cautions that this is an outdated approach, saying "people will lose their mind with their dogs if they stick to that". "I wouldn't be too prescriptive over exercise, as what works for one puppy won't work for another. Again, I would say to seek advice from a trusted behaviourist".
Before you get started, it is a legal requirement for your dog to wear a collar and ID tag with their owner's name and address on when out in public. Try and avoid synthetic materials that might irritate the skin. This Ryan London dog collar (£26, Ryanlondon.com) is beautifully made from buttery soft leather and can be embossed, or try this handmade Good Pooch London hemp dog harness, collar and lead set ( £38.99, Etsy.com) made with natural hemp.
If that all feels like a lot of information to take in, here are a couple of helpful kits to get you started with the essentials…
This puppy essentials box (£100, Lordsandlabradors.co.uk) contains a cosy bed, blanket, chews, bowls, treats, cleaning products, puppy pads, poo bags and a collar and lead set.
A cute gift to send a pet parent to be, the Knottie pet hamper (Pet Hamper, £25) contains a super soft blanket, chew toys, treats and gentle puppy shampoo.
You can also sign up for Louise Glazebrook's expertly curated, monthly puppy boxes, packed to the brim with toys your dogs will really love, via The Darling Dog Company Puppy Club.
For more cute pet products, check out our round-up of everything you need to keep your four-legged friend happy
IndyBest product reviews are unbiased, independent advice you can trust. On some occasions, we earn revenue if you click the links and buy the products, but we never allow this to bias our coverage. The reviews are compiled through a mix of expert opinion and real-world testing.
Register for free to continue reading
Registration is a free and easy way to support our truly independent journalism
By registering, you will also enjoy limited access to Premium articles, exclusive newsletters, commenting, and virtual events with our leading journalists
Already have an account? sign in