10 best DSLR cameras for all budgets and skill levels, from beginners to professionals
Give yourself an upgrade from the smartphone camera with a seriously capable snapper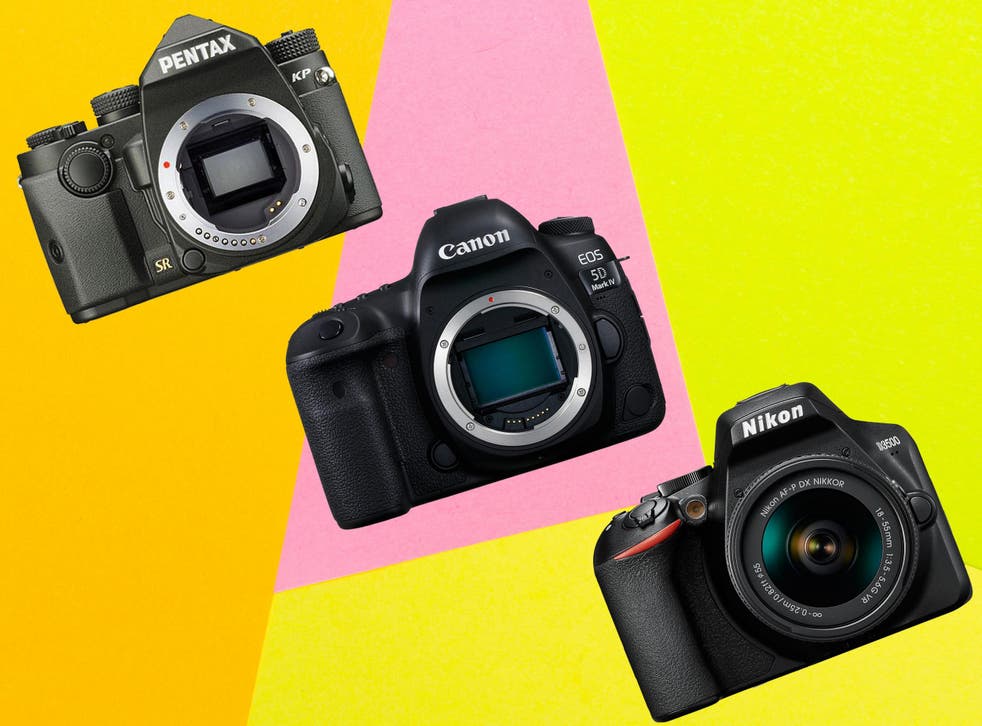 It's true, the camera on your smartphone is pretty capable these days, with its ultimate pocketability, high megapixel count, connection to the internet and clever effects.
But smartphones only achieve the equivalent of optical zoom by building in multiple lenses and, while they're convenient, they can't match the ergonomics of a proper camera with its grips and buttons.
Top of the quality tree is the digital SLR camera (DSLR) with its interchangeable lenses, outstanding build and strong manual controls. It also has a sensor size which no phone, or even a compact camera, can match.
A bigger sensor means bigger pixels and bigger pixels are better than smaller, more numerous ones. Sensor sizes include APS-C and the bigger full-frame.
DSLRs have optical viewfinders (the "single-lens reflex" bit refers to the mirror and prism that reflect light coming through the lens up to the viewfinder) that see exactly what the lens does so you know what the picture will look like.
The only camera which can compete with the DSLR is the mirrorless or compact system camera, which uses a digital viewfinder instead of an optical one. This means there's no need for the mirror system, saving space and weight.
Many mirrorless cameras deliver as good an image as a DSLR and are lighter and smaller. But an electronic viewfinder rarely matches an optical one for brightness and quality.
DSLR cameras are usually sold with the camera body only, to give greatest flexibility when it comes to choosing exactly the lens you want, though bundles are usually available, too. Prices quoted are for body only unless otherwise stated.
Canon EOS 5D Mk IV: £2,799, John Lewis & Partners
Sensor size: Full frame Sensor resolution: 30.4MP Rear screen: 3.2in
If you've used a previous EOS 5D camera like the Mk III, you'll find many similarities here, though some items have been changed, like the hand grip which is bigger and a more satisfying feel in the hand. Additionally, specifications have been considerably improved. This is a superbly designed camera in every way, feeling reassuringly authoritative in its size and weight (though it's lighter than the Nikon D850 below). The autofocus is a standout here and is super precise whether you're using the viewfinder or framing your shot on the 3.2in LCD screen. Like most DSLRs it shoots video as well, here at the highest 4K resolution. GPS means you can tag your photos easily. The price above is for body only, but note that there's a £300 cashback offer that can be redeemed, which brings the price to £2,499.
Nikon D850: £2,669, Jessops
Sensor size: Full frame Sensor resolution: 45.7MP Rear screen: 3.2in adjustable-angle touchscreen
This camera is a photographer's dream, though it's far from cheap. It's big and reassuringly solid. It's not light, weighing just over 1kg, but is ergonomically well designed so the right buttons and dials fall under your fingers easily. One of the main ways a camera succeeds or fails is in its focusing system. The autofocus system here is tremendous, with 153 points from which to calculate focus. It works well in bright light and very low light, too. It's extremely fast and responsive and has enormous versatility. Because it's so fast, it's great whether you're shooting fast-moving subjects or landscapes. The large, bright optical viewfinder (a feature which compact system cameras lack) is very effective and is just one reason the camera is such a joy to use. Unsurprisingly, the 45.7MP sensor is capable of amazingly detailed results.
Canon EOS 80D: £979.99, Amazon
Sensor size: APS-C​ Sensor resolution: 24.2MP Rear screen: 3in
The EOS 80D has been around for a while but it's still a very strong choice – unless your heart is set on recording video at 4K resolution as this one maxes out at HD. Because it's not the newest model it's also dropped in price a little and makes for a great second DSLR when you've outgrown your first. That's because it has advanced features such as enhanced shutters or lighting settings so that it works in a variety of shooting conditions. There are also custom-mode settings enabling you to switch from one pre-set series of conditions to another, configurable down to particular shutter speeds or autofocus settings. It's an attractively designed camera with especially good build quality.
Nikon D7500: £774, Amazon
Sensor size: APS-C​ Sensor resolution: 20.9MP Rear screen: 3.2in adjustable angle touchscreen
Much of the technology of Nikon's D500 has snuck into this much more affordable snapper. The sensor on this camera is APS-C and is highly effective. Though some similarly priced cameras have higher-resolution sensors, here Nikon opted for larger pixel photosites, to pull in more light. It's fast, for sure, and it's the ability to shoot continuously at eight frames per second makes it appealing to those wanting to shoot fast-moving scenes likes sports, for instance. It also has Nikon's dedicated SnapBridge technology which allows you to connect the camera wirelessly to a Bluetooth-compatible device: handy for transferring images to your phone, say, ready to upload.
Nikon D3500: £499, John Lewis & Partners
Sensor size: APS-C​ Sensor resolution: 24.2MP Rear screen: 3in fixed screen, not touch-sensitive
This is a great camera for someone stepping up from compact to DSLR, and is much less expensive than many top-end cameras. The combination of the easy interface, excellent sensor and small size mean it's a camera that's easy to like. It's as competitively priced as it is because of omissions such as no 4K video recording, and a rear screen that's fixed in place and doesn't respond to touch. But these are hardly deal-breakers for the price. This camera comes with an 18-55mm vibration reduction lens, or with a regular lens without vibration reduction for £20 less, but it's worth the extra as it offers image stabilisation.
Canon EOS 250D: £529.99, Canon
Sensor size: APS-C​ Sensor resolution: 24.1MP Rear screen: 3in touchscreen, adjustable angle
Another great DSLR for those new to the camera format, especially because it's much smaller than most DSLRs and not much bigger than a compact system camera. Canon claims it's the lightest DSLR with a movable rear screen you can find. But it still has a large sensor and ergonomics that make it a great fit in the hand. Some DSLRs have slow live-view autofocus – that's where you use the rear display to frame and take your shot instead of the viewfinder – but this one is especially fast and capable.
Nikon D500: £1,565, Amazon
Sensor size: APS-C Sensor resolution: 20.9MP Rear screen: 3.2in touchscreen, adjustable angle
Just as the D7500 above borrows some of the specifications from the D500, this camera benefits from many of the advances of Nikon's flagship D5 camera. As such, it's aimed at enthusiasts and professionals rather than newcomers to DSLR photography. The touchscreen LCD can be used to set the autofocus point, a handy feature that's not available on all DSLRs. It is robustly built, with decent weatherproofing and strong durability. Image quality is knockout, delivering sharp, colour-faithful results in almost all situations.
Canon EOS 800D: £749.99, Canon
Sensor size: APS-C​ Sensor resolution: 24.2MP Rear screen: 3in angle-adjustable touchscreen
The 800D is a new DSLR that sits at the top end of entry-level, with a lot going for it. For instance, the price includes a compact 18-55mm zoom lens. It has the latest APS-C sensor, designed among other things to handle image noise better in situations where earlier sensors may have floundered. It also has a particularly accessible interface, so newcomers will feel welcome. A Bluetooth connection means you can ensure the camera is always connected to a separate device like a phone, say. The build isn't as classy as some rivals but it's light and manageable in the hand. Note that unlike many here, there's no 4K video recording on this camera.
Pentax KP: £999, Jessops
Sensor size: APS-C​ Sensor resolution: 24MP Rear screen: 3in angle-adjustable screen, not touch-sensitive
Pentax is one of very few companies making DSLR cameras besides Nikon and Canon. Quality is good, though some users find this model a less comfortable fit in the hand than rivals – though it's also smaller than many, which may be a bonus. The 390-shot battery life is not quite on a par with others here, but it's not bad. Where it excels is in the dynamic range it brings to images, so that more detail is visible in shadows and bright skies, and colours are well represented. It also has strong weatherproofing and good image stabilisation.
Sony A99 II: £2,699, Jessops
Sensor size: Full frame Sensor resolution: 42MP Rear screen: 3in angle-adjustable screen, not touch-sensitive
This full-frame camera is not a traditional SLR. It uses a translucent mirror which reflects light up on to autofocus and other sensors while simultaneously letting light hit the sensor without the mirror moving. In turn, this means the camera can shoot faster, at 12 frames per second, in fact. This camera has an electronic rather than an optical viewfinder but this design keeps the body small and light. Image quality is excellent – as it should be for a camera at this price.
The verdict: DSLR cameras
The two big hitters in the world of DSLR are Canon and Nikon. It's hard to go wrong with either, so choose according to your price point and how advanced you need the camera to be. The Canon EOS 5D Mk IV is magnificent, but if it's just too expensive, the Canon EOS 800D has a lot to recommend it. Similarly, if a top-of-the-range Nikon is too much, the Nikon D500 is a great balance of advanced capabilities and solid price.
IndyBest product reviews are unbiased, independent advice you can trust. On some occasions, we earn revenue if you click the links and buy the products, but we never allow this to bias our coverage. The reviews are compiled through a mix of expert opinion and real-world testing.