The Independent's journalism is supported by our readers. When you purchase through links on our site, we may earn commission.
9 best shower curtains to help transform any bathroom
Shower in style with a luxe addition to your space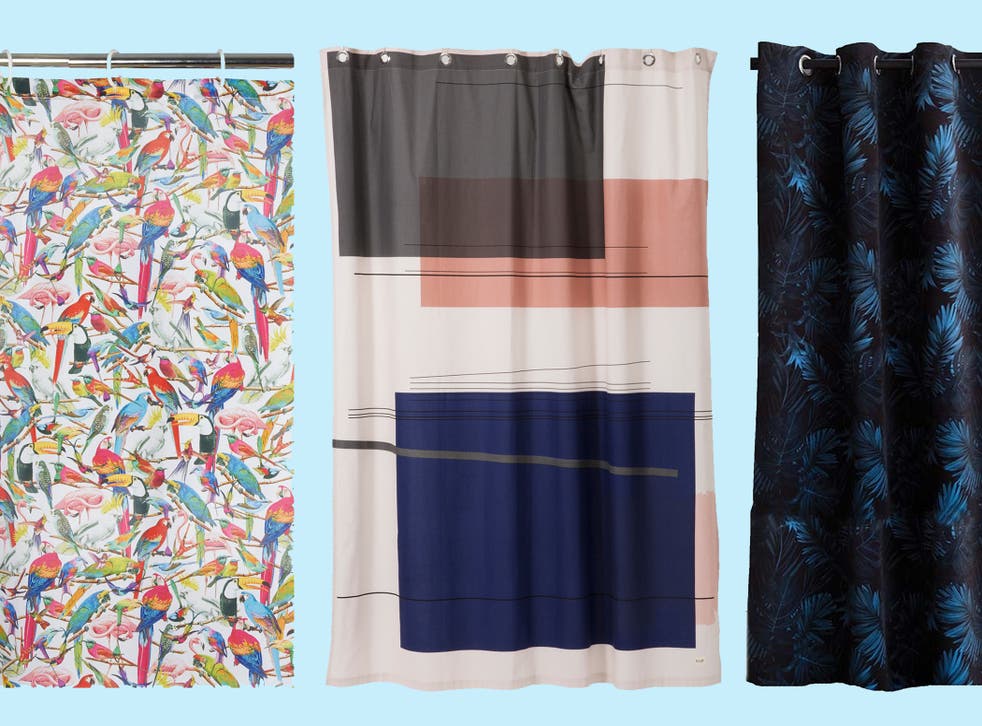 The essential shower curtain has always served a practical bathroom accessory.
Typically made from vinyl, fabric or plastic, and hung with rings from a railing or curtain rods, its purpose of being water resistant has prevented many a puddle on the bathroom floor.
But gone are the days of the boring and dull-looking curtain. Now you can choose from a variety of eye-catching designs and colours to reflect your personal style and decor. They are also great for giving a fresh and uplifting makeover to your bathroom.
A top tip is after each shower, ensure you close the curtain fully to prevent mildew build-up and to allow it to dry more quickly.
Here are our favourite shower curtains on the market. Tried and tested on everything from design, durability, practicality and value for money.
Belfry Bathroom Meadow 12 plastic hook shower curtain: £22.99, Wayfair
This chic and practical plastic hook shower curtain is durable, high quality and looks stylish in any bathroom. Made from polyester, it's water-repellent, mildew-resistant and can be thrown in the washing machine when needed. The eye-catching, floral and butterfly design adds a subtle splash of colour to your bathroom without being too bold. We love the modern motif.
Soak & Sleep woven Hammam stripe shower curtain: £22.50, Soak & Sleep
Add some spa-style luxe to your bathroom with this woven shower curtain. The crisp, textured fabric is 100 per cent cotton and is weighty, adding to its high-quality feel. You would however need to buy a PVC liner with this product to make it completely water resistant. Its neutral colour is accentuated by a soft grey stripe detail and paired with some classic stainless steel curtain rings, it will suit any bathroom. It is also machine washable so you can keep it looking sparking white.
Metron camouflage XCVII shower curtain: £47.95, JUNIQE
If you're fan of modern art or simply after a statement shower curtain, this one is for you. The abstract art deco print, designed by Pascal Deckarm, guarantees to brighten up any bathroom. Made from polyester, it is machine washable and features stylish nickel-plated, stainless metal eyelets for shower curtain rings. This may be on the more expensive side for what it is, but the top quality material and eye-catching design justifies the price.
Asda parrot fabric shower curtain: £6, Asda
Shower curtains don't have to be boring. Give some character to your bathroom with this quirky, fabric curtain covered in parrots. Whether you're a bird fan or want a jungle escape, this colourful print can liven up any bathroom. The material is slightly lightweight, but it still does the job of being water resistant. At a bargain price, it certainly adds the fun factor to your shower.
B&M diamante shower curtain: £6.99, B&M Stores
Give your bathroom a bit of sparkle with this diamante shower curtain. Its neutral design is made to stand out with the diamante detail at the top. The trim comes in various colours, plum, grey, black, aqua, mauve and natural, so you can choose one to match your own style and décor. It is water repellent and easy to keep clean. The only downside may be that the diamantes may fall off over time, but at this price it's worth the risk.
Wilko blue white and aqua stripe shower curtain: £7, Wilko
With its vibrant blue and white nautical stripes, this shower curtain is ideal for introducing a pop of colour to your bathroom. It's practical, water resistant and easy to keep clean. Don't be fooled by the price tag, as unlike other flimsy equivalents, this is made from a durable, good quality material. For a bargain shower curtain, this certainly does the job and looks great.
Ferm Living colour block shower curtain: £59, AMARA
If you're after something contemporary and premium quality, this curtain ticks the right boxes. Made from 100 per cent cotton with acrylic cotton, it is heavy and durable – keeping those splashes at bay. With its eye-catching colour block design, metal eyelets and stainless steel rings, it will certainly add some luxury to your bathroom. Although on the expensive side for a shower curtain, its quality feel and timeless design makes it worth it.
Rockett St George blue palm leaf shower curtain: £52, Rockett St George
Dark interiors and blue hues are all the rage, which is why we love this from Rockett St George. The bold curtain has a silky feel to it, yet is surprisingly durable. The stainless steel eyelets and vibrant blue palm leaf design add drama to an otherwise plain bathroom. Far from being overwhelming, this curtain adds a classy touch to your bathroom and looks very high-end.
Sabichi peva shower curtain leaves: £6.99, Robert Dyas
This white curtain with its falling leaves detail is ideal for a neutral bathroom setting. Made from PEVA material it is easy to wipe clean and dries off quickly. It comes with twelve hooks for easy hanging so you don't have to battle with an annoying tug. Not only is it practical and tasteful, but looks much more expensive than its bargain price.
The verdict: Shower curtains
For durability, quality and a contemporary design, the Meadow shower curtain by Belfry Bathroom is our best buy. And for a more unique option, the camouflage XCVII shower curtain's artsy design will spruce up any bathroom interior. It is more on the expensive side, but it feels high-quality and is sure to be the talking point of any bathroom.
Register for free to continue reading
Registration is a free and easy way to support our truly independent journalism
By registering, you will also enjoy limited access to Premium articles, exclusive newsletters, commenting, and virtual events with our leading journalists
Already have an account? sign in
Register for free to continue reading
Registration is a free and easy way to support our truly independent journalism
By registering, you will also enjoy limited access to Premium articles, exclusive newsletters, commenting, and virtual events with our leading journalists
Already have an account? sign in