The Independent's journalism is supported by our readers. When you purchase through links on our site, we may earn commission.
15 best wedding gifts that are better than just giving cash
Step away from the irons and matching bath towel sets, we've got much better suggestions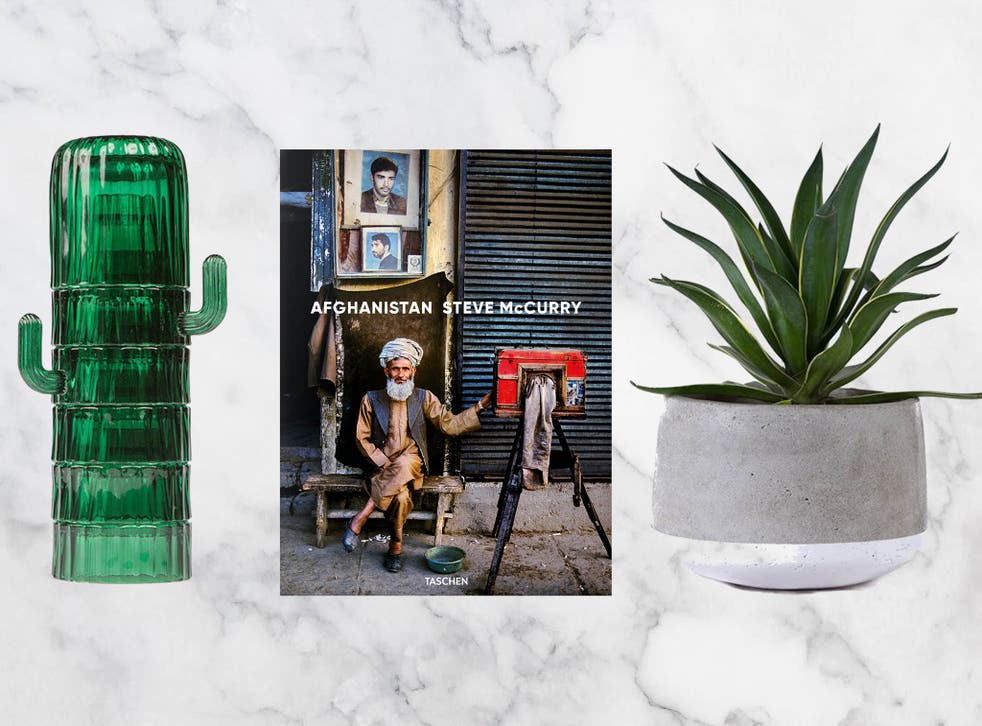 How many weddings have you been to lately where the happy couple swapped a traditional gift in favour of supporting their honeymoon fund? Lots? We thought so.
And that's mostly because couples will have lived together for many years before getting married, just to make sure they're doing the right thing… And along the way, they've traded in their Sainsbury's Home kettle from uni for something a little more grown up.
People are generally getting married later, and thus don't need the help "setting up home" anymore – so don't even think about buying the newlyweds something like as boring as an iron.
Considering the average wedding costs in the region of £30,000 couples usually need help with the wedding, or the honeymoon. But for some guests, slotting some cold hard cash into a card feels impersonal, especially for really close friends and immediate family, who might want to opt for investment pieces, or something personalised.
There's still a huge market for wedding gifts, and we think it's more fun to think outside the box and find something more exciting than matching bath towel sets. Gift giving is at its best when it's something you know the couple will love, but won't have had the time or money to buy it.
And in the age of renting, many people won't have bought the art prints they love in fear of damaging walls, and couldn't dream of spending a large chunk of their rent of a Le Cruset dish – but that doesn't mean they won't love one.
We were looking for original products for couples from film, to gardening, travelling and art, covering different budgets, starting from a token £15, as well as products from well-known brands worth investing in to small independent businesses we've found on Instagram.
You can trust our independent reviews. We may earn commission from some of the retailers, but we never allow this to influence selections, which are formed from real-world testing and expert advice. This revenue helps to fund journalism across The Independent.
Horizn Studios H6 blue vega 65l check-in suitcase: £340, Horizn Studios
You know it's going to be a good suitcase when it comes with its own dust bag and Horizn Studios was the first brand to come up with the in-built charger. Go for his n hers and monogram the luggage tags with their initials too. We love how beautifully these glide along the floor and the whole range is made from aerospace-grade polycarbonate that's incredibly light. There's lots of nifty bits inside like a little removable laundry bag, a little zip for your cables, a compression pad and integrated TSA locks on the outside. There's more than enough room for a week-long trip and certainly a two-week summer honeymoon. They're made to last and worth the investment for the serial holidaying couple. Dimensions: H64 x W46 x D24cm.
The White Company fine 5x7 silver photo frame: £45, The White Company
Every newly married couple will want to frame at least a million (accurate estimation) of their special day snaps, and none will look better than in a silver plated frame with a black and white print. We love these from The White Company for its fine silver frame and large white mount: it's elegant and timeless and everyone will be drawn to it in the couple's house, plsu they won't stop staring at it for months, that's for sure.
Cotton Poet personalised duvet cover: From £90 for a double, Cotton Poet
These 300 thread count bed sheets are designed in London and made in Portugal, and are super soft, with a luxurious looking and feeling silky sheen. We love the double cord stitching which contrasts and the discreet button fastening on the duvet cover. Our favourite of the nine colours to choose from is the dove grey. But what we love most about this set is that you can personalise it. Add initials of the newlyweds in the matching embroidered colour – just make sure you're certain on surnames. Pillowcases and sheets sold separately from £27, and have Shakespeare's Hamlet quote: "to sleep, perchance to dream" embroidered in white cotton along the top. Bedding comes in a cute drawstring cotton bedding bag which is great for storage too.
Eleanor Bowmer it's love personalised rainbow print: From £15, Eleanor Bowmer
From one of our favourite artists is this cute print love heart that can be personalised with the couple's initials and wedding date. Choose from either the spotty background (our favourite) or plain white and choose from A4 or A3. Eleanor hand paints her entire range of prints herself, and also does bags, tea towels and wallpaper in amazing prints, and we're sure you'll be as addicted to her products as us in no time. She's also just launched a range of cards too (yes, there are wedding cards for a double whammy!).
Saguaro stacking cactus glasses: £45, Red Candy
Forget fancy wine glasses as wedding gifts, these dark green stacking cups are way more 2019. With two cups that have little handles, three without and one larger one for the top, its a fab-looking set to display on worktops or sideboards, which interiors fans certainly won't want to stash away in cupboards.
Lucy Loves This alphabet letters A4 print: £20 unframed, Lucy Loves This
These gorgeous hand-drawn alphabet prints of locations all around the UK are made up of the area's best known places using intricate illustrations, monochrome typography and landmarks, which started after founder Lucy created on of Brixton, where she lived at the time. Find one where the couple are from, where they got engaged or where they're getting married for a sentimental memory to hang up on their wall. There's 165 letters, so there's sure to be one for them. Available framed for £50.
Big Wild Thought animal embroidered jumper: £28, Big Wild Thought
If they're an animal loving couple, these cute logo jumpers will be just the thing. With a choice of eight endangered animals, ranging from the brown throated sloth to the smooth hammerhead shark, 10 per cent from the sale of each jumper is donated to the relevant wildlife charity such as The Fox Project and Shark Trust. The brand's ethos is to "wear and care" at the same time. We also love that there's absolutely no plastic packaging used. Go for matching animals in different colours (and choose between the animal being in the centre of the chest or to the left) or vice versa for an adorable gift they'll wear all the time. We love the red fox and the orca whale the best.
Dibor personalised set of two wicker gardening tool baskets: £99, Not On The High Street
For those who love to garden together these wicker basket sets come with everything they need to get next year's vegetables well on their way. One stacks into the other for easy storage in the shed, and both come with fork, trowel, twine, markers and measuring dibbers. Once empty, they can also be used for carrying all the great produce you grow too. The set can be personalised with a leather tag as well.
Hunter & Co Charlotte A Fleur 'A' series 23 print: £90, Hunter & Co
Abstract art-lovers will adore this blue and pink limited edition print from London artist Charlotte A Fleur's A Series. There's only 75 available of this one, and they're made with acrylic paint, pastel and pen on acrylic paper. It is a print but thanks to the printing method used, you can see brushstrokes, grain and texture in them, so you'll feel like you've bought an original for a fraction of the price. It's 40x 50cm and we think it would love great with a white mount and a fine black frame. Follow her on instagram for more of her work. Sold unframed and also available in a smaller size for £70.
Raft Furniture large white concrete plant pot: £38, Raft
If the happy couple are house plant obsessed – who isn't? – they'll love this wide pot that will sit perfectly around a fireplace from one of our favourite interiors brands, Raft, who are known for sleek furniture and gorgeous throws and cushions. This concrete pot has been hand cast and you can choose from either a black or white painted bottom. We think it will look great with a tall, waxy cheese plant in their living room. Dimensions: 29cm x 20cm.
Steve McCurry Afghanistan retrospective book, published by Taschen: £60, Amazon
Who doesn't love a great coffee table book? This one is about about as big as it comes from photographer Steve Curry, who documented countries and people from the Middle East to Myanmar over the course of his 40 year – and counting – career. He's best known for his photo of "the Afghan girl" with her green eyes, dark hair and red shawl which was on the cover of National Geographic in 1984, and has apparently become one of the world's most recognisable photos. Photography and travel fans will love this book on Afghanistan, published in 2017, which features 140 images taken across a decade of visiting there, with incredible scenery and war-stricken backdrops. In 2004, he founded ImagineAsia which helps provide educational resources to children and young adults in Afghanistan.
Kodak Luma 350 smart HD ready mini projector: £370, Currys
Film buffs will take serious pride in their Friday night film club with one of these, but of course first it will be the wedding video going round on loop. We love how compact it is and of course, portable so when the weather's good, they'll even be able to watch films outside. It has a two-hour rechargeable battery, and it can even be projected from your phone, but you can also load films onto the microSD so you can go wireless, too.
Personalised Ordnance Survey map: From £24.99, Stanfords
Using OS maps, Stanfords Travel bookshop have created a bespoke maps service centred around a sentimental place. Just use a postcode of either the couple's wedding location or where they met or got engaged and have their names added to the bottom too. Choose from portrait or landscape, and they can be laminated ready to hang, but we think it looks best framed.
Polaroid pop instant digital camera: £169, Currys
For the photograph-loving couple, this Instragram-printing instant camera is great for catching the moment and giving physical prints quickly and will be a much-loved camera on honeymoon, as well as beyond too. It has built in wifi and a touch screen, making it easy to print and upload pics on to your phone too.
Le Creuset signature coastal blue cast iron shallow casserole dish: £235, John Lewis & Partners
If you want to stick with traditional homeware type gifts that are made to last, there's little better to choose from the Le Creuset. As with all of the brand's cookware – if looked after properly – it will last more than a lifetime, and is worth its weight in gold. This one is also so versatile and is technically a 4-in-1, as you can use it for casseroles, stir-frys, bake in it and use it as a roasting dish, plus you can use it to serve on the table too. It can be used in the oven, on the hob, under the grill and even on a bbq – weather permitting. Also, if you're lucky enough, you might be invited round and whipped up a feast in it, post wedding as a rather fitting thank you.
The verdict: Wedding gift ideas
We love the Horizn Studios suitcase: they'll last a lifetime and the couples who constantly holiday will never want to part with them. Yes, it's a hefty price tag, but will be well-loved. For a token gift, go for Eleanor Bowmer's It's Love print, and for something inbetween, personalise the gorgeous Cotton Poet bed sheets.
Register for free to continue reading
Registration is a free and easy way to support our truly independent journalism
By registering, you will also enjoy limited access to Premium articles, exclusive newsletters, commenting, and virtual events with our leading journalists
Already have an account? sign in
Register for free to continue reading
Registration is a free and easy way to support our truly independent journalism
By registering, you will also enjoy limited access to Premium articles, exclusive newsletters, commenting, and virtual events with our leading journalists
Already have an account? sign in