The Independent's journalism is supported by our readers. When you purchase through links on our site, we may earn commission.
5 best irons
Keep laundered clothes looking fresh and wrinkle-free with one of these handy irons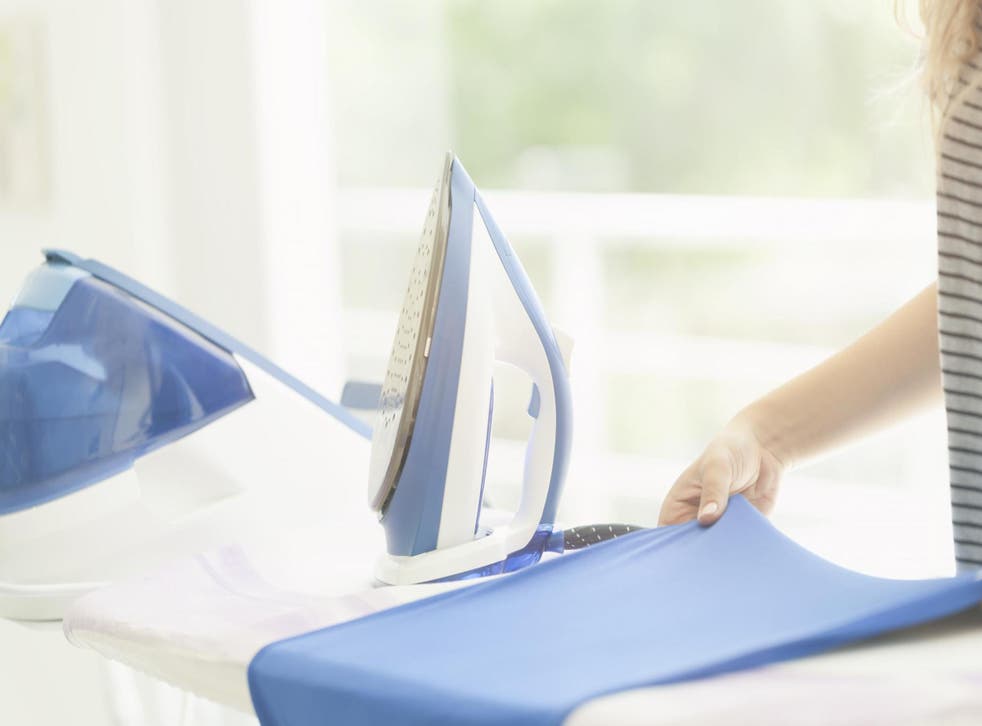 Purchasing and using an iron is one of those dull tasks which is as necessary and important as brushing your teeth. As Haruki Murakami often mentions, there can be a special zen to ironing. Or at least, if we can't smooth our lives all of the time, our clothes might as well be. Here are our eight favorite products for all of your ironing needs, from travel sizes to professional grade..
Black & Decker Classic Steam Iron: $18.74, Amazon
Black and Decker, the classic homeware manufacturer best known for power tools, make a utilitarian iron at a bargain price. While seven temperature settings for different fabrics (acetate acrylic to linen) make the product slightly reminiscent of a toaster, in the end, you'll likely appreciate the specificity, particularly if you're not especially expert at ironing technique. Also convenient, this iron shuts off after 30-seconds on its side or soleplate. So say goodbye to fears of burning down your apartment in a tragic iron-related conflagration.
Hamilton Beach Professional Stainless Steel Iron: $34.99, Hamilton Beach
Hamilton Beach's Stainless Iron will give you professional grade smoothness at a lower price point than most other irons for professional use. Adjustable steam controls, with water spray and steam-blast settings, allow for use on everything from sensitive fabrics to heavy canvas. The soft-grip handle and chrome body and skirt also make this iron comfortable to use with a modern aesthetic.
Panasonic Cordless Steam/Dry Iron with Curved Stainless Steel Soleplate: $84.95, Panasonic
Panasonic, the innovative appliance outlet that also makes cameras and phones, has designed a portable iron perfect for on-the-go wrinkle elimination. While it's somewhat pricey, this iron is built to last, and, in a travel-size with a tinted carrying case, this iron also has a cuteness-factor that will make you the envy of your iron-oriented friends. If you're in a quilting group that meets in a non-power connected setting, this is the iron for you.
Oliso Pro TG1600 Smart Iron: $169.99, Oliso
While Oliso's Smart Iron is substantially more expensive than the other irons on our list, it comes equipped with patented iTouch technology that lowers at the touch of the handle. When your hand is removed, the scorch-guard raises the iron to prevent burns. Also, with 1800 watts of power, you'll save time by not needing to go over the same piece of fabric more than once.
Steamfast Travel Steam Iron: $29.99, Steamfast
If you are a frequent business traveller or are getting ready for a destination wedding, investing in an inexpensive travel iron is not a bad idea. At $30, this iron from Steamfast is not only lightweight and small with an innovative design, it also includes dual voltage for international use and packs enough power to use for all your ironing needs.
Register for free to continue reading
Registration is a free and easy way to support our truly independent journalism
By registering, you will also enjoy limited access to Premium articles, exclusive newsletters, commenting, and virtual events with our leading journalists
Already have an account? sign in