The Independent's journalism is supported by our readers. When you purchase through links on our site, we may earn commission.
How to give yourself a facial massage at home during lockdown
The tips, tricks and expert-recommended techniques to use that will relieve stress and tension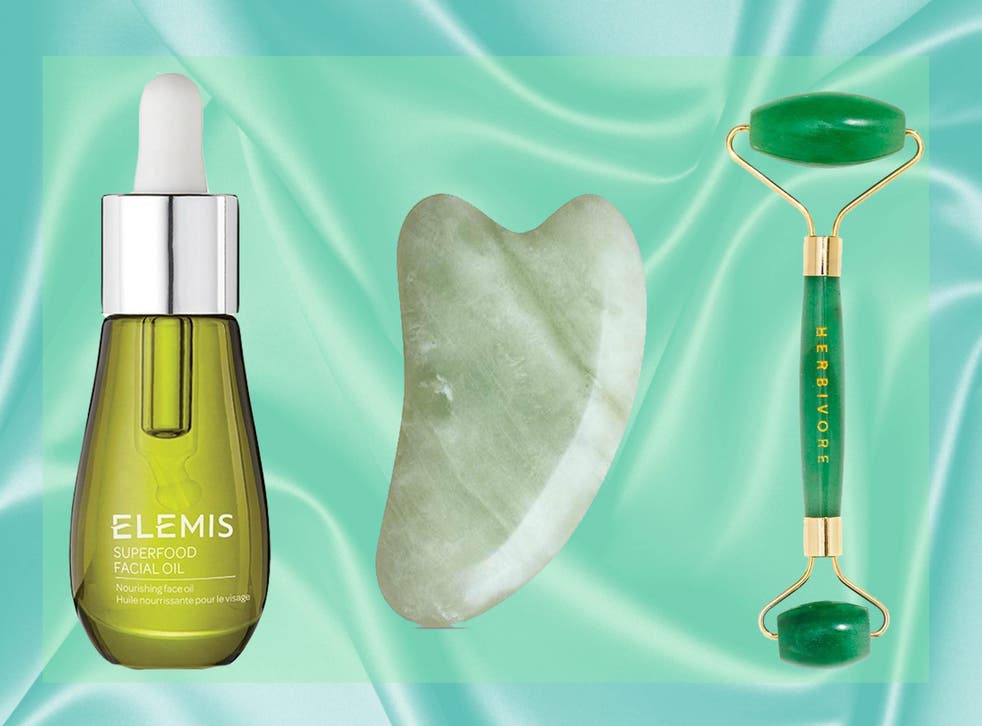 If there was ever a time for self-care, it's now.
The novelty of being at home all the time has long worn thin, a new school term has started forcing many of us to juggle homeschooling and work, and with little information on when lockdown will end, things look set to continue like this for the next few weeks, at least.

This new way of living has disrupted people's routines which can make them feel stressed and anxious. But this is when a little TLC can go a long way, and incorporating a facial massage into your beauty routine is a good and easy place to start.
Celebrity aesthetician, Nichola Joss, who counts Meghan Markle, Gisele Bundchen and Kate Moss as fans, explains to The Independent the benefits of a daily facial massage.
"It removes tension and stress from muscle tissue, plumps and hydrates the skin and stimulates blood circulation," she says.
Using your hands and tools like the gua sha and jade rollers can help reduce water retention, sculpt your jawline, de-puff tired eyes and refresh lacklustre skin to make a makeup-free face feel rejuvenated.
We've compiled a go-to guide on getting started, the tools to use and all your questions about facial massaging answered.
You can trust our independent round-ups. We may earn commission from some of the retailers, but we never allow this to influence selections. This revenue helps us to fund journalism across The Independent.
Start with your hands
To begin with, try a facial massage with just your hands. According to Joss, once you've cleansed your skin and washed your hands, apply a facial oil and start massaging from the centre of your face, working outwards and upwards to sculpt the contours of your face, which will start to remove any built-up tension.
The Elemis superfood facial oil, £45 came top in our IndyBest review of the best face oils. It is rich in antioxidants, flaxseed, carrot, rosemary and nut oils that will leave you with plump and glowy skin come morning and is perfect for your evening skincare routine.
"Work along your jawline with your fingers and knuckles to help remove tension from the jawline. Go under the cheekbones and the eye area, concentrating on eyebrow muscles at top of nose, sweeping outwards," adds Joss.
To finish, use the palms of your hands to make big circle movements on each side of the neck. Joss explains that this "drains congestion and reduces puffiness".
Why it's worth using a tool
There are many tools out there that can aid with a facial massage, gua sha and jade rollers are two of the most commonly used at the moment – you'll no doubt have seen them on your Instagram feed – and both have a history based in Chinese philosophy and medicine.
Gua sha is a small round-edged flat jade tool, and a jade roller is a paint-style roller tool with a larger stone on one end for your cheeks, forehead and jawline and a smaller stone at the other end for under the eyes and around the mouth.
"In addition to herbalism and acupuncture, Chinese medicine has a rich tradition of using crystals as medicine," says Katie Brindle, founder of the beauty brand, Hay'ou Method.
"The philosophy is that gemstones can support our jing qi (life essence), blood (circulation) and fluids (lymphatic drainage)," she says.
According to Brindle, jade was traditionally seen as more valuable than gold, and comes in many different colours, but green jade is the colour associated with physical healing. It's also been a symbol of status, spirituality, purity and health in China for more than 9,000 years.
Coronavirus culture from rooftops, windows and balconies

Show all 15
Using a gua sha tool allows you to work deeper into the muscles for deeper tension release. "The treatment removes any build-up of lactic acid and encourages lymphatic drainage," Brindle says.
"'Gua' means to press and stroke, while 'sha' describes the temporary red flush that results," she adds.
Lymphatic drainage encourages the movement of lymph fluid around the body to reduce swelling and a buildup of fluid in areas like the neck and jawline.
How to use your tools
Joss recommends the Herbivore jade facial roller, £26 from Space NK, which can be popped in the fridge for 10 minutes before use for a cooling effect, especially on puffy eyes from any sleepless nights. Gently roll it across your skin, working in small sections.
Jade rollers are also particularly useful at smoothing sheet masks onto your skin, getting rid of any air pockets and ensuring your skin absorbs as much product as possible for a dewy finished result.
Try the Hayo'u beauty restorer facial massage tool, £38 from FaceGym, with a facial oil, by taking the rounded-edge and pressing it gently all over your face, neck and décolletage for a minute every evening. Don't forget to press and hold the tool under and over closed eyes, press and stroke it down your neck the drain excess fluid from the lymph glands too.
Brindle recommends angling the tool at 45 degrees, using the rounded-edge to press and stroke it across the forehead, cheekbones and lips. "Use the double-curved end on your throat and jawline."
Follow a class
If you want more guidance with your facial massages, there's plenty of live streams to follow on Instagram, such as celebrity facialist, Ada Ooi (@ada.ooi).
Joss runs daily evening sessions at 8pm UK time on her Instagram page to walk you through a facial massage using just your hands, which are perfect for while you wait for your tools to arrive in the post.
FaceGym is also running twice-weekly classes that you can follow along with in real time, with regular updates on times and tools you'll need, provided on its Instagram feed.
Elsewhere, expert massage therapist, Beata Aleksandrowicz, is teaching weekly 30-45 minute classes over Zoom, with prices beginning from £10 a class.
The classes take place on Thursdays at 8pm and Sundays from 11am. You can sign up for classes on her website.
Read our guide on how to cut your hair and how to keep your eyebrows in check
Register for free to continue reading
Registration is a free and easy way to support our truly independent journalism
By registering, you will also enjoy limited access to Premium articles, exclusive newsletters, commenting, and virtual events with our leading journalists
Already have an account? sign in
Register for free to continue reading
Registration is a free and easy way to support our truly independent journalism
By registering, you will also enjoy limited access to Premium articles, exclusive newsletters, commenting, and virtual events with our leading journalists
Already have an account? sign in