15 best grenache wines
The often-overlooked grape variety is getting its due time in the spotlight. We've picked out its best bottles, from France to Australia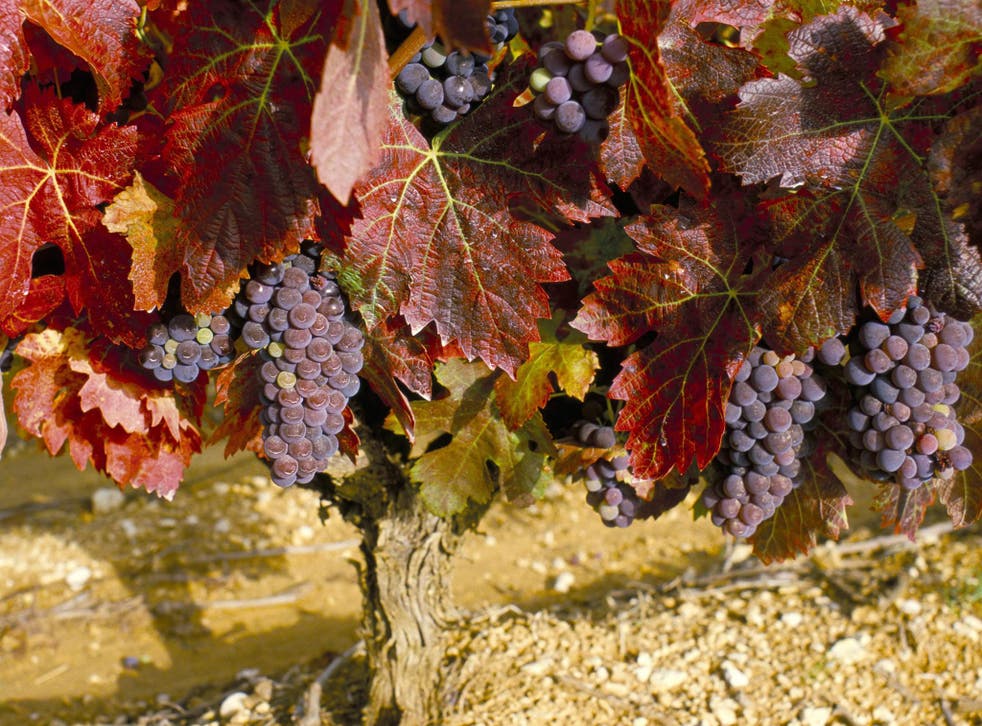 The great workhorse of the wine world, the grenache grape is widely planted but for a long time was vastly underrated. Widespread in France, it's also, as garnacha, widely planted in Spain where it tended to be overshadowed by tempranillo.
It's often been blended with other grape varieties to produce some superb wines, but now it seems the grape, which favours hot and dry conditions producing wines of a relatively high alcohol content, is coming into its own. Inventive and forward-thinking winemakers are making impressive wines from grapes grown on venerable vines that can often be more than a century old.
1. Domaine André Brunel Vin De Pays De Vaucluse 2015, 14%: £9.99, Virgin Wines
Here's a pleasant surprise: a full-flavoured, fruity gem from acclaimed French winemaker André Brunel for under a tenner. Ripe and crushed fruit flavours mingle with notes of pepper and spice and a hint of vanilla to produce a red that's eminently drinkable and a perfect late summer/early autumn treat.
2. La Garnacha Salvaje Del Moncayo 2015, 14%: £9.99, Majestic Wines
Garnacha, the Spanish name for the grenache grape, provides some splendid reds in the Valle del Ebro in the north-west of the country. This wine, made from grapes grown at 810m (2,567ft), is fruity and smooth with lingering wild berry flavours and a depth acquired by its five months of ageing in French oak barrels. A wine to enjoy with chorizo or a late summer barbecue.
3. Petit Perdigal Rouge 2015, 14.5%: £7.99, Majestic Wine
This is a no-nonsense red from the Rhone Valley winemaker Ogier that's named after its first cellarmaster, Léon Perdigal. A blend of grenache and syrah it's easy on the palate with a dark berry zing and pleasing tannins, and at this price you can't really go wrong. Pair it with meat dishes or French cheese.
4. Bodegas Aroa Laia Garnacha Blanca 2016, 13%: £11.25, Joseph Barnes Wines
Here's an unoaked, 100 per cent garnacha blanca from an organic and biodynamic vineyard in Navarra. "Aroa" means "optimum" in Basque, confirming that this slightly spicy white with its pineapple, mango and citrus undertones was made – with no added sulphites, a short maceration, a light pressing and minimum filtration – at just the right time. Enjoy with game dishes.
5. Domaine Grandy Vacqueyras 2014, 13.5%: £11.95, Slurp
This wine is a blend of 60 per cent grenache, 20 per cent syrah and 20 per cent mourvèdre from vines planted on pebble-strewn terraces in the Vacqueyras AOC wine region in the heart of the southern Rhône region of France. It's a full-bodied and muscular red with deep raspberry and black fruit notes with a spicy and almost peppery edge to it. Enjoy it now or keep for another two or three years.
6. Bodegas Borsao Tres Picos Garnacha 2015, 15%: £13.95, Slurp
Wine expert Robert Parker awarded this robust red 91 points and called it "one of the greatest values in the wine world". An intense, 100 per cent garnacha, it comes from old vines on the slopes of the Moncayo mountain massif in the north-east of Spain where low yields of less than two tons per acre produce a rich and complex wine bursting with cherry and black fruit flavours and tempered with smoky notes of spice and pepper. The perfect accompaniment to roast lamb.
7. Waitrose Côtes Du Rhône Villages 2015, 14%: £6.99, Waitrose
From Waitrose's acclaimed Blueprint series comes this no-nonsense Côtes Du Rhône Villages blend of grenache and syrah with its characteristic fruity notes and a hint of spice. Customers on the Waitrose website have given this the thumbs up, calling it "soft, fruity and very drinkable". And we wouldn't argue with that. Goes well with pasta or even bangers and mash.
8. Côtes-Du-Rhône Rouges Ceps Centenaires La Mémé 2014, 13.5%: £33.99, AG Wines
This high-end Côtes-du-Rhône is produced in tiny quantities from 26 hectares of 100-year old grenache vines and then bottled, unfined and unfiltered and with no additional sulphites in a southern Rhône winery that has been farmed biodynamically since 2007 and certified organic since 2010. A complex and layered wine with concentrated black and red fruit flavours and a muscular richness. One to savour.
9. Comando G Las Rozas 1er Cru 2015, 14.5%: £29, Swig
Here's a "mountain" garncha that's made from grapes grown in tiny, high altitude, organically-farmed plots located near the town of Rozas de Puerto Real, not far from Madrid. It's harvested by hand, fermented by natural yeasts and then aged for 12 months in 500-litre French oak barrels. It all results in a beefy red with strapping, deep and textured fruit flavours and pleasingly firm tannins.
10. Zalze Shiraz Grenache Viognier 2015, 14.5%: £7.49, Co-op
From the long-established South African winemaker Zalze, this easy-drinking blended red is predominately shiraz with a dash of grenache along with the white-wine grape viognier. Soft and mellow and with bucketloads of fruit and soft tannins it's an attractively priced partner for red meats or potent cheeses. Buy in-store at the Co-op.
11. Ess & See Grenache No 2 2012, 14.5%: £10.99, Virgin Wines
Part of the new vanguard of young and enthusiastic Australian winemakers based in McLaren Vale, this medium-bodied red comes from a family winery that produces small batches of high-quality, eminently drinkable wines. It's full and fruity with spicy and fragrant overtones. On special offer at the moment, and with less than 3,000 bottles made, you should get it while you can.
12. A.D. Beckham Amphora Grenache MMXV, 13.5%: £36.99, Les Caves de Pyrene
No, David hasn't gone into winemaking. This red wine is the product of Oregon-based natural winemaker Andrew Beckham, whose twin passions are ceramics and wines. He combines the two by hand-crafting terracotta amphoras in which the grenache is fermented. As a result, he claims there is a "common textural component that I would liken to dusty brick". It doesn't sound too promising, granted, but with the earthy fruitiness and depth of the wine, it goes down a treat.
Not available online. Email shop@lescaves.co.uk for enquiries
13. Hancock & Hancock Grenache Rosé 2016, 13%: £14.75, Flagship Wines
This is a beautifully pale rosé, one of a range of premium wines crafted by winemaker Chris Hancock using grapes sourced from the family-owned vineyards in the McLaren Vale wine region of Australia. It's crisp, light and enticing with soft fruit and cherry flavours offset by a fresh acidity. Perfect as an aperitif or as an accompaniment to light cold meat dishes.
14. Viñas Del Vero La Miranda De Secastilla Garnacha 2012, 14%: £13.50, Whitmore and White
An unusual white garancha, this wine is from the Secastilla Valley in the Somontano region of Spain where the garnacha blanca grape actually originates. Aromatic and well-balanced with apple and peach flavours and citrus and floral notes, its ageing in French oak supplies it with soft and pleasing tannins.
15. Domaines Lupier El Terroir 2012, 14.5%: £21.95, Berry Bros and Rudd
This is a limited edition garnacha from low-yield vines that date back to 1903, based around the precipitous village of San Martín de Unx in the hills of Navarra, in what's termed "Atlantic mountain viticulture". It's medium-bodied, with van-loads of deep and layered, dark and soft-fruit flavours and notes of spice and oak. Can be enjoyed now or be kept for another couple of years to get a softer, more mellow taste.
The Verdict:
There are plenty of good grenache and garnacha wines available at reasonable prices For under £10 you can enjoy La Garnacha Salvaje Del Moncayo or this selection's Best Buy, the Domaine André Brunel Vin De Pays De Vaucluse. Blends such as the Waitrose Côtes Du Rhone Villages and the Petit Perdigal Rouge offer good quality at even cheaper prices. Natural wine enthusiasts will savour the costly but impressive Côtes-Du-Rhône Rouge Ceps Centenaires La Mémé and the A.D. Beckham Amphora Grenache, while more mainstream tipplers will enjoy the highly rated Bodegas Borsao Tres Picos Garnacha.
IndyBest product reviews are unbiased, independent advice you can trust. On some occasions, we earn revenue if you click the links and buy the products, but we never allow this to bias our coverage. The reviews are compiled through a mix of expert opinion and real-world testing.