The Independent's journalism is supported by our readers. When you purchase through links on our site, we may earn commission. Why trust us?
10 best smart speakers that will modernize your home
Control your music, get information on the weather, book flights and more with the latest smart home innovations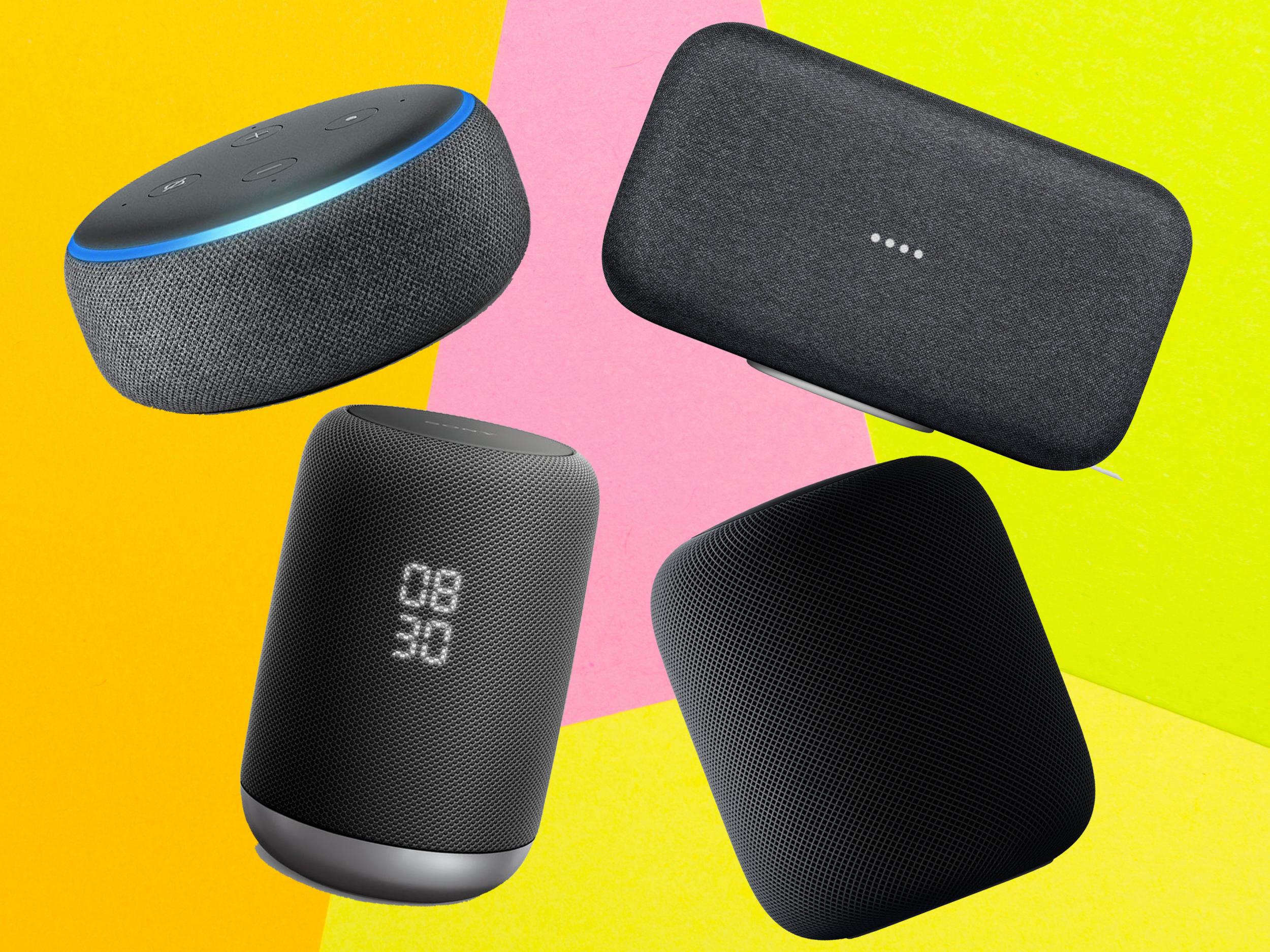 Listening to music has never been easier, thanks to the arrival of streaming services like Apple Music and Spotify. Smart speakers make things easier still, so that simply speaking a command is enough to start your favourite track playing.
Smart speakers can do a lot more, thanks to the virtual personal assistant (or assistants) built in. Apple's Siri is only found in one speaker, the Apple HomePod, while Alexa, from Amazon, appears in several speakers made by Amazon and hundreds more from other companies. Google Assistant pipes up on Google's own-brand speakers and many more.
As well as playing music, smart speakers can turn compatible lights or thermostats up or down, answer questions and tell you a joke. They are useful in the kitchen if you want the speaker to read you a recipe or set a kitchen timer, handy when you have butter on your fingers.
How we tested the speakers
Audio quality was paramount, after all, however smart they are, if they sound terrible you won't be using them much. Bass quality, clarity of vocals and so on were all tested.
Read more
Then, just how smart is smart? A voice assistant might understand, "What's the weather today?" but it's also good to be able to ask, "Will I need an overcoat today?" Similarly, could the assistant manage comparatives? Alexa, for instance, could answer, "Who was taller, Alan Ladd or Marilyn Monroe?" and "Who was older out of Ken Dodd or Ronnie Corbett?" but failed when we asked for certain other British celebrities.
Oh, and if music was playing, how good the microphones were at hearing you without shouting was also considered.
You can trust our independent reviews. We may earn commission from some of the retailers, but we never allow this to influence selections, which are formed from real-world testing and expert advice. This revenue helps us to fund journalism across The Independent.
Apple HomePod: $299, Apple
Virtual assistant: Siri​
Wi-Fi? Yes
Bluetooth? Yes
Dimensions: 172 x 142 x 142mm
This is the best-sounding smart speaker around. Where other companies focused on the smarts, Apple insisted that the most important feature was the audio, and it shows. Internal tweeters radiate the sound in every direction in a way that's clear, clean and highly pleasing. Things get even better if you put two HomePods together as a stereo pair, which makes for a deeply immersive experience. This being Apple, set-up is exceptionally quick and simple.
Siri is not as advanced as Alexa in some ways but excels when it comes to music, especially if you have a subscription to Apple Music. Of course, it can play whatever's on your smartphone but the integration with Apple's streaming service is exceptionally good, even finding tracks from their lyrics. It is the best on test for hearing your queries over music playback. Note that this should not be your first Apple device – you'll need an iPhone, iPad or iPod to set it up properly.
Apple uses a smart home system called HomeKit so it works best with HomeKit-compatible gadgets which appear in the Home app on the iPhone and other Apple gadgets.
Audio Pro Addon C5A: $299, Amazon
Virtual assistant: Alexa
Wi-Fi? Yes
Bluetooth? Yes
Dimensions: 130 x 250 x 150mm
Audio Pro makes great speakers, so it's no surprise that the addition of Alexa to the hugely successful Addon C5 has resulted in a great smart speaker. Twin microphones ensure you can be heard when you want to command the speaker to change tracks, for instance. These work well even when music is playing at high volumes. Bass is particularly strong on this machine, though there's still plenty of detail in the rest of the audio, too. Although the design is not as snazzy as the Apple HomePod, for instance, it still looks pretty cool and sounds amazing. The audio on the HomePod beats this but it's a close call.
Sonos One: $199, Sonos
Virtual assistant: Alexa
Wi-Fi? Yes
Bluetooth? No
Dimensions: 161 x 120 x 120mm
Sonos speakers are sensationally good. The One is tiny and, like all Sonos products, has the great advantage that you can add to the system when inclination or budget allows. The One is mono but sounds terrific: pair two together and they are the audio equal of the Apple HomePod. And with two speakers you can place them wherever you like to ensure real stereo separation. However, the microphone on the Sonos speakers doesn't do quite as good a job of hearing you over music as the HomePod.
Amazon Echo Show: $129.99, Amazon
Virtual assistant: Alexa
Wi-Fi? Yes
Bluetooth? Yes
Dimensions: 246 x 174 x 107mm
This is the second-generation Echo Show and it's the best device Amazon has made both in terms of usefulness and audio quality. It has a bright, colourful 10.1in touchscreen – ideal for use in the kitchen, for instance, if it's showing you a recipe and you can turn to the next page using voice, not your sticky fingers. Ask for the weather and it'll show elegant images of clouds or sunshine. It can even play lyrics in time to the music you're playing. You can use the screen for video calling to other Echo users, whether they're upstairs or across the world. Sound quality is good and fills a room, though it's not hi-fi quality. Amazon's Alexa is the most versatile of the virtual assistants and adds capabilities, which Amazon calls skills, regularly.
Google Home Max: $299, Google
Virtual assistant: Google Assistant
Wi-Fi? Yes
Bluetooth? Yes
Dimensions: 336.6 x 190 x 154.4mm
The hefty Home Max is very strong on audio. It doesn't have the musical subtlety and detail of the HomePod, but it's a powerful, impressive speaker with plenty of bass and doesn't sound distorted even at high volumes. It's a great party speaker and is designed as a hi-fi replacement. Sometimes, especially with the music up reasonably loud, it takes a few times to make yourself heard with your next command. But unlike the HomePod, it has a wide range of radio stations you can tune into easily.
Google Nest Hub: $99, Google
Virtual assistant: Google Assistant
Wi-Fi? Yes
Bluetooth? Yes
Dimensions: 178 x 118 x 67mm
Google's latest smart home gadget has a bright, pin-sharp 7in touchscreen, great as a digital photo frame or an elegant kitchen clock, for instance. Unlike Amazon's Echo Spot and Echo Show, Google has deliberately omitted a camera in case of privacy concerns. A light sensor adjusts the brightness of the screen, handy if you're using it in the bedroom, and also changes the level of blue light so it doesn't dominate. Google is part of the Alphabet group which also includes Nest, so if you have the Nest video doorbell, for instance, the Home Hub can show you who's at the door on this screen. Audio is among the weakest on test: Google's priority is to provide a neat hub for displaying the weather, operating compatible smart home products and so on, not filling your house with music. For that, the Google Home Max is a better proposition.
Sonos Beam: $399, Sonos
Virtual assistant: Alexa
Wi-Fi? Yes
Bluetooth? No
Dimensions: 650 x 100 x 68.5mm
This is a soundbar, the kind of speaker that sits beneath your TV to optimise the sound from there. But this is a smart soundbar and the sound quality here means it works so well with music too that you don't need a separate hi-fi. Sonos products are routinely well built and great sounding but this one offers something extra: it's amazing value. The bigger soundbars from Sonos cost $699. Five microphones listen for you to invoke Alexa. Sonos is adding Google Assistant in the future, too. You can also invoke Siri on your iPhone and control the speaker from the phone. Listening to your TV is tremendous on this speaker, with a wide soundstage and striking effects. But please note, it's better in smaller rooms than big.
Amazon Echo Dot: $49.99, Amazon
Virtual assistant: Alexa
Wi-Fi? Yes
Bluetooth? Yes
Dimensions: 43 x 99 x 99mm
Although it's brilliant for the smart part of the equation, music playback is not the tiny Dot's strength. It's fine for radio, especially spoken word, and it excels at Alexa's basic tasks such as answering questions or telling jokes. Ideal, then, for kids wanting to be able to ask when Winston Churchill was prime minister to help with their homework. For best musical results, you can connect it to regular speakers by Bluetooth or audio cable. Playback of Audible audiobooks, (Audible is owned by Amazon) is very good on this and other Echo machines and it remembers where you'd got to, even if you'd previously been listening on an iPhone or Amazon tablet, for instance. This is the second-generation Dot and boasts a better speaker and snazzier design than the first.
Sony LF-S50G: $189, Best Buy
Virtual assistant: Google Assistant
Wi-Fi? Yes
Bluetooth? Yes
Dimensions: 162 x 110 x 1110mm
Sony's smart speaker sends its audio in every direction so you can put it in the middle of a room and it'll sound good all the way round. It's not as good as the Apple HomePod but, then again, it's a lot cheaper.
It can sense when your hand is near the top of the speaker, so if you wave your hand above it some features like pause and volume can be controlled.
There's a digital clock on one side, but you can dim this or extinguish it if you prefer. It's splash-proof, which is handy, and you can choose from black or white finishes.
The verdict: Smart speakers
For audio, the winning smart speakers Apple HomePod, Audio Pro Addon C5A and Sonos One are virtually neck-and-neck, though the Apple just edges out in front. It's also one of the best-looking speakers, too. Amazon's Echo speakers are arguably the smartest, but none sounds as good as the trio just mentioned. Those virtual assistants get smarter every day, but once you've bought the hardware, the sonic skills are set, so choose carefully if the speaker is going to be your main source of music.