The Independent's journalism is supported by our readers. When you purchase through links on our site, we may earn commission.
Adele's favourite self-help book, and the others you should read
Whether you want to implement new coping mechanisms, be more productive, or just feel a tad more valiant, these titles may be able to help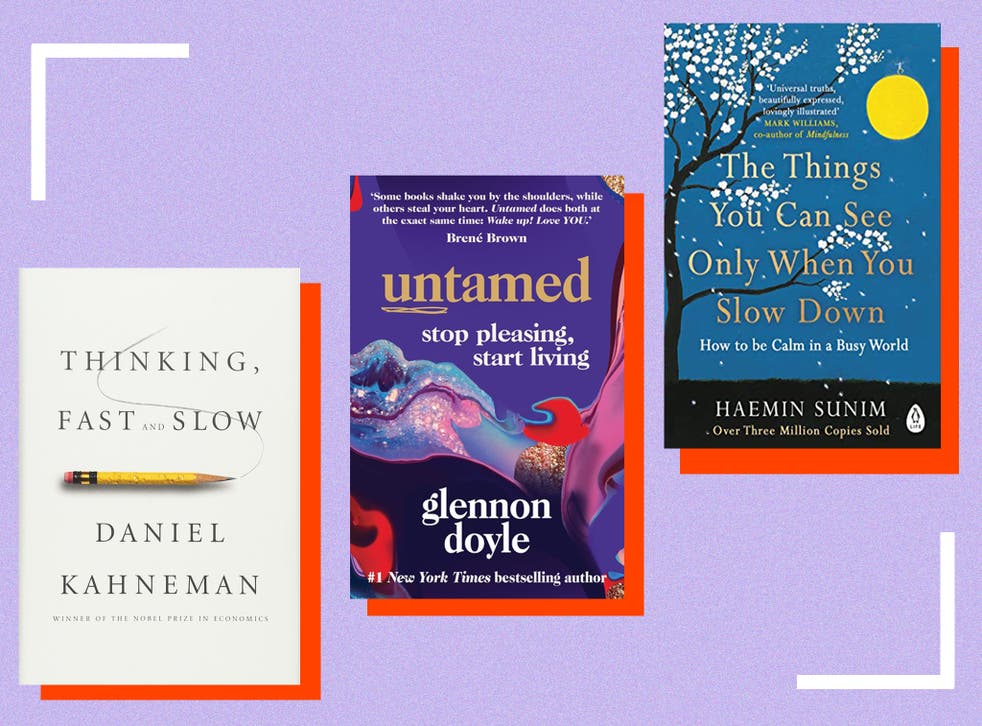 Adele has credited a self-help book for helping her find "joy, happiness and freedom".
Posting a photo of the book on Instagram, the singer explained how Untamed: Stop Pleasing, Start Living, by New York Times bestselling author Glennon Doyle made her brain shake and "soul scream".
The 32-year-old praised it for giving her a new perspective on how to live and be less "stressed and disheveled, confused and selfless".
Adele isn't the only one praising Doyle's part memoir, part self-help book – the likes of Reese Witherspoon, Oprah, and Emma Watson have previously commended it and even included it on their list of must-reads.
Self-help books often have a reputation for being unrealistically optimistic or overly serious.
But, while they may not contain the key to happiness, or fulfil on any particular promises, they can, at the very least, help to normalise how you're feeling and make you feel less alone.
Similarly, mental health charity Mind outlines how "self-care techniques and general lifestyle changes can help manage the symptoms of many mental health problems."
Whether you want to implement new coping mechanisms, be more productive, or just feel a tad more valiant, self-help books may be the answer.
Though these books vary in subject, the titles within our round-up are inspirational reads that might help you overcome the hump when you need a little bit of a helping hand.
You can trust our independent round-ups. We may earn commission from some of the retailers, but we never allow this to influence selections. This revenue helps us to fund journalism across The Independent.
'Untamed: Stop pleasing, start living' by Glennon Doyle, published by Ebury Publishing: £14.99, Amazon
The book begins with: "Four years ago, married to the father of my three children, I fell in love with a woman," and is essentially the story of Doyle's awakening, which follows the dissolution of her marriage and how she found love with Abby Wambach, American football player. Most importantly though, Untamed is a book about how women should listen to their inner voice. It's packed full of energising advice on how to overcome conformity and embrace your best life, this memoir-cum-personal development guide is an inspirational tome steeped in hard-won wisdom.
'The Chimp Paradox' by Professor Steve Peters, published by Vermilion: £10.36, Blackwell's
Written as a manual guideline, The Chimp Paradox is intended to help you understand why you and others react to certain situations in certain ways. This is a fascinating book about cognitive behaviour and divides the inner mind into three parts: the human, the chimp (the emotional part of the brain that acts without permission), and the computer (memory bank). Included within the pages are exercises for you to work through, which help you develop emotional skills and practical habits that improve the relationship you have with yourself and others, as well as your communication skills.
'Thinking Fast and Slow' by Daniel Kahneman, published by Penguin: £10.36, Amazon
Thinking Fast and Slow takes you on a ground breaking tour of the mind and explains the two systems that drive our thinking processes – "system one" is fast, intuitive and emotional, while "system two" is deliberative, slower and more logical. Written by Nobel Prize Winner Daniel Kahneman, he uses intellectual theories about cognition and decision-making to provide practical insight into how our minds function and how to slow down our thoughts. A dexterous popular science title that is suitable for everyone.
'Talking to Strangers: What We Should Know about the People We Don't Know' by Malcom Gladwell, published by Allen Lane: £8.19, WHSmith
Topping the New York Times bestseller list, this is a fascinating exploration into why we so often misread the people we do not know. By drawing on real life examples, including police brutality to Black Americans, Talking to Strangers provides an alarming analysis and challenge of how we read behaviours, and invites us to rethink our thought processes. Oprah Winfrey said: "Reading this book changed me," and if that's not reason enough to buy it, we're not sure what is.
'The Life-Changing Magic of Not Giving a F**k' by Sarah Knight, published by Quercus Publishing: £14.99, Waterstones
Inspired by The Life Changing Magic of Tidying by Marie Konodo, Sarah Knight applies a similar approach to the mental clutter that clogs up our lives. And it all boils down to a simple, life-changing motto: "Not sorry". This is self-help with an edge and encourages you to stop spending time doing the things you don't want to do, and cut down on unwanted obligations and feelings.
'The Things You Can See Only When You Slow Down: How to be Calm in a Busy World' by Haemin Sunim, published by Penguin Life: £6.99, Amazon
This international bestseller encourages you to ask yourself: "Is it the world that's busy, or is it your mind?" Written by Haemi Sunim, a meditation teacher whose teachings transcend religions, borders, and ages, this mindfulness book is heartwarming and full of wisdom. Divided into eight chapters: Rest, mindfulness, passion, relationships, love, life, the future and spirituality – each one begins with a personal story from Sunim before moving onto the advice and tips you can employ into your everyday life.
Register for free to continue reading
Registration is a free and easy way to support our truly independent journalism
By registering, you will also enjoy limited access to Premium articles, exclusive newsletters, commenting, and virtual events with our leading journalists
Already have an account? sign in
Register for free to continue reading
Registration is a free and easy way to support our truly independent journalism
By registering, you will also enjoy limited access to Premium articles, exclusive newsletters, commenting, and virtual events with our leading journalists
Already have an account? sign in