The Independent's journalism is supported by our readers. When you purchase through links on our site, we may earn commission.
10 best Samsung Galaxy S10, S10+ and S10e cases to keep your gadget safe and scratch-free
We've considered protective technology, weight, style and functionality for our test – here are the best cases on the market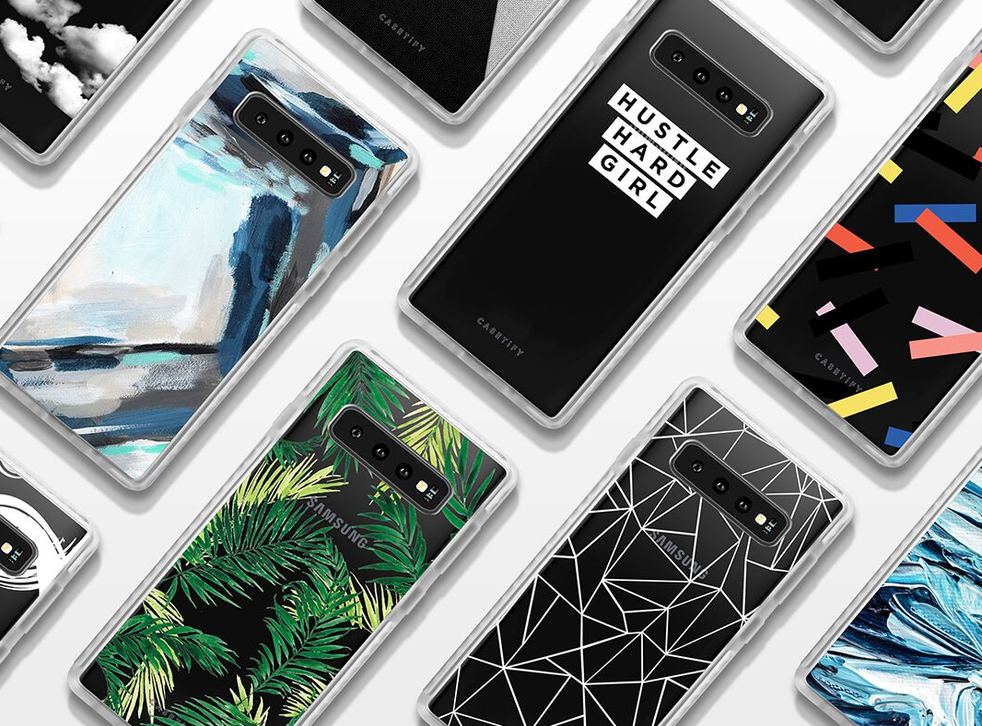 The latest Samsung flagships are elegant, snazzy and expensive enough for you want to keep them safe and scratch-free. Which means a case is needed.
There are different styles and choosing between them is purely down to your personal taste. Do you like a folio that wraps the phone in a wallet, often with a place for credit cards in the front? Or maybe a hard shell that protects the back of the phone and creeps round the edge to keep the display safe?
Maybe a deluxe leather sleeve, so you can slip your phone out when you need it and see and feel it as Samsung intended? There are several models of the Samsung Galaxy S range: Galaxy S10e, Galaxy S10, Galaxy S10+ and later in the year the Galaxy S10 5G.
Almost all cases are made in different sizes for the three Galaxy phones that are currently available, as specified for each one below.
Like many other current flagship smartphones, these have wireless charging, so you need to make sure your case is compatible with this if you want to be able to plonk down your phone on a charging pad instead of attaching a cable.
But there's an extra feature with these phones: they have two-way wireless charging, where you can charge another phone from your phone by putting the two back to back. Another reason for a thin case, especially if your friend's phone in there!
Finally, the S10 and S10+ (though not the S10e) have a very cool unlock feature: a fingerprint sensor which is actually buried in the display. This is fantastic, but, be warned, it is not compatible with all screen protectors – so check before you buy.
Mous Clarity: £39.99, Mous
Compatible with: S10e, S10, S10+
Mous makes some of the most attractive phone cases on the market, but the real benefit here is something called airoshock. This is a technology which dampens the force from impacts, and it works brilliantly. We've seen a phone in a Mous case be thrown 20 feet in the air and crash to the pavement with the phone unscathed. The case covers the back of the phone and has a lip to protect the display. It fits very tightly: you won't want to take this off each night. The clarity range look especially good because the case is largely transparent. It's also designed to be scratch-resistant, so you're not left with a pristine phone in a heavily scratched case. Mous thoughtfully supplies a screen protector and the company says it will be compatible with the S10 and S10+ inscreen fingerprint sensors, when it ships in May.
Pre-order now for S10
Pre-order now for S10e
Pre-order now for S10+
Lucrin classic case: From £37, Lucrin
Compatible with: S10e, S10, S10+
Swiss company Lucrin makes the most luxurious and beautifully crafted cases for a range of phones, including the new Samsung Galaxy handsets. The leather sleeves are especially attractive and come in a wide range of choices from colour to smoothness of leather. There's even an option with a crocodile effect finish (it's actually made of calfskin) for an extra £10 or so. You can add a monogram or customise the thread colour, too. The leather is soft and highly tactile, fitting with the right amount of tightness: enough to keep the Galaxy secure, but still make it easy to slide the phone out when it rings. Slick, supple and hard-wearing.
Buy now for S10
Buy now for S10+
Buy now for S10e
Samsung Galaxy 10+ LED view cover: £44.99, Mobile Fun
Compatible with: S10e, S10, S10+
This is a folio case which has a series of perforations on the front that looks like a dot matrix display. When the case is closed, notifications such as the time, battery status and more can be seen through the case. There's also a slot for a credit card. When you close the case, the display turns to standby automatically, saving battery power. The case feels attractive and premium, coming in a choice of three colours: green, black and white.
Buy now for S10
Buy now for S10+
Buy now for S10e
Snakehive vintage leather wallet: £28.95, Snakehive
Available for: S10e, S10, S10+
British case maker Snakehive has a range of classy folios in a wide choice of colours. The cases are a perfect fit and hold the handset in place securely in a soft plastic retainer attached to the leather outer. It has a suede finish that feels good to the touch. For an extra £5 you can have your initials embossed on the top right corner of the case, for instance, so everybody knows it's your phone. Inside, there are slots for three credit cards and a longer slot for banknotes or papers. A magnetic clasp flips into place satisfyingly to hold the front cover closed.
Buy now for s10
Buy now for s10e
Buy now for s10+
Tech 21 evo check: £29.95, Tech21
Available for: S10e, S10, S10+
The Tech21 range is pretty extensive and offers good drop protection thanks to another shock-absorbing material, which you'll only find on Tech21 cases, called flexshock. The evocheck also has a clever extra feature: it keeps your phone hygienically clean because it includes an anti-microbial protection layer. The company says the protection, which is not just a coating but part of the case material, reduces microbes on the case by up to 99.99 per cent. If you've ever used your smartphone in the bathroom (nobody is judging you), this may appeal. The case comes in several attractive colours, including ultra violet and shark blue.
Buy now for S10
Buy now for S10+
Buy now for 210e
Nodus access case III: £39.99, Nodus
The part of a folio that holds the phone safely in place can add weight and thickness. Nodus keeps its cases thinner and lighter than some rivals by using a pad covered with millions of microscopic suction cups to hold the phone in place instead of clips or cradles. Attaching the phone just right can take a couple of goes but it then stays in place and stays there. The leather is strong and sturdy but supple enough to feel comfortable and soft to the touch. Inside is a microfibre lining and one pocket for credit cards or notes. The case ships later in March and is currently reduced from £49.99 to £39.99.
Buy now for S10
Buy now for S10+
Gear4 piccadilly: £29.99, Gear4
Available for: S10e, S10, S10+
Like the Mous, Gear4 has special shock protection inside. Here, it's done by using a clever material called D3O which is a non-Newtonian fluid. That just means that when it is hit it goes from soft and pliable to solid in an instant, dissipating the power of the impact. It means it can offer a lot of protection from a very thin material, so it doesn't bulk up the case. The case is clear, though it has a coloured stripe round the edge where the D3O sits. It looks great and offers considerable peace of mind. Gear4 says it is drop-resistant up to 13 feet.
Buy now for S10
Buy now for S10+
Buy now for S10e
Samsung protective standing cover: £26.99, Mobile Fun
Available for: S10e, S10, S10+
When you have a display as bright, detailed and large as on the S10+ or even S10 and S10e, you really can watch a TV show or movie on it. So, a case like this one is ideal. Built into the back of it is a clever kickstand which props the phone up perfectly for viewing. There's a choice of two angles as the stand folds out two ways, holding the phone at around 45 degrees or 60 degrees as you wish. The surface is textured so it's not going to slip out of your fingers and Samsung says it offers military-grade drop protection.
Buy now for S10
Buy now for S10+
Buy now for S10e
Casetify: £39, Casetify
Available for: S10, S10+
When you really want to make a statement, one of the scores of brightly decorated cases from Casetify will suit your S10 or S10+, though not S10e. Whether you fancy crashing waves, outsize confetti, cartoon cats or an immaculately elegant tiger, you'll find it here. Like some others in this roundup, there is shock absorption material built into the edges and the case, which covers the back of the phone, and also edges round the corners to keep the screen safe. Lightweight, attractive and effective, this feels good in the hand and doesn't bulk the phone up too much. If there's a downside it's that the range of cases is so wide it can almost be overwhelming.
Buy now for S10
Buy now for S10+
Otterbox Symmetry Series Clear: £29.99, Otterbox
Available for: S10e, S10, S10+
Otterbox is known for its rugged, highly protective cases. They can be bigger and heavier than some rivals but this particular model is not, it's light and attractive. A bumper round the screen makes it a little larger but it's worth it for the protection level it affords the glass display. It comes in three versions, a completely clear one, stardust and one called gradient energy shown above. It's made of synthetic rubber and polycarbonate and feels good in the hand.
Buy now for S10
Buy now for S10+
Buy now for S10e
Verdict: Samsung Galaxy S10, S10+ and S10e cases
When smartphones cost as much as they do these days, you need solid and effective protection. But you also want it to look good. The best protection comes from one of the best-lookers: Mous clarity. For out-and-out beauty, the supple leather sleeves from Lucrin are very hard to beat. The Nodus access case III manages to be especially slim and is very practical, too.
IndyBest product reviews are unbiased, independent advice you can trust. On some occasions, we earn revenue if you click the links and buy the products, but we never allow this to bias our coverage. The reviews are compiled through a mix of expert opinion and real-world testing.
Register for free to continue reading
Registration is a free and easy way to support our truly independent journalism
By registering, you will also enjoy limited access to Premium articles, exclusive newsletters, commenting, and virtual events with our leading journalists
Already have an account? sign in