The Independent's journalism is supported by our readers. When you purchase through links on our site, we may earn commission.
Virtual pub crawls: How to have a big night in while the bars are closed
Try an online tour of a real-life town, or a game that won't let you move on until you've solved the puzzle at hand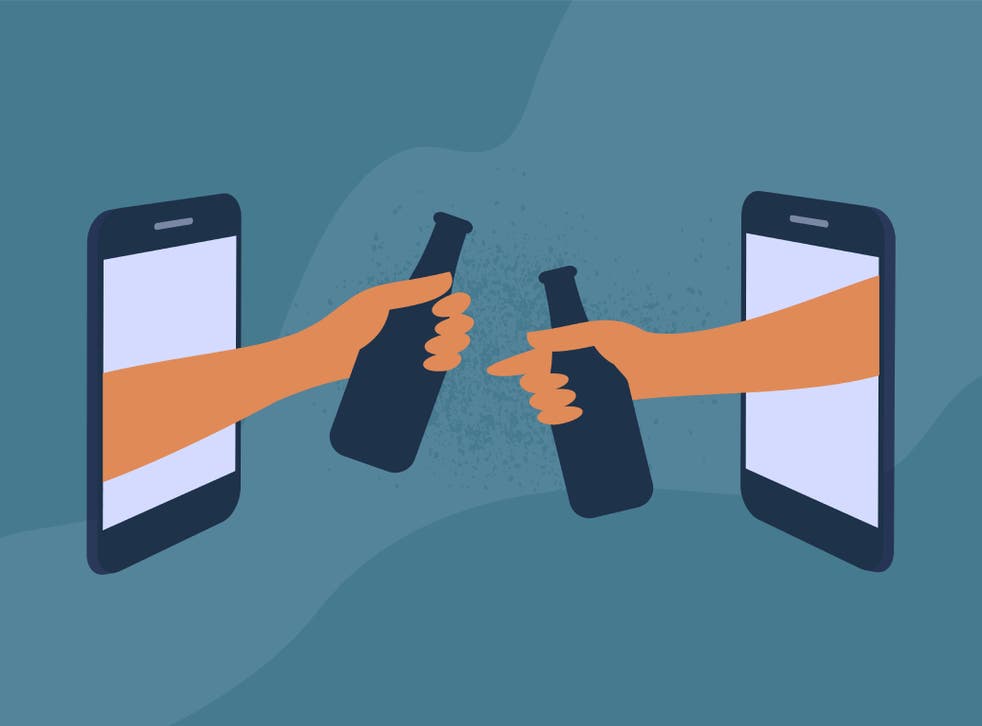 With lockdown 3.0 well underway, you'll probably be hard-pushed to remember the last time you had an in-person drink with friends.
Since March last year, pubs have been shutting and opening on and off. In July, we had Super Saturday, where pubs and restaurants opened again, and things almost got back to normal, save for plastic cups and scanning QR codes to "sign in". 
This was followed a few months later by rule changes that included shutting at 10pm and only serving food with a "substantial meal". But since November they've once again been closed.
The three countrywide lockdowns are having detrimental effects on pubs and bars too. As barrelled beer nears it sell by date, and there's no sign of pubs reopening, an estimated 87 million pints are being thrown away, which is equivalent to £331m in sales.
Read more: The best virtual escape rooms to play online with friends
If you're seriously missing those nights out, or were planning a birthday bash or hen or stag do that's now on hold, there is some good news: you can try a number of online pub crawls from the comfort of your very own sofa.
Some involve a bit of puzzle-solving through the night, and we're sure you can handle that while you have a beer or two – though do remember to drink responsibly.
But most importantly, we think, these crawls are about carving out a bit of time with mates or work colleagues, either for a special occasion or simply because it's Friday. They offer the chance to have a laugh together and to stay in touch through these strange and difficult times.
You can trust our independent round-ups. We may earn commission from some of the retailers, but we never allow this to influence selections. This revenue helps us to fund journalism across The Independent.
This crawl describes itself as the "perfect antidote" for anyone wanting to connect with friends during lockdown.
You can take part using FaceTime, Skype, Zoom, or whichever platform you prefer. Like an actual pub crawl, you'll make your way (virtually) to various pubs along North Yorkshire's Yarm high street, having a drink at each one. You'll only be able to move on to the next pub once you've solved an assigned puzzle.
This crawl takes between one and two hours, depending on how quickly you crack the questions, though you'll get clues if you're really stuck.
It costs £4.99 for seven days' access. When you buy you'll receive a "mission briefing" with a link, and once you have that you'll be able to play as many times as you like in that period.
This pub crawl's a little different in that you use various rooms in your home as "stops" on the tour, with puzzles and activities for each. 
There are dress-up themes and a range of games to play, and you can include between two and six houses with up to 15 people.
Each household will need a laptop or tablet to call in from, and will be given a list of household items they need to have ready before the crawl starts.
You can book for whenever you want and will get a link along with the games, instructions and more. Allow one working day for payment to process. It costs £20 for a minimum of four adults, and there is no extra cost for more adults after that.
Visit the Amazing home pub crawl now
Not so much a pub crawl with games and puzzles, this is more of a walking tour that's now on Zoom because of lockdown.
If you and your friends love pubs and their history, and fancy some energetic chat from tour guide and Manchester Walks founder Ed Glinert, this could be one to consider.
Glinert cites a Bertrand Russell paradox on the ticket site for the tour – "The set of all tea cups is not a member of itself, but the set of all non-tea cups is" – before stating: "To be allowed admittance to this tour, please write a 10,000-word essay on the above and post it to Visit Manchester."
If this sounds like a sense of humour you could get on board with for a pub crawl, you can get tickets for the next one, happening on 6 February, for £8.50.
Finally, if you'd prefer to sit and reminisce about days gone by, rather than getting interactive, the BFI has put together a range of free clips from pub-focused films in its archive from the 1930s, 1960s, 1970s and 1980s.
Meet the pub donkey of Shutter Inn, find out about the bar with no beer and hear from the landlord who says his clients come in drunk and leave sober. Bizarre but fun.
Visit the BFI virtual pub crawl
What to buy for a virtual pub crawl
Now you have your virtual pub crawl sorted, you'll want to think about the essentials to get in for it: namely a few good beers.
For the Cluedini Yarm crawl, our rundown of the best British beers has a few that would go nicely. We reckon the perfect brew could be this llkley Mary Jane, 3.5% (£1.75, Morrisons)
Our tester noted: "Yorkshire natives will tell you it's the best in show while chugging their way through a fair few of them. This sub-four per cent pale ale is well worth a repeat purchase, with a soft, easy-going feel, lots of fruity flavours to enjoy and the kind of grassy bitterness that gently persuades you to keep on chugging."
Setting up one room of the house as the "bar area", for added authenticity, could be really fun. We recommend getting a beer dispenser (though you can use them for soft drinks too).
This ice core beverage dispenser (£24.99, Drinkstuff) will take 2.5l of your favourite tipple and keep it cold with a central core that you fill with ice.
Trying it out in our review of the best beer dispensers, our tester commented that "this is the item to have on your buffet spread, if the Hyacinth Bucket in you can't stand the sight of a load of cans marking your marble tops." Brilliant.
Maybe you think a beer subscription box is in order, for this crawl or any other. Good news: we recommend 11 in our best beer subscriptions guide.
And don't worry if want the tour but don't fancy the hangover: this dry drinker subscription box (£19.99, DryDrinker) lets you try lots of low and no-alcohol brews from big players like Mikkeller and Viru.
There are also specialist alcohol-free producers featured, such as Klokk & Co in Norway and Scotland's Jump Ship.
If the idea of making your own homebrew appeals, there are lots of kits out there to make it fairly simple. This Woodfordes admiral reserve real ale brewing kit (£20, Wilko) is "an excellent starter kit for aspiring brewers" according to our tester of the best home brewing kits.
If you follow the instructions comprehensively, you should create a beer with an ABV of around 5.5 per cent.
If you'd prefer to go for cider, though, check out range at the Bristol Cider Shop, which featured in our rundown of the best beer and cider shops delivering to your door.Our reviewer advises it sells more than 100 varieties of cider, and that everything they offer has come from within 50 miles of the city, from traditional cider farms, so in each bottle is 100 per cent fresh-pressed juice.
The jolly packaging alone of this Galway Bay pale ale (£2.89, Honest Brew) should bring some cheer to proceedings.
It made it into our round-up of the best Irish beers, with our tester enjoying its "breezy lightness that allows for repeat pouring". Enjoy.
Finally, if you'd rather go for a short drink, you'll be sipping in style with this House by John Lewis & Partners set of four tumblers (£12, John Lewis & Partners).
"Modern, simple and practical, these chunky tumblers are well weighted with a heavy bottom, tapering to a thinner rim," said our tester of the best tumblers. 
"Although the shorter of the two tumblers in the range, they can still hold up to 250ml of liquid – more than enough for table water, whisky or juice. Each box contains four glasses and the best bit is they can be popped in the dishwasher when you're finished." That's what we like to hear.
For more virtual fun with friends, see our rundown of the best online escape rooms
Register for free to continue reading
Registration is a free and easy way to support our truly independent journalism
By registering, you will also enjoy limited access to Premium articles, exclusive newsletters, commenting, and virtual events with our leading journalists
Already have an account? sign in