The Independent's journalism is supported by our readers. When you purchase through links on our site, we may earn commission.
Best water bottles: The ultimate choices for every price range
From stainless steel ones to classic plastic, there's a water bottle on this list for everyone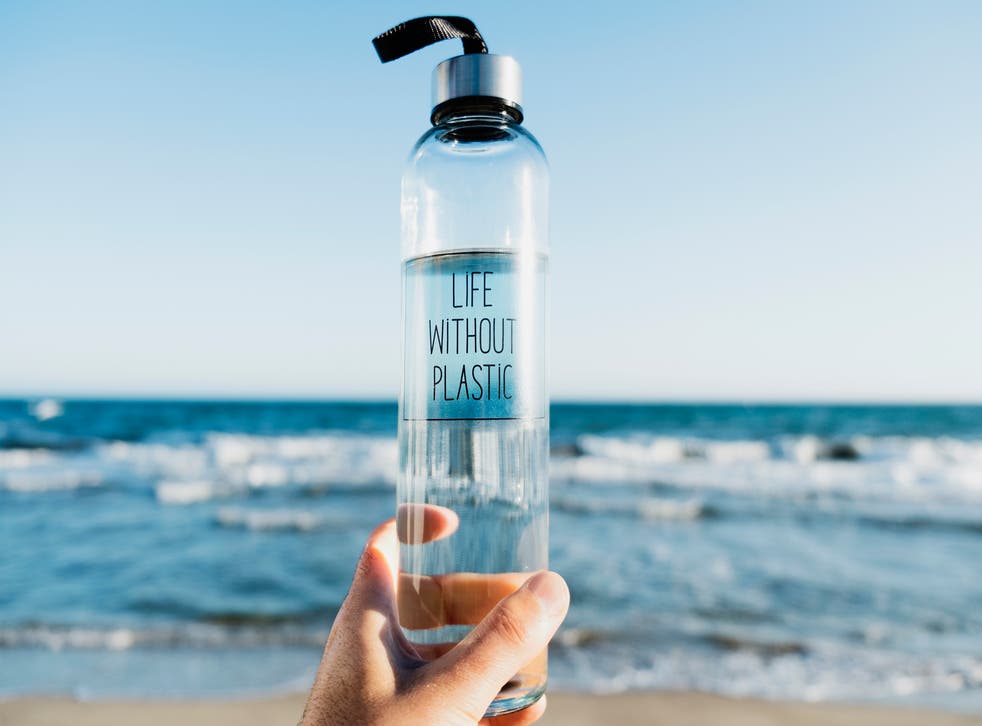 Staying hydrated is absolutely vital, but can be challenging if you work long days at a desk. Doctors recommend drinking at least eight glasses of water a day, as a minimum. But between work, home and family life, getting in that half of a gallon seems to be a challenge. A good water bottle can help!
Searching for a good water bottle is more work than you may think, as there are several different types. Are you looking for a plastic one to replace within the year? Are you looking for a nice metal one that'll be three times the price of a plastic one? Some come with insulation, others come marked with a little ruler to see how much water you've drank since the last fill-up.
The Independent consulted real world reviewers and tested some ourselves to bring you this list and make your search for the perfect water bottle just a little easier.
Best water bottle
BPA free

Insulated, keeps drinks cold for up to 24 hours or hot for 12

Made from stainless steel
S'well water bottles are top of the line. Their insulation technology is incredible, keeping ice cubes intact for most of the day while a layer of copper prevents condensation. One reviewer said she would have never spent so much on a water bottle normally, but heard S'well bottles would keep her water colder. The verdict? "After 24 hours I still have ice, well worth the price." Another reviewer even went as far to say that they'll never buy a new bottle that isn't S'well.
The standard bottles come in three sizes: 9 oz, 17 oz, and 25 oz (which their website cheekily notes can fit a whole bottle of wine) and a variety of colors and patterns. The only downside is the S'well is not dishwasher safe, but not a bad trade-off for such an excellent water bottle.
Best insulated water bottle
A variety of colors, patterns, and bottle types

BPA and lead free

Powder coat finish 
Manna's line of water bottles (and other drinking apparatuses) is quite expansive. From the average, traditional $20 insulated bottle to the higher end 25 oz ones with Bluetooth speaker lids, Manna makes a quality water bottle, and reviewers speak highly of them. One put it simply:"It does what I wanted to do, keep water cold for a long time."
Like S'well, all of their bottles are insulated and condensation free, and hand wash only. Manna also has a lifetime warranty and free shipping on all orders.
Best old school water bottle
Dishwasher safe

Made in the USA

Guaranteed leak proof
The Nalgene 32 oz wide mouth is a tried and true water bottle, and as sturdy as they come. Reviewers note that these bottles are durable and made to last, with one noting they're "finally buying a new one after EIGHT YEARS". There's nothing fancy about this one, no insulation or beautiful patterns, but it holds up to half of your daily recommended intake of water and that's what matters. You can also track how much water you've drank with the little "ruler" on the side.
It comes in a variety of colors, is dishwasher safe, and is free from BPA, BPS, and phthalates to boot. If you're looking for a large, classic water bottle, it doesn't get better than this one.
Best straw water bottle
BPA free

Leak and spill proof

Made of Tritan plastic
If you prefer a sip and close type bottle, the CamelBak Eddy is your best choice. It's a sturdy bottle, one reviewer who claims to using Eddy bottles for 10 years said "What I love about the Eddy bottles is that they are durable and leak-proof. I never have to worry about my bottles cracking when dropped or leaking all over my backpack, and I've dropped many of them!"
Made from food-safe BPA free plastic, the Eddy comes in three sizes, 20 oz, 25 oz, and 32 oz. It also comes with a lifetime guarantee, making the $12 even more worth it.
Best water bottle to take to work
Double vacuum insulation

Lifetime warranty

BPA and phthalate free
Hydro Flask is one of the "trendier" water bottle brands, and for good reason! They come in multiple colors and even have an options for size and color customization. Like Manna and S'well, the bottle is sweat-proof and insulated to keep drinks cold for up to 24 hours. One reviewer said they were "really skeptical" about buying a water bottle for more than 30 bucks but "it's been the best investment I've ever made. It's pricey but its so worth it, as a mailman I work under the sun all day and I need a water jug to keep it cold. This by far the most efficient water bottle I've had."
In addition, Hydro Flask has a "Parks for All" initiative where they donate money to environmental nonprofits dedicated to maintaining, improving, and providing access to parks.
Best water bottle for kids
Spill proof from all angles

Dishwasher safe

100% BPA free
This water bottle seems to be designed with parents more so than kids in mind. It's easy to use, holds up to 12 oz of water, and comes in different patterns, (including the really cute shark one pictured above). One parent says that this water bottle is her "lifesaver" as " out two year old daughter drinks way more water through a straw than from an open cup so this bottle keeps her well hydrated. It has a larger capacity than most kids cups too which is nice and it has survived all manner of drops and impacts."
The straw and lid detach to make cleaning a breeze, especially as it's dishwasher safe, but parents recommend using a straw cleaning brush periodically to prevent mold.
Best Water Bottle for Tracking Intake
Comes with nozzle for easy drinking

Easy to clean

100% BPA free
This water bottle is a great choice for anyone looking to know how much water they're drinking in a day. With guidelines on the side that show you how much water should be drunk by what time, this bottle is an effective encouragement to drink more water. This sturdy bottle retains cold well, as it's made of thick Tritan plastic. While it might lack "fancy" features like insulation, this is a great water bottle for an athlete, a hiker, or anyone who just wants to drink more water.
Register for free to continue reading
Registration is a free and easy way to support our truly independent journalism
By registering, you will also enjoy limited access to Premium articles, exclusive newsletters, commenting, and virtual events with our leading journalists
Already have an account? sign in