The Independent's journalism is supported by our readers. When you purchase through links on our site, we may earn commission. Why trust us?
9 best cooking essentials for camping: From pans to outdoor stoves
Be the coolest kid on the campsite with our round-up of outdoor gear 
Liz Dodd
Wednesday 29 July 2020 11:28 BST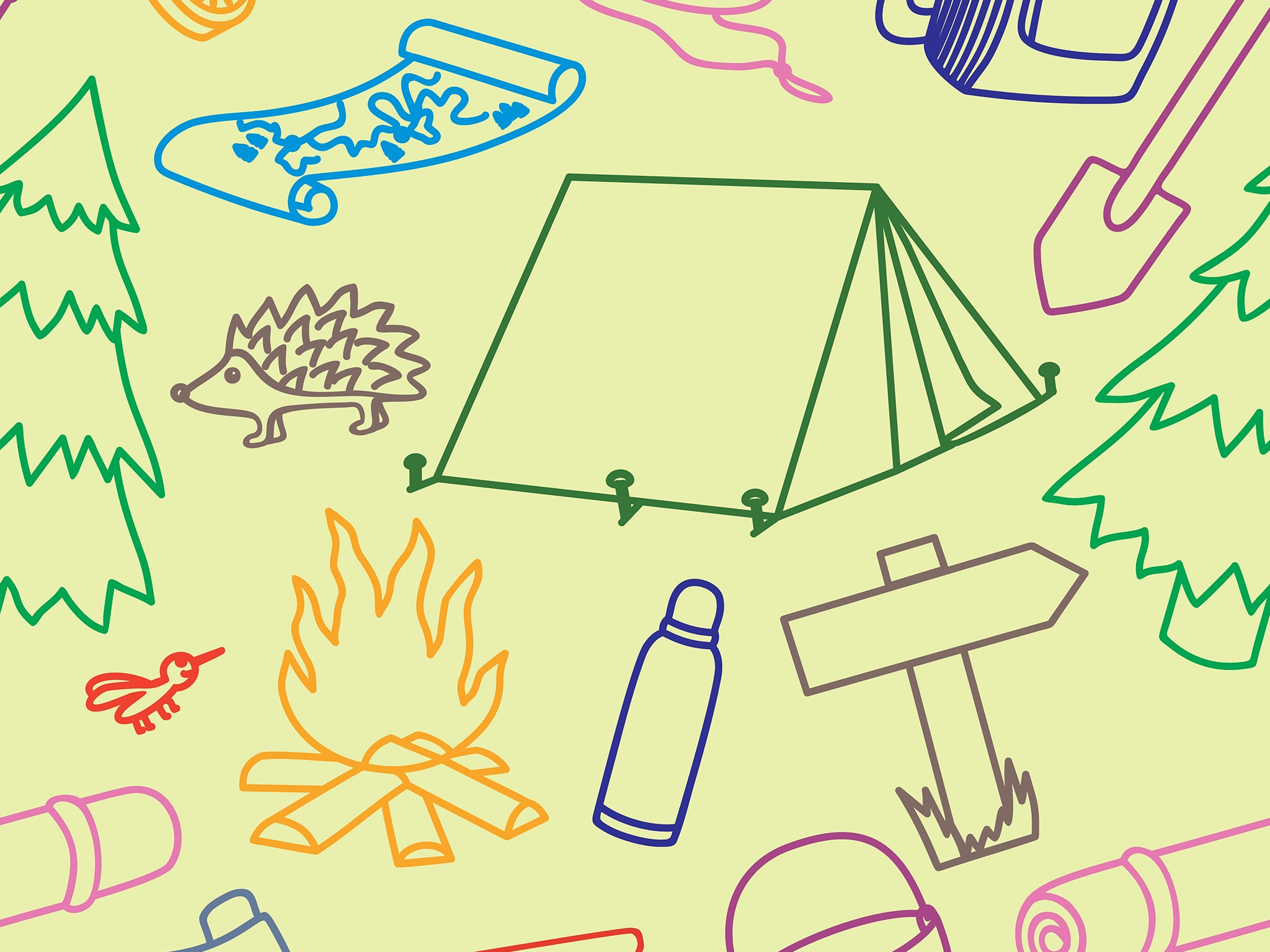 Forget s'mores, sorry-looking hotdogs and charred baked beans: from barbecue-ready woks to pop-up kitchenettes, these days, campfire cooking can be Michelin-starred. With a world of options – especially if you're driving to camp and have a reasonable amount of room in the boot – it's worth thinking through your menus in advance.
If you plan to stay at the same site for more than a few days, you can literally bring the kitchen sink, attached to a pop-up workbench, with the Vango Cuisine Kitchen.
Campsite cooking is infinitely more appealing when you can chop veg standing up, with decent knives, on a work surface, rather than crouched in the mud. A fire pit will char burgers and veg kebabs to perfection, but won't be good news for your pans. While it might seem excessive, it's worth bringing a hob (or two) along for support. Go for gas if you can, particularly if you're planning on cooking for a large (and hungry) group and need to generate a lot of pasta quickly.
Whether you're bikepacking or backpacking, look for lightweight materials, such as Trangia's hard anodised aluminium cook set, or a tiny, pocket-sized stove, and opt for moderate cooking-power. This is particularly important if you're planning on wild camping and don't want to draw attention to yourself with a roaring bonfire or plume of petrol smoke.
A penknife will always do for prep in a pinch, but even if you have a sliver of room, do yourself a favour and bring a cookset such as the Opinel Nomad below, or at least one of its folding knives (preferable the one with the corkscrew).
Finally, don't forget to bring something to use as a chopping board; our reviewers swore by Tupperware lids and squares of thin plastic sheet (cut to roll up and fit inside a mug for ultimate minimalist cred), but nothing beats a bespoke board such as the Opinel if you have room.
We tested the products across two camping trips: one with a car and one bikepacking. For car camping we looked for products that packed easily into the boot, but that also added some extra luxury to camping cooking. When bikepacking, we tested for lightweight materials and packability – products that would fit into a bike bag or backpack, and that won't weigh you down.
You can trust our independent reviews. We may earn commission from some of the retailers, but we never allow this to influence selections, which are formed from real-world testing and expert advice. This revenue helps to fund journalism across The Independent.
Trangia 27-8 stove hard anodised pans with kettle: £91.95, Alpine Trek
The original and best, beloved of Duke of Edinburgh expeditions for decades: a Trangia is a complete cooking system ingeniously packed away inside a single pot. Modern Trangias are fancier than their 1990s counterparts – this model is made of hard anodised aluminium to protect against bumps and scrapes, but is also super light, all the more remarkable given that it includes a kettle, two pans, a frying pan and a windshield. You can buy fancier Trangias with gas burners, but our reviewer swears by this Trangia simple meths stove because it's better for the environment, totally foolproof, easy to buy fuel for, and burns at a gentle temperature that's good for simmering, sauteing and gently boiling coffee while you pack up the tent. The 27-8 model is good for one to two people, but larger versions are also available.
Primus campfire cookset large: £76.40, Amazon
Sometimes simplicity is best, and this is exactly the case with this elegant pan set. It's stripped back of all the superfluous extras you sometimes find in camping cooksets – handles that double as potato mashers, saucepans that are also coffee grinders.
Primus pans (two pots, a 1.8l and a 3l, and a frying pan) nest agreeably into a neat stack that packs away into the supplied stuff sack. The larger pot comes with an elongated handle in case you want to hang it, cowboy style, over a campfire, but otherwise – packability and durability aside – there's nothing to really separate these smart pans from the kind you'd be happy to use in your home kitchen.
Outwell cazal firepit M: £55, Outwell
A superb, surprisingly light little firepit that's ideal for cooking outside or warming up beside, Outwell's cazal pit is a bargain that earns its keep every time you use it. The tripod base keeps it well off the ground to prevent scorching grass underneath, but the foldable legs mean it still packs up to a reasonable size – although it's a shame it doesn't come with any kind of storage/carrying box other than the original cardboard. Cooking on it is easy thanks to the removable grill and nifty tongs, and there's enough room underneath the pit to keep food or plates warm – or, as our reviewer discovered on an unseasonably cold summer weekend away, to get a bottle of red wine up to drinking temperature. Once you've finished cooking, stoke the coals and you've got a toasty campfire for the rest of the night.
Coleman northstar lantern: £186.05, OutdoorXL
With the best will in the world, there are evenings when your hike overruns and you end up cooking in the dark. Style it out with this beautiful, old-fashioned gas lantern by Coleman. Brighter than your average lighthouse and powered by unleaded petrol in a pinch (although Coleman's proprietary fuel is cleaner and will keep it in better condition), it burns for up to 14 hours. If you don't want neighbouring counties to think you're sending out some kind of alarm beacon, you can turn the flame down to a gentle glow – perfect for a post-dinner chillout.
Primus onja stove: £122.99, Trekk Inn
About as close to an outdoors cooker as you can get, the Primus onja is a neat and minimalist little stove that packed more consistent heat than our reviewer's at-home hobs. While it is bulky compared to, say, the Trangia, and so not as suited to hiking or backpacking, this is the perfect stove for overlanding or multiple-day trips with the car. It packs up tidily, cleans easily (detach the velcro fabric skirt and you can get the grill bit off with a screwdriver), and the lid doubles as a smart chopping board. Our only complaint was that the carrying strap detached a little too easily.
Opinel nomad cooking kit: £53.49, Cyclaire Shop
Gone are the days of hacking away at vegetables with a blunt penknife or ripping slices of bread from the loaf with your bare hands. Opinel, a well-esteemed French knife manufacturer, have created folding versions of some of their most popular knives. Pairing them with a tough chopping board, these include a 10cm paring knife with inbuilt corkscrew, a 12cm serrated knife for bread or vegetables and a super sharp peeler: the ultimate campfire prep set. The knives are excellent, compact and well-weighted, but this little kit really excels on style. From the beech handles and board, to the tiny tablecloth that comes with the set, this kit will truly raise your camping cooking game.
MSR pocketrocket 2 ultralight stove: £34.99, Ellis Brigham
Around the size of a small penknife, and at 73g even lighter, the pocket rocket is the ultimate camping stove for hikers and bikepackers, or if you want a backup or second stove. It screws easily on to the top of a gas canister – and our reviewer noted that this newer model felt more stable than previous iterations. The pot holder is now so big that a full pan of water sat comfortably on it at a rolling boil, instead of sliding around alarmingly. It really roars on full power – MSR reckon it can boil a litre of water in 3.5 minutes – but also sits at a comfortably low simmer, a handy feature that a lot of other stoves (particularly liquid gas stoves) haven't mastered. It will work with any screw-thread gas canister, but check before you buy.
Vango cuisine kitchen: £69.95, Outdoor Action
This smart little pop-up kitchen has a number of great features, such as the implement hooks and spice rack, but what makes it truly invaluable is the little inbuilt sink. No more trekking across the campsite to a washing up block in the dark with a stack of precariously-balanced pans: simply fill the cuisine kitchen's tub with hot water from your camp kettle and away you go. There's ample space for chopping and preparing food – all without having to sit in an awkward squat with a battered chopping board on your lap. While this isn't one for lightweight backpackers, the table does pack up small and is easily compact enough to pop in the boot and then unfold to great acclaim at your campsite.
Campingaz party grill 400CV camping stove: £100 Argos
This deceptively simple-looking barbecue packs a tonne of useful features, including a reversible grill and griddle, a standard barbecue, a pan-ready cooking service and – our favourite – a domed lid that doubles as a wok for al-fresco stir fries. For all that, it packs down small – think a slimline Henry Hoover – and doesn't take up too much space on a picnic table. The stove runs off large gas cartridges, but not the same kind that you'd use for a mini-camping stove like the MSR pocket rocket. Your safest bet is to buy a Campingaz canister or two: the stove will run for three hours on the CV470 canister and for one hour and 40 minutes on CV30, leaving plenty of time to cook both surf and turf.
The verdict: Camping cooking gear
For a complete cooking system that you can pack up and carry away, nothing beats an old-fashioned Trangia, particularly the new hard anodised version that is bump-proof and easy to wash up. If space isn't an issue, pack a Primus onja hob and a Vango cuisine kitchen for the ultimate outdoor kitchen.