The Independent's journalism is supported by our readers. When you purchase through links on our site, we may earn commission.
10 best vegetarian cookbooks
Discover how to be creative with vegetables in the kitchen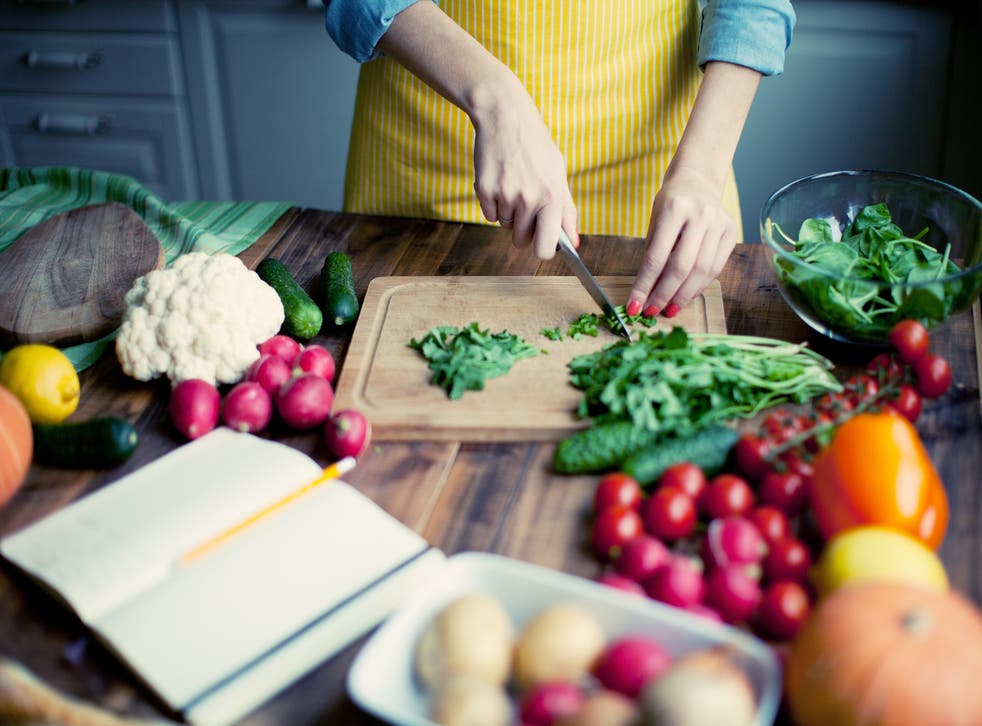 Eating vegetarian is an art that needs to be constantly renewed with an array of new trends and flavours, but inspired by quality food and fresh products. All around the world, vegetarianism has settled in as a positive movement that offers not only a healthy way of living, but also its own way of life.
This year's Indybest vegetarian cookbooks list looks at how can we be inspired by the best vegetarian cuisine from around the world. Of course, best does not solely rely on taste, but also on the broad availability of ingredients, the amount of time and effort necessary to effectively cook a recipe and how balanced portions are. As vegetarianism does not equal feeling hungry at the end of a meal, it also needs some sparks, and here are the new trends and inspirations that caught our attention that will fill make your stomach and family happy in following year.
Hazana introduces us to the best vegetarian food the Jewish diaspora around the world has to offer, in a simple but delicious way. Every page you turn opens up your stomach a little more, and you will find yourself putting a note on every page to remind you to try them. Paola Gavin has traveled the world writing about vegetarian food, and she now offers us a melting pot of fresh and healthy international cuisine of Jewish inspiration.
2. Wholefood Heaven in a Bowl by David and Charlotte Bailey: $13.99, Gibbs Smith
This book is a pleasure to browse, inspiring to discover, and exquisite to eat. In Wholefood Heaven in a Bowl, David and Charlotte Bailey offer their own twist on Middle Eastern mezzes, Spanish tapas or Hawaiian poke, in a meat-free version. They cook them with unusual but accessible ingredients that will add some spark to any of your meals. The British couple fell in love with a Citroën and since then enjoyed a great success in offering vegetarian food from their truck, traveling from festival to festival around the UK. Their 'Buddha Bowl' has won the British Food Award, and the book's masterpiece is worth trying.
3. Love Real Food by Kathryne Taylor: £27.50, Rodale
For another year in a row, Kathryne Taylor's Love Real Food is a must. The author of the blog Cookie and Kate proposes in her book a great variety of salads, appetizers and desserts that will leave you energized and satisfied. The title of the books says it, the book is first and foremost about her love for fresh and tasty ingredients, and as such, her Moroccan roasted carrots, arugula and wild rice salad is a must. Rich in proteins and greens, Love Real Food offers a great variety of recipes that are easy to do and even easier to enjoy.
Deborah Madison was vegetarian before it was trendy. The American chef has a passion for vegetables and that is what In My Kitchen is all about. Madison's book envisions vegetables not as side dishes, but as the masterpiece of the meal, the star of your plate. In My Kitchen is what Madison calls "her most personal cookbook", as she directly invites us in her kitchen and shares her best, simplest recipes. In My Kitchen is one of the most visually enjoyable of this year's cookbook list, but some recipes require a visit to your nearest farmer's market to uphold the quality of her recipes. Her yogurt, cumin, and green sauce is both addictive and a must in your salads or on your table.
How to Cook Everything Vegetarian's title isn't an exaggeration: the book is literally the bible of vegetarianism, a must-have foodies should cherish as the basis of their lifestyle in a book. From making tofu from scratch to preparing it in every possible way, it is hard to think of a recipe that would not be included in this book that has more than 800 pages.10 years after its original publication, Mark Bittman's refurbished version is worth investing in.
6. The Middle Eastern Vegetarian Cookbook by Salma Hage: $39.95, Phaidon
Bestselling author Salma Hage, known for her book The Lebanese Kitchen, now presents her favorite flavors from the region she was born in, with a Lebanese touch. Labneh, falafels and humous are at the heart of The Middle Eastern Vegetarian cookbook, but there's more. This cookbook is the perfect mix of how to use fresh vegetables, tasty spices and superfood that make every meal a special feast. Still not convinced? Look at the roasted butternut squash with spicy tahini dressing recipe.
7. Very Veggie Family Cookbook by Sara Ask and Lisa Bjarbo: $25.95, Aurum Press
In Very Veggie Family Cookbook, Swedish dietitian Sara Ask and author Lisa Bjarbo offer 60 recipes for every day of the week, for both busy weekdays and weekends. The recipes are relatively easy to do, and they will please your children as much as your guests. The book includes some valuable tips, such as diverse ways of saving leftovers. Overall, the book is well balanced, family oriented and can definitely save the day for the times where you need a quick but healthy dinner inspiration.
8. Plants Taste Better by Richard Buckley: $35, Quarto
Who said that a plant-based diet had to be boring and simple? In Plants Taste Better, British chef Richard Buckley offers some outstanding recipes for plant lovers that will impress even the most vegetarian-skeptic guest. In this book, Buckley teaches how to transform quality vegetables into a fine-dining meal. This goes without saying that his recipes require some technique and time, but the book is definitely worth trying. Some recipes will both take you out of your cooking comfort zone, and make you discover new flavor combinations that will blow your mind.
A pleasure to look at, this cookbook is as enjoyable to use as it is to leave in your kitchen for your guests to enjoy. From Bangladore to Brooklyn, Chitra Agrawal opens our eyes to different flavors but more specifically how to successfully cook Indian dishes the way Indians do, through her family and personal story. Please try her steamed lentil and herb dumpling!
10. Vegetarian Sushi Secrets by Marisa Baggett: $15.95, Tuttle
Who could believe there could be 101 ways of cooking sushi without any seafood or fish in them? American sushi expert Marisa Baggett introduces us to some innovative ways to use vegetables, tofu or mushroom that will make for the perfect sushi meal. The book is a great way to change your routine and discover new sushi techniques and flavours.
IndyBest product reviews are unbiased, independent advice you can trust. On some occasions, we earn revenue if you click the links and buy the products, but we never allow this to bias our coverage. The reviews are compiled through a mix of expert opinion and real-world testing.
Register for free to continue reading
Registration is a free and easy way to support our truly independent journalism
By registering, you will also enjoy limited access to Premium articles, exclusive newsletters, commenting, and virtual events with our leading journalists
Already have an account? sign in