10 best bridge cameras to capture that picture perfect moment
Whether it's for capturing wildlife or stunning holiday snaps, invest in a versatile piece of kit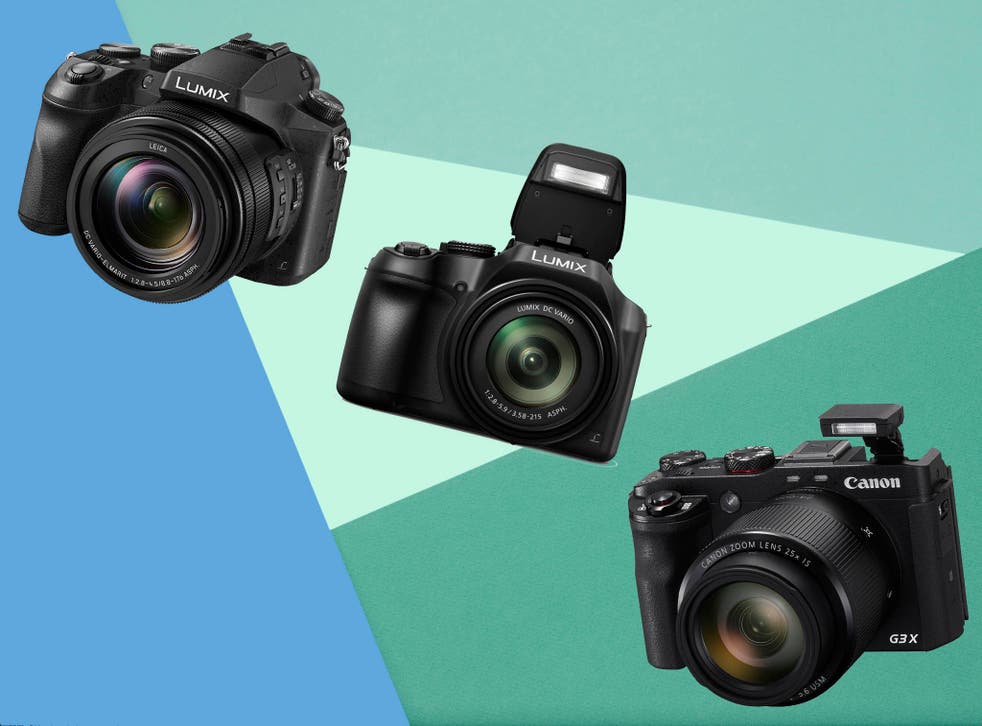 Bridge cameras emerged in the Eighties, positioned between point and shoot compacts and the larger and more complex SLRs.
Much has changed since, but bridge cameras are still a good choice for photographers who want a straightforward camera with a versatile zoom lens, all in one convenient package.
They open up a greater variety of subjects – close and far – and come into their own in wildlife and (amateur) sports photography.
Many bridge cameras come with long zoom ranges, which are all given in their 35mm equivalent (or what the focal range would be on a full-frame DSLR).
Anything below 36mm is considered "wide angle" and the lower this number, the more it allows you to get into the frame. With 24mm focal length, for example, you can get a decent shot of the interior of a medium-sized room.
The higher the number, the greater the magnification, so at 400mm your camera sees more than you with naked eyes and, at 1000mm, can produce an impressive amount of detail when photographing the moon. Zoom ranges are often expressed in factors, so a 35mm-350mm lens would be a 10x zoom.
We have only stated a camera's optical zoom, where magnification is achieved by lenses, rather than through digitally increasing the file size (often called "digital" or "intelligent" zoom).
It's worth keeping in mind that long-zoom lenses often need a bit more light, even at shorter focal lengths. When using longer focal lengths (zoom lens extended), camera shake is amplified so it can be difficult to get sharp images when holding the camera by hand. Despite effective vibration reduction systems and good-quality zoom lenses, you often need short shutter speeds (which need good light) or a tripod, to get crisp images.
All the cameras reviewed here produce images of at least 16MP (allowing you to print images A3 size at 300dpi). We have put them through their paces and tested them throughout their whole zoom range, with different subjects and under a variety of lighting conditions.
Panasonic Lumix DMC-FZ82: £255.67, Amazon
This affordable camera has many high-spec features, including 4K video, a touchscreen and an impressive 60x optical zoom, reaching from 20-1200mm (35mm equivalent). It weighs just over 600g, has a hot shoe for an external flash as well as a pop-up flash and, with its 10 frames per second burst shooting mode and reasonably fast autofocus, the Lumix FZ82 can handle anything you throw at it. It also has innovative features, such as post focus, which allows you to pick the focal point after you shot the image, making sure you never have an out-of-focus image again.
It's not one of the latest models, but its features and sound performance means the Lumix FZ82 is excellent value.
Panasonic Lumix DMC-FZ2000: £799, John Lewis & Partners
If you're as serious about filming as you are about top quality stills, this high-calibre camera may be for you. It adjusts to sudden changes in brightness exceptionally well, producing 4K movies with outstanding quality. But it's also a top stills camera: at 12 frames per second, it's very fast, and its one-inch sensor produces vivid images with great detail. It also features the post focus function, which gives you more creative freedom, even after you have shot the image. Its 20x zoom from 24-480mm is not as long as some, but still means you can get close to the action. It has a tiltable touchscreen, but no weather sealing and, at just under 1kg, the Lumix FZ2000 a fairly bulky camera.
Canon Powershot SX70 HS: £499 John Lewis & Partners
This is a great all-rounder with 4K video as well as a 65x zoom range from a very wide 21mm to 1365mm (35mm equivalent), all in a relatively compact 610g package. Macro shooting, RAW support and Bluetooth as well as wifi connectivity and an articulated screen (but no touch screen), make this a very versatile camera, regardless whether you want to vlog from your bedroom or take it hiking.
Sony RX100VI: £649.00, WEX Photo Video
This small but powerful camera sits between compact and bridge cameras. It only weighs 201g, so if you're looking for something a bit smaller than a bulky bridge camera and don't need an extreme zoom range, this may be the perfect camera for you. With 24 frames per second for up to 233 shots, it's ultra-fast and delivers superb image quality. Its 24-200mm zoom (35mm equivalent) isn't as powerful as many of the other cameras featured, but long enough to give you options. Its 4k video shooting, swivel screen, excellent slow motion and lighting fast AF make the RX100 IV a great companion that easily fits into a small bag.
Leica V-Lux: £890, Park Cameras
As you'd expect from a Leica, this sophisticated camera marries ergonomics and excellent image quality. Leica aficionados will appreciate its many manual control customisation options. Its high-quality 25-400mm lens produces pin-sharp images and beautiful bokeh, or out-of-focus areas. Although it's not one of the most recent cameras, with 4K video and a fully articulated screen, the Leica V-Lux is still a top-notch superzoom, especially if you appreciate old-school photography and don't mind paying a bit more.

Buy now
Canon Powershot G3X: £779, Clifton Cameras
This camera fits between a compact and a bridge camera. It's one of the smaller cameras on here but still weighs 730g. The multi-angle tilting touch screen is great for selfies and the 24-600 mm (35mm equivalent) zoom covers a decent range, whether you're shooting a blood moon or the kids in the garden. It's dust and water-resistant, performs well in low light and has effective image stabilisation, but what sets the G3X apart is its superb image quality.

Buy now
Nikon Coolpix P1000: £859, SLRHut
Using this camera feels a bit like having a superpower, with its astonishing zoom range. It reaches from a fairly wide-angle 24mm to a gobsmacking 3000mm (35mm equivalent), which makes it the world's longest lens, perfect for wildlife and sports photography. When extended, it can be tricky to keep the subject in the shot, but the snapback zoom button helps to locate a "lost" subject. You may need a solid tripod, though, as the camera gets front-heavy as soon as you start zooming. It's also worth keeping in mind that with its 1,415g weight, this is quite a heavy camera.

Buy now
Nikon Coolpix B600: £299, SLRHut​
This recent Nikon launch is an all-rounder with an impressive 24mm-1440mm (35mm equivalent) zoom. It only weighs 500g and is user-friendly. Its reliable performance makes it a good option if you're a beginner, venturing into zoom photography or are looking for a versatile camera on a budget that only weighs 500g.

Buy now
Sony DSC-RX10 IV: £1,649, Currys
When it comes to quality (as well as price) this camera is in a league of its own. Its large sensor and bright f/2.4-4 lens produce images of stunning clarity and detail, even in low light. Shooting 24 frames per second with continuous autofocus, it's incredibly fast. The 4K movies are also excellent quality, but at 1095g and over 13cm wide, it's quite a big camera.

Buy now
Kodak pixpro AZ421 16MP: £129.99, Argos
This camera is great for anybody on a budget. It has a 42x zoom, reaching from 24mm to a respectable 1008mm (35mm equivalent). It feels solid and handles well, but also only weighs 444g and measures 11cm wide, which makes it portable. A built-in flash and a minimum focusing distance of 1.6cm, makes this a camera for all occasions. Of course, image quality and AF performance are better in the higher-spec models, but given its low price, this camera presents good value and is suitable for beginners, who want to take their photography up a notch.

Buy now
The verdict: bridge cameras
The Panasonic Lumix DMC-FZ82 is a versatile, high-spec camera at an incredibly competitive price, which makes this a great buy. If it's a powerful zoom you're after, you can't beat the Nikon Coolpix P1000 with its incredible 3000mm lens.
However, if you're looking for something that's not as bulky as most bridge cameras (and don't need an extreme zoom), the RX100VI is an incredibly fast camera that produces fantastically crisp images, even though it only weighs 201g.
IndyBest product reviews are unbiased, independent advice you can trust. On some occasions, we earn revenue if you click the links and buy the products, but we never allow this to bias our coverage. The reviews are compiled through a mix of expert opinion and real-world testing.