The Independent's journalism is supported by our readers. When you purchase through links on our site, we may earn commission.
11 best iPhone 8 and 8 plus cases that offer protection and wireless charging
Whether it's a leather sleeve or a slimline silicone case, invest in a carrier for your most prized possession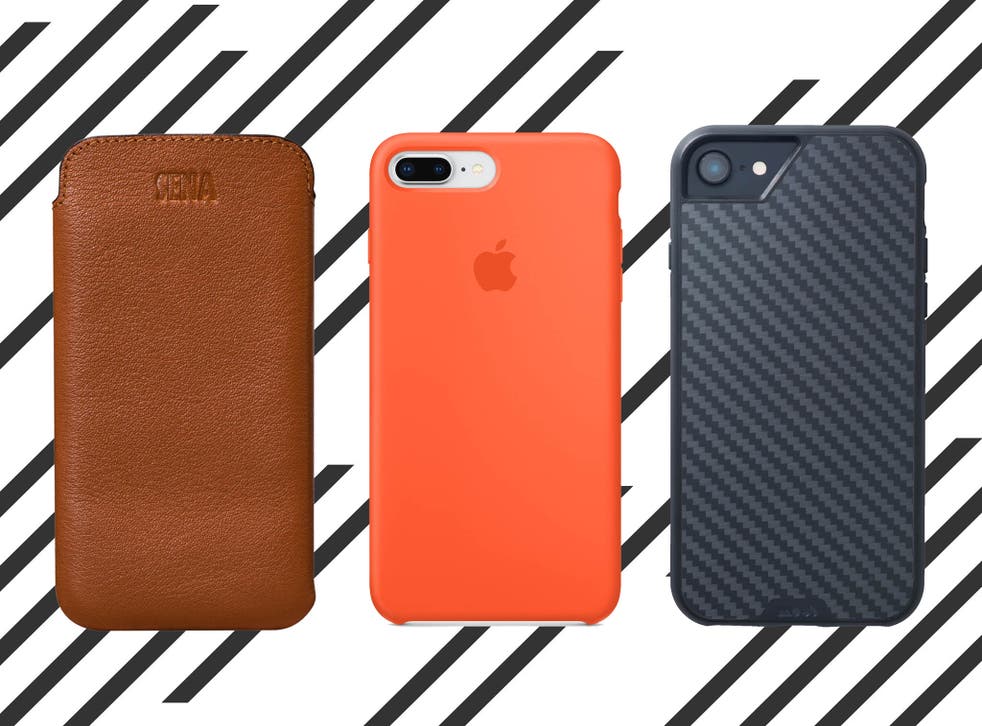 Apple iPhones aren't cheap, so a protective case is an essential accessory.
Whether you prefer a case that protects the back, a folio that wraps round both sides or a sleeve that you can slip off when you want to take a call, there will be a case to suit your style.
Do you want leather, silicone or something transparent to show off the look of your phone effectively?
Is slimness paramount? Or protectiveness? These cases have been tested for fit, strength, protection level and durability and all are available in sizes for both the iPhone 8 and iPhone 8 Plus (which means they almost all fit the iPhone 6, 6s and 7 in both sizes too).
Note that the iPhone 8 and 8 Plus are both capable of wireless charging when placed on a compatible charging pad.
The cases here are all thin enough to allow the phone to charge wirelessly without you removing it. Apart from the Pipetto, where the outer folio case must be removed while the inner case stays in place.
You can trust our independent reviews. We may earn commission from some of the retailers, but we never allow this to influence selections, which are formed from real-world testing and expert advice. This revenue helps us to fund journalism across The Independent.
Mous limitless: From £34.99, Mous
The Mous mantra is that the case should look good but offer ultimate protection, so the British company put Mous-cased iPhones through remarkable tests to check the case still works. The case clips very firmly on to the back (it's not the sort of case you can slip on and off every day) and clever ridges around the front mean that even if you drop it face down, it should remain in one piece.
Inside the case there are thoughtful extra cut-outs for a spare SIM card and, even more usefully, a perfectly shaped pocket for the SIM card removal tool, which you would otherwise lose on day one. Case finishes include carbon fibre, bamboo and leather so you can match the case to your style. The company has recently branched out into other accessories including a FlexLine charging cable which won't fray or break – its carbon fibre braid is strong enough to pull a car, Mous says.
Lucrin wallet case: From £95, Lucrin
The huge range from Lucrin is made up of exceptionally good quality cases. The company has a huge range of colours, leathers and styles. These vary from sleeves to pouches with pockets or you can choose one with a pull tab to slide the phone out even more quickly. Depending on the style you choose, there can be literally scores of colours to choose from. The wallet case has space for cards and banknotes, and the leather is strong but thin, so it barely adds any thickness to the handset. You can also customise the cases further with your initials or contrasting threads, with the option to remove the Lucrin logo if you prefer. Not cheap, but very attractive and full of tactile pleasure.
Moshi overture vegan leather wallet: £49.95, Moshi
The slick Moshi folio protects the iPhone by wrapping around it. In the front section there's one slot for cash and three for credit cards. There's even a small screen cleaning cloth included which is detachable and washable. Like the other cases here, the wireless charging capability available on the iPhone 8 and iPhone 8 Plus is still accessible with this case on. The design means that you can flip it over and it'll stand the phone up at just the right angle so you can watch video on it.
Tech21 pure clear case: £27.73, Amazon
It seems a shame, doesn't it, to hide the iPhone that you've at least partly chosen for its beauty under a case? So, it's worth considering a transparent carrier which means you can still show it off while keeping it safe. Impact protection materials in the case's edges mean your phone remains safe even if you drop it from a two-metre height. It's pretty slim and lightweight and the material used means it won't yellow, look old or even get scratched.
Apple silicone case: £29, John Lewis & Partners
Lots of companies make protection for iPhones but Apple's own cases have a snappy design and great build quality. Its silicone cases are grippy enough to ensure the phone won't accidentally slip from your hand. The button coverings work perfectly with the volume and power switches they protect, and though all the cases here fit the iPhone exactly, there seems to be an extra precision here.
Pipetto 2-in-1 leather magnetic folio: from £24.95, Pipetto
Pipetto's clever case is two for the price of one. There's an internal case which is a slim and practical shell to protect the back of the phone. But it also comes with a leather folio with two dedicated card slots and an extra slot for cards or cash. The shell slots into the folio and is held in place magnetically. The folio is attractive and useful. To charge the iPhone wirelessly, you remove the phone from the folio and place it in its shell on the charging pad.
Apple leather case: £35, John Lewis & Partners
Apple's leather iPhone cases are sumptuous and attractive. As they age, they take on a patina that looks just as good as it does new. None more so than the saddle brown option, though there are other colours available: soft pink, midnight blue, black and red. Buying the last option means a contribution is made towards the fight against Aids. The cases fit perfectly, of course, and stay resilient and effective throughout their life. A tiny lip at the front is almost unnoticeable, but quite enough to keep the phone safe even if you place it face down on the table, for instance.
Snakehive vintage wallet: From £26.95, Snakehive
Snakehive is a British company that makes high-end accessories including neat iPhone folio cases. There are plenty of colours to choose from, in glossy or matte finishes, including pastel shades made from nubuck leather. The front of the folio has room for three cards and banknotes, it closes magnetically and the leather is very pleasing to the touch while still being hard-wearing. The rubberised case that holds the phone securely offers some shock protection. It's also designed so it can hold the iPhone in a perfect position for viewing video.
Peel super thin iPhone 8 case: £24, Peel
If you would really rather use your iPhone without any case at all but want some kind of protection, this offering from Peel is the best solution. At only about a third of a millimetre thick, the Peel case fits perfectly and is barely noticeable – though for complete protection, consider a screen protector as the case only covers the back of the iPhone. Many of the cases are translucent so the Apple logo peeps through, though the jet black version is that bit darker. Peel also makes a jet white version which is especially attractive.
Nodus access case III: £39.99, Nodus
Nodus keeps its cases thin by using a pad covered with millions of microscopic suction cups to hold the phone in place instead of a clip or cradle which would make it heavier and thicker. Attaching the phone just right can take a couple of goes but it then stays in place securely. As a result, it's thinner than many folio cases. The leather is strong and sturdy but supple enough to feel both comfortable and classy.
Mophie juice pack wireless: £39.99, Buy Tec
Do you want more from a case than just protection? Like a way of extending the iPhone's battery life, perhaps. Mophie makes rechargeable battery packs for IPhone 7, iPhone 7 Plus, iPhone 8 and iPhone 8 Plus, which significantly extend the phone's life between charges. You flick a switch to recharge the phone from the case when it's running low. You can also connect the case to a laptop and it will automatically recharge the phone first, the case second. There's also plenty of shock protection in the soft-touch rubber case, though please note it does bulk the phone up a bit.
The verdict: iPhone 8 and 8 Plus cases
The best combination of looks and protection is the Mous limitless, though Pipetto's 2-in-1 folio is the most versatile case on test. And for quality, you really can't beat Lucrin's sumptuous leather wallet case.
Register for free to continue reading
Registration is a free and easy way to support our truly independent journalism
By registering, you will also enjoy limited access to Premium articles, exclusive newsletters, commenting, and virtual events with our leading journalists
Already have an account? sign in