The Independent's journalism is supported by our readers. When you purchase through links on our site, we may earn commission.
15 best rosé wines to sip all summer long
Whether it's a pink-hued bottle from Provence or Chile, enjoy a glass sitting out in the sun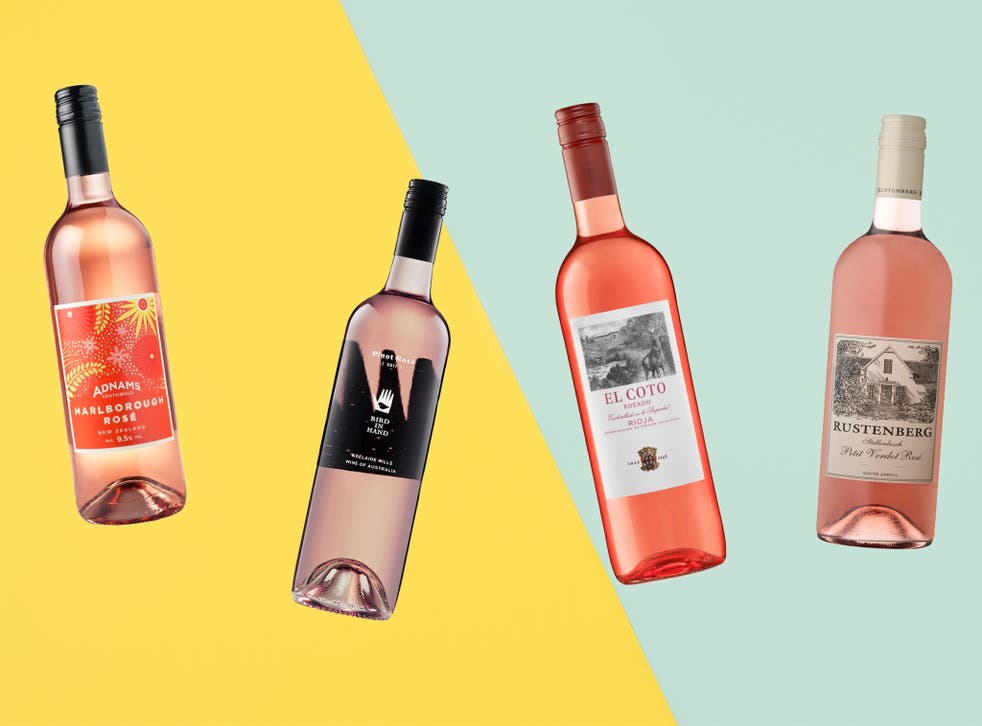 Rosé started off as a wine you might sample when you were in the South of France. It went with the blue skies and endless sun. Back in the rain-lashed UK the only rosé you were likely to encounter came from Portugal in a funny-shaped bottle and tended to be slightly sweet and slightly sparkling.
But things have changed. Britain's now experiencing the sort of weather most of us went to the Mediterranean to find and sales of rosé wines have risen as consumers discover that it's the ideal accompaniment to an al fresco meal or a long summer's day.
And now it's not only Provence where you can find excellent rosés. Europe, Spain, Italy, Germany and even the UK produce some first-class wines, while further afield, South Africa, Chile, Australia and New Zealand have all got in on the act.
So, put your feet up, say hello to Mr Blue Sky and pour yourself a glass of liquid sunshine.
You can trust our independent reviews. We may earn commission from some of the retailers, but we never allow this to influence selections, which are formed from real-world testing and expert advice. This revenue helps us to fund journalism across The Independent.
Lalomba de Ramón Bilbao rosado 2018, 75cl, 13%: £23.50, Great Western Wine
From mature garnacha (grenache) vines planted on the Lalomba hillside, 700 metres above sea level on stony clay and limestone soils in the Rioja Alta region of Spain comes what Ramón Bilbao consider to be the jewel in their crown. "Rosés should just be as expressive of their provenance as reds and whites," says chief winemaker Rodolfo Bastida and this pale blush rosé made from only perfect, hand-picked berries is exactly that. Orchard and red fruit flavours are tempered by mineral notes and an elegant acidity in a wine that's as perfect as a sunny Spanish evening.
Miguel Torres Las Mulas cabernet sauvignon organic rosé 2018, 75cl, 13%: £9.39, Waitrose
A certified organic and vegan rosé from the Torres family of Chile, who make wine using traditional methods without herbicides or pesticides. Produced from cabernet sauvignon grapes grown in the Rapel region of the country's Central Valley, it's a dry wine for those who like big flavours. Lots of intense cherry and red berries on the palate with a pleasing but not too overwhelming acidity.
Barone Ricasoli Albia rosé toscano 2017, 75cl, 13.5%: £14.99, Flagship
From a Tuscan family famous for its chianti, whose links to the wine trade date back to the 12th century comes a beautifully pale and fragrant rosé made from a blend of sangiovese and merlot. An initial sip brings strawberries, cherry and red fruits to the tongue, balanced with a pleasing minerality and a lasting finish. One to be enjoyed lightly chilled with any classic Italian dish.
Rustenberg stellenbosch petit rerdot rosé 2018, 75cl, 13.5%: £8.99, Waitrose
The Rustenberg Estate in the valley of the Simonsberg Mountain in South Africa's premium Stellenbosch wine region was established in 1682. But it was in the 1940s that the Barlow family took it over and established an outstanding portfolio of wines. One of the newer additions is this rosé made from the small-berried and thick-skinned petit verdot grape. Bright pink in colour with strawberry and cherry flavours come to the fore, making it the ideal accompaniment to a summer barbecue.
Simpsons Railway Hill rosé 2018, 75cl, 12.5%: £19, Roberson
Before you do anything else, just admire the bottle. A beautiful club-shaped vision of blushing rosé loveliness with an exquisite glass stopper. And, happily after that build up the wine doesn't disappoint. An English rosé from the North Downs of Kent, it's crisp, bright and fruity with notes of peach and stone fruits and a balanced but delicate allure. Summer was made for wines like this.
Proudly Vegan Chile Valle Central rosé 2018, 75cl, 12%: £6.99 Ocado
From the UK-based Broadland Wineries comes a Chilean wine that's not afraid to boast about its main selling point – a rosé so vegan that even the printing ink and the label glue have no animal-related products in them. What you get is a soft and well-balanced wine with plenty of fruity flavour – all plum and red berries – which could partner baked vegetables, a quinoa salad or a simple olive crostini.
Waitrose Côtes de Provence rosé 2018, 75cl, 12.5%: £9.99, Waitrose
From their Blueprint range of wines, here's a Waitrose product that does exactly what it says on the tin, or in this case, label – ie, delivers an impressive rosé from the French region that's the established and spiritual home of this summer staple. Chock-a-block with cherry and red fruit flavours, it's a blend of cinsault and grenache grapes and was made to enjoy with a salad niçoise.
Bird in Hand pinot noir rosé 2018, 75cl, 12%: £14.25, Frontier
One of a range of limited release wines from an Australian winery built by the Nugent family on the site of an old gold mine in South Australia's Adelaide Hills. The pinot noir grapes were picked during the coolest part of the day. They were then destemmed and spent up four hours on skins, before being tank fermented, giving the wine it's delicate blush hue. Strawberry and soft fruit flavours along with floral notes make it an ideal outdoor aperitif or an accompaniment to a picnic lunch.
Adnams marlborough rosé 2016, 75cl: 9.5%, £8.99, Adnams
The grapes for this blush rosé, produced for Adnams in New Zealand by WineWorks, were picked slightly earlier than usual, so that wine has a more modest 9.5% ABV compared with similar wines. That doesn't detract from the taste, though, as winemaker John Forrest has made sure that the red fruit and elderflower flavour, balanced by a pleasant acidity, is as potent as ever. Fine to drink on its own or with light salads.
El Coto rosado 2018, 75cl, 13%: £4.39, Vinissimus
This won't break the bank and for under a fiver you get a good everyday Spanish rosé made from grenache and tempranillo grapes grown in Spain's Rioja Alavesa region. Pink and colourful in the glass, it has plenty of upfront red fruit and red berry flavours and a fresh acidity. Enjoy it on its own as a summer aperitif or as an accompaniment to light fish or rice dishes.
Coteaux Varois en Provence rosé 2017, 75cl, 12.5%: £9 (£54 for a case of six), Marks & Spencers
From the Provençal region of Var, this is a light but fruity rosé made from grenache, cinsault and syrah grapes, with a dash of mourvèdre and carignan added to the blend too. There are red fruit and strawberries on the palate with floral hints and an acidity that's balanced without being overpowering. Like many rosés it's not a wine to be kept for too long and needs to be consumed within 12 months.
London Cru Rosaville Rd pinot noir rosé 2018, 75cl, 12%: £15, Roberson
From London's first ever winery, launched six years ago by Cliff Roberson, comes a succulent pinot noir rosé made from grapes grown in a Surrey vineyard. Some 90 per cent of the wine was fermented and aged in stainless steel tanks while the rest was put in oak barrels resulting in a creamy yet delicate wine with a citrus aroma and notes of red fruit and strawberries. Best enjoyed young as a superb aperitif or to complement light salad dishes.
Mas de Cadenet Côtes de Provence Sainte Victoire rosé 2018, 75cl, 12% : £16.20, Tannico
One for art lovers, since the grapes for this very more-ish rosé were picked in a vineyard at the base of Sainte Victoire, the mountain that famously features in many of Cézanne's landscapes. Now a recognised sub-appellation of the Côtes de Provence AOC, it's home to some of the region's finest rosés. Made from 45 per cent grenache, 45 per cent cinsault and 10 per cent syrah, it had a slightly more balanced texture and a lengthier fruit-filled finish than other Provençal rosés, thanks to the mountain's micro climate and notable terroir.
Villa Wolf pinot noir rosé 2017, 75cl, 12%: £9.90, The Bottle Club
A German rosé from the well-established Villa Wolf winery in Pfalz, Germany's second largest wine-growing area, where the sunny and equable conditions resemble Tuscany. As a result, it's an ideal location for all varieties of pinot grapes and this lovely pink-hued rosé is light, crisp, full of red fruit flavour and an ideal accompaniment to al fresco lunches or meals. It's great value, too, at under £10.
Château des Muraires Séduction Côtes de Provence rosé 2018, 75cl, 13%: £16.99, Laithwaite's
This is a seduction that starts with the colour – the most wonderful pale rosé – and continues with that sniff of perfumed Provençal promise that's released as it's poured into the glass. Winemaker Bernard Magrez's Provençal estate, mid-way between Nice and Aix-en-Provence may be small - only 1.3 hectares – but it produces some outstanding wines including this blend of grenache, cinsault, syrah and the local rolle grape. There are strawberries and red berries in each sip plus a deft acidity that makes the wine an ideal partner for any Mediterranean fish dish.
The verdict: Rosé wines
Wines such as Simpsons Railway Hill rosé from the UK or the Bird in Hand pinot noir rosé from Australia are worthy contenders. But if you really want to splash out, go for the best buy, Lalomba de Ramón Bilbao Rosado, a Spanish wine that's everything a magnificent rosé should be – fruity, mouth-watering, refreshing and satisfying. Summer wouldn't be the same without it.
Register for free to continue reading
Registration is a free and easy way to support our truly independent journalism
By registering, you will also enjoy limited access to Premium articles, exclusive newsletters, commenting, and virtual events with our leading journalists
Already have an account? sign in
Register for free to continue reading
Registration is a free and easy way to support our truly independent journalism
By registering, you will also enjoy limited access to Premium articles, exclusive newsletters, commenting, and virtual events with our leading journalists
Already have an account? sign in